With all 40 something new cities, currently underway, gearing up for a big first phase launch sometime this year, several real estate developers and agents across the sector have intensified their marketing campaigns to sell their residential projects in those new cities especially across New Administrative Capital (NAC), New Alamein City, El Galala City, and New Mansoura. Most have secured their target sales given their flexible payment terms and variety of unit sizes, catering to all social classes and purchase power especially in the two highly anticipated cities of NAC and New Alamein.
These minute-by-minute launches and record-breaking sales announcements have called for Invest-Gate's team of researchers and writers to dig deeper into the real demand for residential units across those two new cities and where homebuyers' investment preferences lie.
According to Invest-Gate recent findings, approximately 83% of its survey respondents chose new cities to relocate and invest in real estate for personal use, leaving out the 17%, who still prefer the old cities.
Additionally, the same survey shows the majority of respondents believe that Egypt's new cities will present the modern feasible lifestyle they desire and therefore their desired cities were listed as follows: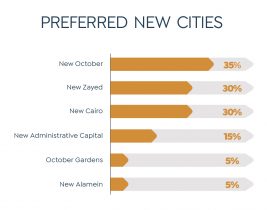 New October tops the list with 35% most preferred votes, followed by New Zayed (30%) for their convenience and location. About 30% of our respondents prefer New Cairo especially the Fifth Settlement and Mostakbal City, followed by the New Administrative Capital (NAC) with 15% of the votes. October Gardens and New Alamein Cities came at the bottom with 5% each.
New Alamein City Results might shock some or affect some investment decisions but this is not the case. Egypt's northern coastline has been the summer heaven for all since the 1980s with the second-home seasonal projects all along its coastline. The Egyptian latest urban development plan turning it into a residential city for primary residences has left the general public in doubt, sceptic of it becoming a primary residential city to Alexandria and Marsa Matrouh like those suburban cities of 6th of October, Sheikh Zayed, and New Cairo to the capital.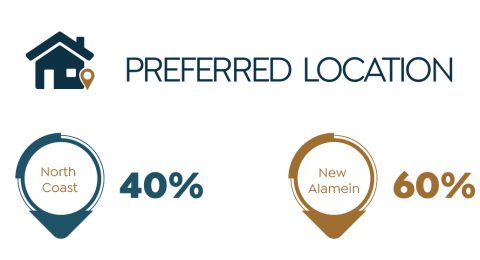 Addressing the demand on the North Coast and New Alamein City as second home destinations, according to Invest-Gate's latest report titled A Close Up on Egypt's North Coast Development Projects, New Alamein City received 60% of the votes as a preferred location across the North Coast shore for a second home purchase, whereas 40% were spread across projects on the North coastline.
Moving on to another highly anticipated city, New Administrative Capital (NAC)– leading "Egypt's fourth republic," as described by President Abdel Fattah El Sisi- the city receives great demand in terms of investors of course and where Invest-Gate is concerned homebuyers. Again, Invest-Gate R&A team conducted a thorough report, entitled "NAC: Egypt's Gateway to the Future" (to be released next month), in which they reveal a complete overview on NAC, its potential, ROI, and of course real estate demand and supply.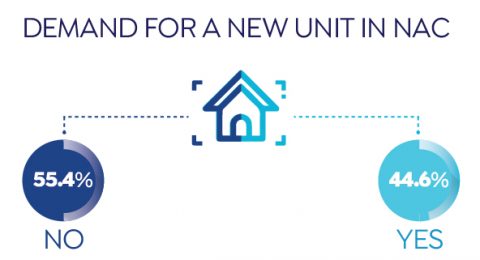 According to the soon-to-be released report, the demand for residential units at NAC is average due to the current purchase power and the idea of relocation, revealing 44.6% voted on buying new residential units at NAC, whereas 55.4% said no.
As for the 44.6% potential homebuyers, certain services are highly requested for NAC and they include the following at different value of importance beginning by medical services at 73% and ending with commercial at approx. 67%.
Following the launch of New Alamein City and NAC, comes El Galala City at Ain Sokhna, which according to recent reports by the government is near completion and has already received many interests from the private sector with the likes of Tatweer Misr's IL Monte Galala residential project and with the admission opening this October for El Galala International University.
Soon after or during the same time, all expect the New Mansoura City to debut as well, the latest suburban city for Mansoura governorate and the entire Delta province. It too received its first Zahya project, courtesy of City Edge Developments, along with almost all governmental projects near completion; and per the Housing Ministry's official statement back in April, its university should be open for admission this fall. All new cities will require sometime for its inhabitants to adapt and to gain more popularity and as we move from one city to another until the big reveal, Invest-Gate will continue to assess the market and the demand and supply trends across each new city. So, stay tuned for more to come!