When it comes to living spaces, some say luxury and nice views are what define true happiness. But many would beg to differ, arguing that cultivating happiness within residential communities requires a more creative approach. Mountain View, as Egypt's main pioneer in building harmonious communities, unveils its newest venture, "ALIVA", which goes beyond just being innovative as it sets a new standard of excellence for the property and community developments of the future. Invest-Gate reveals the secrets behind this wonderful and vibrant city in its exclusive interview with Mountain View's Founder and Executive Chairman, Eng. Amr Soliman.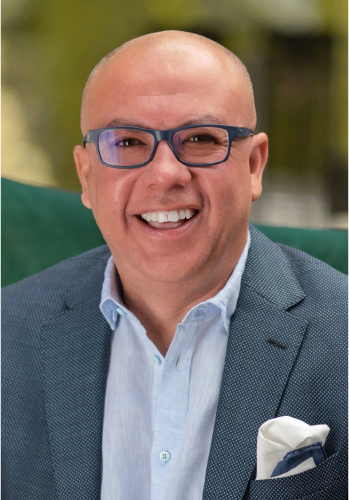 How did Mountain View quickly evolve from developing premium communities to city-scale developments that integrate different life activities?
When Mountain View first entered the Egyptian real estate market nearly two decades ago, we had a strong, overarching goal: to revolutionize the traditional norms of the industry. Guided by a clear and unwavering vision: "Bringing Life to Land and Spreading Happiness Around Us", this principle has remained our constant compass across all initiatives. Mountain View distinguishes itself through the strength of its brand, strategic positioning, and meticulous research, ranking among the top three industry players.
Our ascent to prominence involves creating niche community experiences by introducing unique concepts and products that align seamlessly with the evolving dynamics of the real estate sector. which is applied on a city scale, as well as introducing Mountain View Hyde Park on 220 acres and iCity with its innovative 4D concept on 500 acres in both East and West Cairo. These efforts not only aim to redefine the standards of real estate projects but also contribute significantly to the enrichment of the Egyptian real estate landscape.
What is Mountain View's Science of Happiness concept? How does your company apply this concept to build meaningful happy communities?
One of our main objectives is to use the "science of happiness" in all we do, and this revolves around interacting with the client community and giving them a meaningful life as well as providing people with a comfortable experience rather than just selling them units. Meanwhile, our approach is systematic, involving a structured three-step plan. Firstly, we undertake an in-depth market analysis to comprehend both the current and future needs of discerning customers and residents. Following this, we form strong partnerships with esteemed global entities renowned for their capability to bring premium real estate projects that meet international standards to Egyptian lands. In order to apply the science of happiness, it must be coupled with the proficient use of advanced technologies and unique experiences. In parallel, Mountain View always maintains a broad portfolio of cutting-edge projects, innovative concepts, and noteworthy collaborations.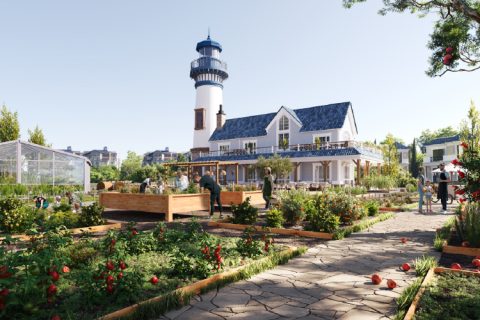 Could you tell us more about Mountain View's latest project "ALIVA" and how will it be unique given your philosophy of providing holistic property developments?
Our primary objective in launching ALIVA was to provide a vibrant environment where Mountain View families can fully embrace life. We remain committed to delivering innovative real estate solutions that respond to evolving residents' and customers' needs and foster unique residential communities.
The majority of homeowners buy homes primarily for the views; however, Mountain View, through ALIVA's exceptional philosophy and the compelling slogan "Stop Watching, Start Living," emphasizes the importance of active engagement and participation in a variety of activities that meet family members' preferences and needs, and these activities will be operated by The Lighthouse.
In the development of ALIVA, our aim was to integrate five distinct and engaging experiences, each meticulously designed to promote direct interaction with the park's amenities and natural surroundings, emphasizing the crucial importance of active participation and engagement. It's worth noting that ALIVA, as the largest developer land within Mostakbal City spanning an impressive expanse of 638 acres, is divided into 9 unique parks, each providing a unique experience:
(Fields Park, River Park, Lagoon Beach Park, Club Park, Signature Park (MV 5), Signature Park (MV 5.1), Central Park, Heartwork, Wonderville)
What inspired Mountain View to build an innovative community such as ALIVA?
Inspired by the essence of vitality, we at Mountain View fittingly named our project 'ALIVA.' This name perfectly describes a community founded on the fundamental idea of enjoying every moment as it comes, following through our underlying philosophy of caring about experiences. Our previous ventures at Mountain View, notably "Heartwork", the first business complex in the Middle East rooted in the science of happiness, and "Wonderville", an experiential retail zone that received significant acclaim for catering to the diverse interests of Mountain View's families, will be presented as parks in ALIVA.
In addition, there is MV CLUB, nestled within Club Park, which offers a broad range of sports, recreational areas, and courts, reinforcing the belief that "Everyone Plays". These concepts highlight ALIVA's singularity, as Mountain View listened to the client's demand as it's a human-centric company enabling human interactions on a city scale with its prime proximate location.
What distinguishes ALIVA from other new communities?
Marking our launch, we introduced two prominent parks within ALIVA. Leading the charge is Fields Park, offering a remarkable ranch experience inspired by home farming experiences, located in the heart of ALIVA and designed to provide Mountain View families with genuine gardening and agricultural experiences operated by The Lighthouse, such as gardening and farming guidance, woodworking workshops, community fruit harvesting, weekly farmers' markets, and farm-to-table dining experiences. It also provides seed kiosks, a garden library, and other planting amenities.
The second is River Park, inspired by the famous water canals of Amsterdam. In addition, ALIVA is designed to enhance the community's overall experience by offering an array of vibrant and engaging activities. These include canoeing, kayaking, cycling, yoga, and drawing, all contributing to a rich canal-side experience within our community.
Why do you think potential residents need ALIVA? And what can ALIVA offer them if they choose to live there?
The appeal of ALIVA extends by catering to all unique and differentiating tastes through five distinct experiences. Each of the five experiences is thoughtfully distributed among nine unique parks, and The Lighthouse operates these activities by organizing workshops that contribute to developing the skills of individuals, with the aim of having the whole experience of enjoying life in a different way while also developing personal skills.
This vision comes to life during the launch of the two experiences of ALIVA, where Mountain View families can plant seeds in Fields Park, participate in ranch activities, and enjoy the water features in River Park.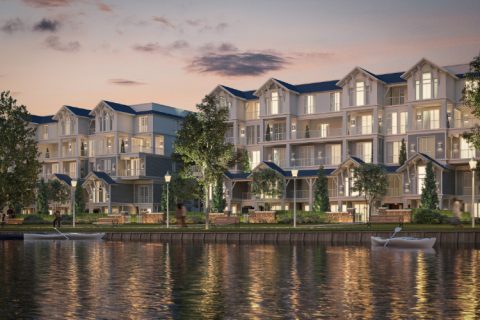 How has ALIVA applied sustainability/environmental responsibility in every aspect of the community?
Environmental consciousness and a firm commitment to sustainability are paramount to our ethos. Moreover, as we kick off the development of ALIVA, sustainability and environmental considerations remain at the forefront of our strategy. A prime example of this commitment is the introduction of the ranch experience within Fields Park. This offers Mountain View families an authentic immersion into the world of gardening and farming at the heart of ALIVA, giving them the chance to harvest their own fruits and gather around the preparation of their healthy and organic meals.
In addition, the canal experience in River Park will not only be used for kayak training and making champs out of it, but also for using the kayaks as an environmentally friendly means of transportation within the park.
What are your investments in ALIVA?
The ALIVA project stands as a significant milestone in the realm of real estate investments, boasting an impressive financial commitment of EGP140 billion. This colossal capital infusion underscores its prominence within the industry. With nearly 12,000 units, The ALIVA initiative shows off the company's ambition on a grand scale and has the potential to alter the way Mountain View invests. It's a testament to the company's forward-thinking approach and its dedication to providing top-tier properties.
What is the weight of choosing Mohamed Salah for Mountain View's campaign for the second time?
In order to have a positive social impact on the general public and provide a sense of a real figure and example for spreading the message of "Stop watching, Start Living" in our launch campaign for ALIVA, Mountain View thought of choosing Mohamed Salah as a main figure. This choice was prompted by the compelling narrative of the football luminary and his remarkable journey, which mirrors his continuous growth and attainment of significant milestones. This aligns seamlessly with Mountain View's own pursuit of its objectives.
Our collaboration with Mohamed Salah is not a one-off; it extends back to the "bubble-free" campaign, designed to raise global awareness of this initiative. Notably, this campaign garnered international recognition by winning the 2022 Epica Silver Award, marking Mountain View as the first real estate development company in Egypt and the Middle East to receive this honor. The campaign aimed to inspire individuals to break free from the isolating bubbles surrounding them and embrace social interaction as a pathway to a happier life.