Since developers and buyers are on separate sides of the fence when it comes to home sales, some are constantly scouting for the quintessential property with the least price tag, whilst others want top dollar. At one point, the broker's role as an objective mediator and consultant for both parties springs up.
However, the relationship between developers and brokers has proven to be complex, resulting in strong implications on the performance of the local real estate sector. This puzzling bond, which still lacks the necessary principles of ethical business conduct, resulted in some market inefficiencies and deprivation of professional values across the spectrum.
In view of this, Invest-Gate's overarching aim is to explore the dynamics of the developer-broker relationship by discussing the mutual benefits as well as the obstacles coming up en route, while figuring out the optimal recommendations to enhance market transparency and place the foremost regulations, in a bid to ensure the industry's advancement and full potential, hence strengthen its international appeal.
Developer-Broker Free Card
To date, the dynamics of the developer-broker relationship are unclearly defined in Egypt, with local real estate companies invariably questioning the importance of brokers' role. Although several developers heavily rely on brokers to log their sales and laugh all the way to the bank, others still perceive brokers as competitors or beneficiaries of the developers' branding and marketing of existing projects, yet with little impact on deals sealed.
Basically, Founder and CEO of BYC Egypt Karim Ghoneim explains, "Developers usually depend on two types of sales; the first of which directly comes from the sales department, while the other is indirect for being registered by brokers."
In the language of mathematics, brokerage outsourcing currently supports 50% on average of any developer's overall sales, President of
B2B for Investment and Real Estate Marketing Nehad Adel said during Invest-Gate's fifth roundtable, titled "Regulating the Real Estate Developer-Broker Relationship," held on January 15.
However, these numerics vary from one operator to another, based on the broker being dealt with. For some developers, realtors contribute to 60% of their sales, Mohamed Banany, Vice President of Coldwell Banker and Coldwell Banker New Home, notes.
Digging deeper into mapping out points of difference between both sides, brokers play a vital role in providing clients with two major elements that cannot be extended by any developer: Variety and diverse options.
Arron Browne, managing director of Sloanes Real Estate KSA, previously told Invest-Gate that sales departments of real estate companies are usually armed with detailed information on their products and development updates. They are also deemed great means of going "direct to source" to get the best deal on their own product, he noted back then.
Sharing the same sentiment on the sidelines of the "Regulating the Real Estate Developer-Broker Relationship" roundtable, The Land Developers Chairman and CEO Ahmed El Tayebi revealed that brokers are responsible for marketing 90% of real estate developments being undertaken in new cities such as east Cairo's New Administrative Capital (NAC) and the North Coast's New Alamein.
At the outset, property developers should comprehend that brokers are not competitors and their role is rather complementary, Deraya Real Estate General Manager Hashem El Kadi earlier affirms.
Market Control
As the local real estate brokerage business expands further on the back of the skyrocketing number of new brokers, who are ultimately racing to generate cash in a market witnessing new developments on a daily basis, multiple challenges arise to increasingly alarm the industry as a whole.
Ghoneim and Banany agree that the utmost disruptive challenge hindering the brokerage market development is lack of regulations, which eventually impaired the availability of a well-crafted pathway to step into the profession, among other outcomes. In turn, this led to the entry of unqualified brokers that have no knowledge of how the sector works, and thus, challenges the execution of an efficient transaction, in terms of maximum benefit to developers and consumers alike.
As of last October, some baby steps and proactive actions have been taken toward regulating the market. Former Minister of Trade and Industry Amr Nassar had issued Law No. 827 of 2019, rectifying the executive regulations of the Commercial Agency and Brokerage Law No. 120 for 1982 (or Agency Law).
The amendments expanded the definition of a "commercial broker" to include real estate brokers. Under the new bill, brokers and brokerage companies are now required to sign up for the Brokers Registry at the General Organization for Export and Import Control (GOEIC). It also stipulates that foreign-owned real estate brokerage companies are only permitted to operate in Egypt if their ownership structure is modified to meet the legal requirements relating to national ownership.
However, many experts see that more measures should be taken toward regulating the developer-broker relationship. CEO of Aqarmap Amad Almsaodi suggests that developers and brokers should join forces to come up with a draft law to regulate this relationship. As a consequence, the government is expected to intervene sooner to untangle the current loopholes.
On another note, brokers are demanding the formation of a regulatory body that comprises qualified and licensed brokers only, in a bid to ensure transparency and advancement in their day-to-day deals with both developers and consumers.
Correspondingly, late last year, top brokers jointly formed an internal regulatory body, called the "Egyptian Association for Realtors." According to Deraya's El Kady, extensive efforts have been exerted to finalize the legal procedures for the official establishment of the union, which is now registered and under the supervision of the Ministry of Social Solidarity.
Lucky Card: Transparent Market Data
There is a growing recognition of the prime role that a transparent real estate sector plays. Indeed, it does not only ease doing business but also supports community well-being and inclusiveness.
As capital allocations to real estate accelerate and more industry players get on-board, in tandem with the government's efforts toward strengthening the overall business environment across all sectors, notably the real estate, investors are now demanding more refinements in terms of legibility and transparency.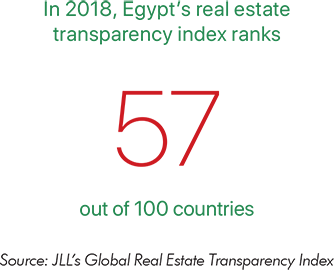 Aiming to further enhance the sector's reliability, both developers and brokers recommend the creation of a well-crafted real estate index that monitors the overall market and measures the local demand for aiding investors, developers, and government bodies to properly address the market needs and challenges.
In 2018, the Egyptian Stock Exchange (EGX), headed by Mohamed Farid, held a closed meeting with 30 property developers and marketers, together with several government officials, to discuss the possibility of launching the first real estate index. The indicator shall rely heavily on collecting data from real estate developers, investment funds, financial institutions, property appraisal and brokerage firms, contractors, and building materials companies of all kinds.
For his part, Banany also suggests the development of an online platform, similar to the "transaction processing system (TPS)" software, attempting to collect high-level data from the various anonymous transactions made by different real estate organizations. In the simplest definition, TPS is a type of information software that "manages the concurrent processing of transactions, enables the sharing of data, ensures the integrity of data, and manages the prioritization of transaction execution," according to IBM Knowledge Center.
An Inevitable Dispute Resolved?
While the market's noble calibers excel in show rings, yet overriding one another to log some of Egypt's record-breaking home sales, the relationship between developers and brokers is constantly being tested. One thing is for certain though they both need to understand that they are two sides of the same coin, who should be working together to map out a set of criteria to qualify viable prospects and create a new era of real estate development.
After all, there is no one single path that leads to success, especially when it comes to achieving progress in market integrity and transparency to preserve its power not only locally but also worldwide. Perhaps most importantly, it is necessary to recognize that harmony in the developer-broker business relationship is inevitable as a pathway to the overall development of fair market structures.
To know more about the full dynamics of the developer-broker puzzling bond, read pages 30-33 at Invest-Gate February issue.