Facing a second wave of the coronavirus pandemic has crippled several industries to varying degrees including the construction industry, which is linked to more than 200 subsectors, from cement and ready-mixed concrete to bricks and machinery, and a large share of domestic employment.
Focusing on the Egyptian construction industry, the construction market operations were put on hold because of the precautionary measures imposed nationwide, including schedule delays, workforce disruptions, equipment, and supply chain disruptions, reduced productivity due to on-site health and safety protocols (i.e., social distancing, staggering of work, enhanced sanitation, etc.), restrictions on new permits, and financial shortfalls or cash flow stagnations. However, the sector began to recover slowly since the third quarter of 2020 with restrictions imposed on the sector being eased.
Thanks to the large infrastructure projects underway, the construction market is on its way to revive. Work remains underway for both public and private developments, not to mention that national transport and infrastructure projects are also proceeding as a state priority.
Based on Invest-Gate's R&A latest research paper, it was found out that the market was hit hard by the pandemic's second wave, just like the first one, yet with a better understanding of the current situation and how it can be contained to avoid losses.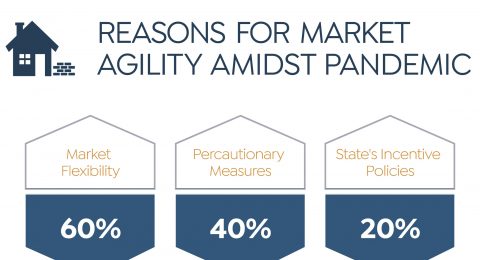 According to 60% of our surveying contractors, the market has confronted the second wave with greater flexibility enabling them to cope with what is going on. Furthermore, 40% of respondents have followed the imposed precautionary measures; meanwhile, the remaining 20% had confidence in the state's incentives. Thanks to these measures and incentives, the burden of the havoc has been eased on the construction companies while handling the situation.
To have a closer look at the construction chunk in the property market under the pandemic threat, Invest-Gate's R&A team surveyed 16 Egypt-based construction companies. In a bid to determine the industry facets that got affected by the pandemic, and how they react to it.