Egypt succeeded in significantly cutting its debt burden and slashing the budget deficit from 11.4% in FY 2014/15 to 8.4% in FY 2018/19, which is poised to hit 7.2% during the current fiscal year. This has been brought to light as Egypt's Ministry of Finance released a comprehensive report to examine the progress made under the state's far-reaching strategic reform program, which kicked off back in 2015.
Invest-Gate puts Egypt's latest achievements under the spotlight, thereby scrutinizing a bunch of macroeconomic indicators and evaluating the country's current standing in early 2020, in terms of financial structure and economic growth, in the wake of these fine-tuned revisions.    
– At the outset, after inflation skyrocketed to as high as 33% in 2017, rates dwindled to 3.4% in 2019, whilst Gross Domestic Product (GDP) posted record-breaking figures of 5.6% last year, leaping from 4.4% in the year-ago period. This growth pace is projected to rise to 7% in FY 2019/20 as the local economic sphere gains momentum and booms to reach sound indicators in the near term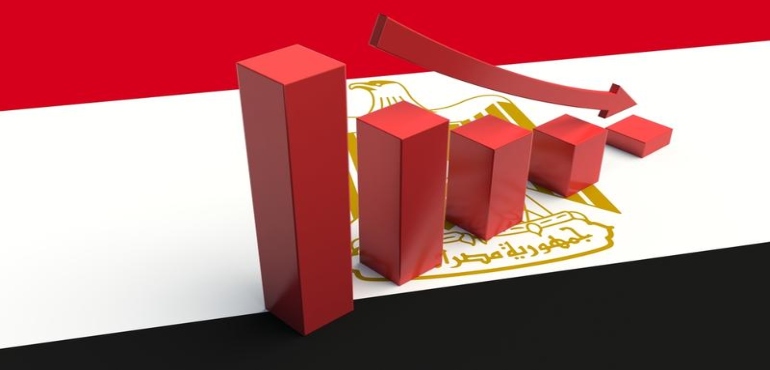 – As the primary budget surplus logs 2% in late 2019, Egypt's foreign reserves surged from USD 12 bn (EGP 192.4 bn) to almost USD 45.2 bn (EGP 724.9 bn) last October, which covers about eight months of Egypt's commodity imports, which is higher than the global average of more than three months of commodity imports
– The total debt registered 90.5% of the GDP in FY 2019/18, down from 108% in the prior-year period, which is expected to touch 83% during the current fiscal year. Along the same lines, unemployment dropped from 13.3% in FY 2014/15 to 7.5% during the previous year
– With subsidies holding 65% of the country's total budget, food subsidies climbed up to EGP 87 bn in FY 2018/19 from EGP 39.4 in FY 2014/15. On another note, expenditures on the Egyptian education and healthcare sectors have hiked to EGP 210 bn, up from EGP 115 bn in FY 2014/15 
– Tourism revenues swelled by 28.2% to hit USD 12.5 bn (EGP 200.5 bn) in FY 2017/18, soaring from USD 9.8 bn (EGP 157.2 bn) the corresponding period last year
---
The report, titled "Challenges and Achievements," also reviews a diverse range of testaments granted by some of the world's leading financial institutions as follows:
– Bloomberg: EGP is the world's second-best performance against the USD so far, following the Russian ruble, while also being the second-best country with a high shock-absorption capacity
– The Economist: Egypt occupies the third place in terms of growth rate, coming after China and India
– The United Nations Conference on Trade and Development (UNCTAD): Egypt continues to be Africa's largest recipient of foreign direct investment (FDI) flows in H1 2019, attracting USD 3.6 bn (EGP 57.75 bn), thanks to the new investment deals that have been recently sealed
– The International Monetary Fund (IMF): Egypt jumped eight spots to rank 120th out of 190 countries in the World Bank (WB) Group's 2019 Ease of Doing Business report
– Fitch Ratings: Egypt's credit rating stays at B+, together with a stable outlook
---
In its study, the finance ministry referred to different features that make the Egyptian economy stands out among other regional and international nations, to which these optimistic numbers are attributed:
(1) Product variety for different market structures that characterize the North African country, including industrial, tourism, oil and gas, trade, and construction sectors, which led to an overall equilibrium and balanced shock absorption
(2) Exports and imports are the main drivers to domestic growth, which are expected to compose 7% of the country's budget by 2022
(3) Considerable drops in account deficit, due to the EGP flotation in November 2016, which resulted in favorable foreign exchange inflows
(4) Additional international investments in bonds and treasury bills starting from 2019
(5) A special focus on much efficient public expenditures, besides rational consumption, not to mention further allocation of social protection programs and subsidies for those in need
(6) The biggest social housing project of its kind ever, comprising over 1 mn units over five years, 750,000 of which are currently being delivered to citizens
In late December, the Central Bank of Egypt (CBE) unveiled that foreign direct investments (FDIs) rose by 67.7% to USD 2.35 bn (EGP 38.3 bn) in FY 2018/19 from USD 1.42 bn (EGP 23.1 bn) a year earlier, according to an official statement back then. It underlined that the total balance of payments hit an initial surplus of USD 227.3 mn (EGP 3.7 bn) in Q1 2019, whereas the current account deficit narrowed to USD 1.38 bn (EGP 22.53 bn) in the first quarter last year from USD 2.01 bn (EGP 32.79 bn) in the same period of 2018.