Egypt is now hosting the 32nd edition of Africa Cup of Nations – better known as AFCON, and this series of matches, taking place from June 21 to July 19, is more than just a few games being played by football stars. For Egypt, AFCON is poised to leave a lasting legacy for the country long after the final whistle blows in two crucial areas: International reputation and urban infrastructure. In this regard, the prestigious tournament is essentially an excuse for the emergence of vast development projects.
This leads to the question: What has the North African country done in the past few years to principally improve its infrastructure and transport systems in progress of hosting AFCON? Toward that end, Invest-Gate puts the spotlight on Egypt's transport sector to examine its performance over recent years, while offering insights on the recent public works and already-existing facilities to provide easier transitions for those attending games on soccer stadiums of Cairo, Ismailia, Alexandria, or Suez governorates.
Where are we Heading?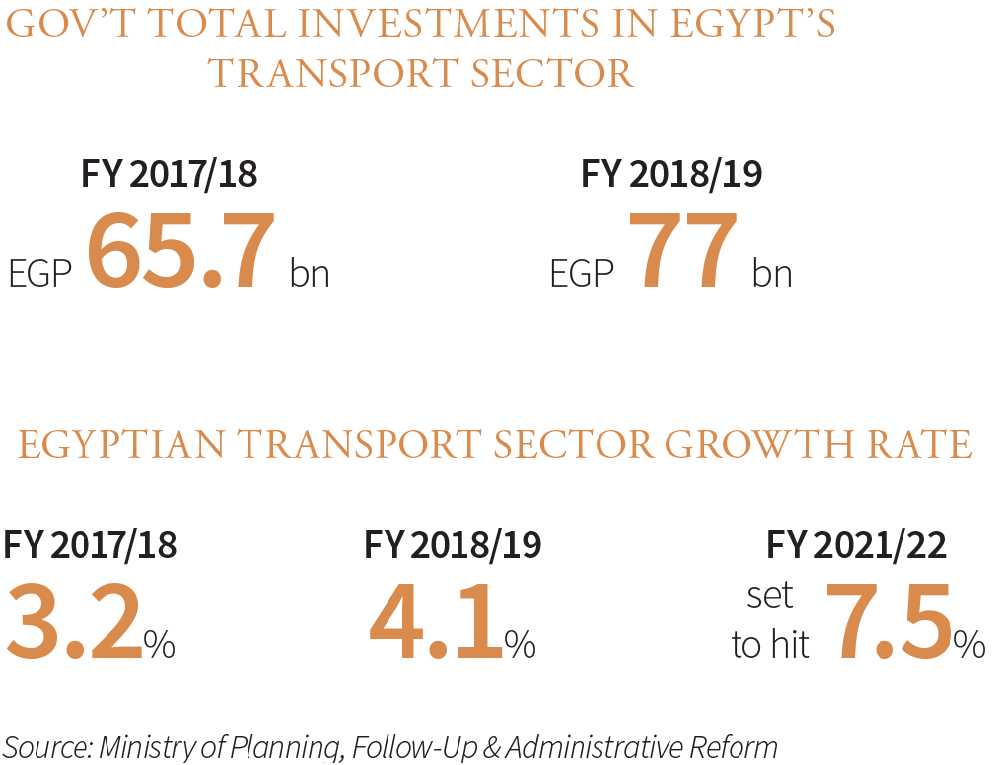 In general, Egypt strives to address some of its most prominent transport bottlenecks, which have substantially cut time consumed in urban mobility and raised investment inflows.
Speaking of the government developments within the transport sector, Planning Minister Hala El Saeed confirmed that renovating railway networks acquires the largest stake 33% of the program's total cost, followed by Cairo Metro's expansion project, making up 21% of the budget. She added that the development plan also covers the modernization of the national road network as well as the overhauling of maritime, land, and river transport systems.
El Saeed says:
"The increase in investments directed toward [the transport sector] is due to its importance as a key player and main catalyst in the economic and social development of the country … Transportation networks such as railways, land routes, and navigational channels are the lifeline of current economic and social activity that promote prosperity."
Subsequently, the country bounced from the 118th to 75th place in the World Economic Forum's Road Quality Index in 2018, after over 4,000 kilometers of new lanes were added to the road network during that year only, developed at a total cost of almost EGP 22.5 bn, the transport ministry announced back in September.
With investments worth EGP 36 bn, Egypt aims to expand its transport network to span about 29,000 kilometers by 2020. Once completed, further 7,000 new roadways will be added across the board as part of the mega project, which will represent 29% of the country's national road system, Former Transport Minister Hisham Arafat explained.
---
Intercity Transfers During AFCON
Not long after being officially awarded the bid in January, Egypt chose six venues to host the Nations Cup: Cairo International Stadium, 30 June Stadium, and Al Salam Stadium in Cairo, in addition to Alexandria Stadium, Suez Stadium, and Ismailia Stadium. From expanded underground networks to updated public transit systems and revamped roads, the country witnesses a tangible facelift in its urban infrastructure as AFCON edges closer, with no overt red-flagging issues related to that matter. The Egyptian government has committed itself to highly invest in the related industries and vowed to provide the millions of fans, who will attend the one-month event, with more efficient and highly-equipped commutes across the nation.
Going Underground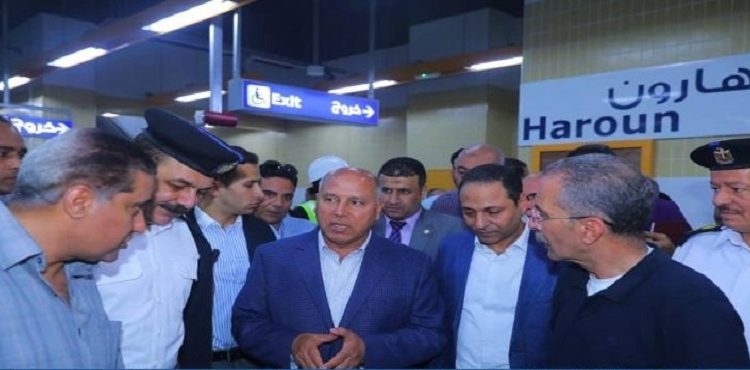 If you happen to go underground on game days, then you will be riding Africa's first metro network, which currently consists of two lines, with a further two under construction and two more lines eyed in the future. Considering that Cairo Metro is the country's only subway system, and with a population surpassing the 100-mn mark, Egypt's transport infrastructure was clearly overwhelmed and unable to keep pace with the growth rate, which called for the creation of Greater Cairo Urban Development Project.
As part of the expansion plan, Line III will run for 45.5 kilometers and will be served by 36 stations. It is slated to be the first transversal line in the metro network, intersecting with Lines I and II, and linking the east to the west of Cairo. Meanwhile, Line IV is still in the design stage and will operate from 6th of October City and Downtown Cairo to the densely populated areas of Haram, Faisal, Omrania, and Giza Pyramids. It is expected to be implemented over two phases and will extend for nearly 24 kilometers long, with possible connections to the planned 6th of October Tramway, Giza Railway Station, as well as, Lines I and II. It is scheduled to be fully operational by October 2020.
On June 15, Egypt's transport ministry has officially announced the opening of three subway stations for pilot operation, as part of the fourth phase of Cairo Metro's Line III expansion project, coming shortly before the tournament.
Rail Journeys
Trains in Egypt are best used for long-haul journeys, as shorter distances are often slower and less reliable, despite choosing to commute via rail might guarantee comfort and convenience. The country comprises one of the most extensive networks in the Mideast and Africa, having roughly 5,000 kilometers of track, a third of which is a double one. In addition, there is a rolling stock system, encompassing 597 passenger trains, 224 freight trains, 3,738 passenger coaches, and 11,613 freight vehicles, according to the Egyptian National Railways (ENR).
As the tournament draws near, the country's rail network begins to see a glimmer of hope, exceptionally after ENR launched its long-term National Railways Restructuring Project in 2016. A recent agreement between Egypt and the Russian-Hungarian Transmashholding consortium could be the most decisive and impactful solution to the country's long outdated rolling stock market as the state prioritizes the development of rail transport until 2020. The deal will see 1,300 passenger carriages handed over to ENR in the next few years, with investments worth EGP 22 bn, the transport ministry announced on September 25.
Furthermore, the government is studying a number of new expansion projects such as the development of a 42-kilometer monorail in 6th of October City, connecting east and west Cairo together, to serve and cope with the rapid development of new cities.
Urban Bus Fleet
In fact, you can get to most cities, towns, and villages in Egypt on a bus at reasonable prices. For many long-distance routes beyond the Nile Valley, it is ultimately the best option, and sometimes the only one.
Egypt's government has allocated 1,000 buses to transfer fans to stadiums in Cairo, Giza, and Qalyubia during the Nations Cup, targeting to move people about efficiently and reduce private car use, according to a ministerial statement in April. GPS devices will also be installed on board to show traffic and routes from the main bus stations to stadiums. In addition, a number of committees were formed to inspect tournament preparations at Cairo, Alexandria, Ismailia, and Suez provinces.
Apart from the government-operated buses, there is also a range of private bus companies running between host cities, namely Go Bus, Super Jet, West and Middle Delta Bus Company, as well as, East Delta Travel Company and Upper Egypt Bus Company. Most of them serve major routes around the country and internationally; they mainly reach out to AFCON's host cities, with multiple stops throughout the trip.
On the Road
Central to the government's efforts to enhance the country's transport infrastructure is a set of restructuring initiatives for its road network. Major road projects are being undertaken in nearly every host city, endeavoring to update access and extend circulation.
In practical terms, Egypt's National Roads Project offers perhaps even greater benefits to the broader economy than other transport infrastructure programs, given that more than 90% of the country's freight moves by road. Besides, an estimated USD 8 bn of improvement and expansion works are planned to be carried out over the course of the next five to ten years, calling for 39 roads to be added to the current network.
Last September, President Abdel-Fattah El-Sisi inaugurated five new major bridges and road projects, including the last phase of Regional Ring Road and Nile project axis, at total costs of EGP 7.9 bn. Progress coming on the back of the national program did not just halt there, but El-Sisi also opened on May 5 a total of 12 mega national projects, connecting Sinai to the Nile Delta, a step which comes under the country's pursued Sinai Peninsula development project.
The Egyptian president also inaugurated Rod El Farag Axis Bridge – or Tahya Misr Bridge, setting a new Guinness World Record for being the widest cable-stayed bridge, which measures 67.36 meters wide.
---
Wrap up
The infrastructure results may seem mixed at the moment. However, if the state's full transport ambitions are met by private sector involvement, these developments will likely be just the beginning of infrastructure investment over the forthcoming few years.
Meanwhile, whether you like soccer or not, take out your country's flag – or your favorite one – and cheer. Indeed, it will be a fun-packed tournament, with highly-equipped capabilities and easygoing rides on board.
Find out more on Egypt's transport networks on pages no. 32-35 at Invest-Gate's June issue.