Mortgages play a key socio-economic role in unlocking rapid urbanization towards Egypt's affordable Housing for All initiative. However, with the world grappling with the disruptive measures of COVID-19, many might not be able to afford formal housing without proper mortgage solutions. That's why now more than ever mortgage financing is put at the forefront of Egypt's leadership decisions.
In light of President Abdel Fattah Al-Sisi's new announcements regarding this burgeoning mortgage demand, Invest-Gate takes a deeper look on the market's recent developments and how it can remain solid amid COVID-19.
All-new State Ventures
On March 14, Egypt responds to the ever-growing needs of the mortgage market, especially that of the low- and middle-income earners. This is when President Abdel Fatah Al-Sisi directs the Central Bank of Egypt (CBE) to launch a new mortgage finance program worth EGP 100 bn.
The new mortgage financing program aims to provide low- and middle-income Egyptian home buyers with long-term loans of up to 30 years with a low interest rate that does not exceed 3%.
The official statement published on March 14 does not mention any further details on the initiative. However, CBE Deputy Governor Gamal Negm reveals to Ahmed Moussa's live show Ala Mas'ouleety that the new initiative is worth a total of EGP 100 bn of subsidized mortgages. Negm adds that this amount could be increased in case of a high turnout of those who apply for the program. He also highlights that this is the longest financing facility that has ever been provided in Egypt, and one of the longest mortgage loans in the world.
In another context, Negm discloses other details of the initiative to Journalist Sherif Amer on his TV show, stating that that the maximum unit price within this initiative is EGP 350,000 for low-income people and EGP 1 mn for middle-income earners.
Sameer Mohammad Soliman, Financial Consultant at the World Bank, notes to Invest-Gate that, "On average, over three-fourths of beneficiary households over the past five years were in the lowest 40% of Egypt's household earned-income distribution, with this percentage steadily increasing from 68% in 2015 to 80% in 2019."
Commenting on the newly launched initiative, Deputy Head of Mortgage Shady Gamal tells Invest-Gate, "Previously, the maximum numbers of years was 20 years, so when it reaches 30 years with a fixed interest rate of 3%, in my opinion, that's a huge progress." Gamal estimates that the salaries for the low-income earners are between EGP 4,500 to EGP 6,000, while the salaries of the middle-income earners are between EGP 10,000 to EGP 14,000.   
"The 3% that they referenced are for low to middle income earners and is with a fixed interest rate," he mentions, forecasting that for middle-income earners it could be a 5% and above average earners could receive 7-8%.
Gamal indicates that the initiative will not be applied right away as it could take a while to put its terms and conditions in order to be regulated efficiently. "There was another EGP 100 mn initiative that ran from 2016 to 2019. It was a huge success and had many beneficiaries as it didn't have regulations. I hope this new initiative wouldn't have complicated regulations so that the largest numbers of people could benefit from it," he demonstrates.
Tracing Down the Mortgage Market
The World Bank's Soliman explains to Invest-Gate that, "What actually happened in the last three decades is that a very few elites of businessmen and corrupt politicians have enjoyed high living standards and luxurious houses, whilst the majority of impoverished households are living in extreme poverty."
To better understand where the market stands and where it is heading, it is essential to track it down to its pre-COVID-19 status. First off, the Mortgage Finance Law 148 of 2001 authorizes licenses for banks and mortgage finance companies (MFCs) to issue long-term home loans. Essentially, banks are regulated by the Central Bank of Egypt (CBE), while MFCs are regulated by the Financial Regulatory Authority (FRA). Since the law's enactment, the Egyptian government has been undertaking different endeavors to unequivocally activate the mortgage market.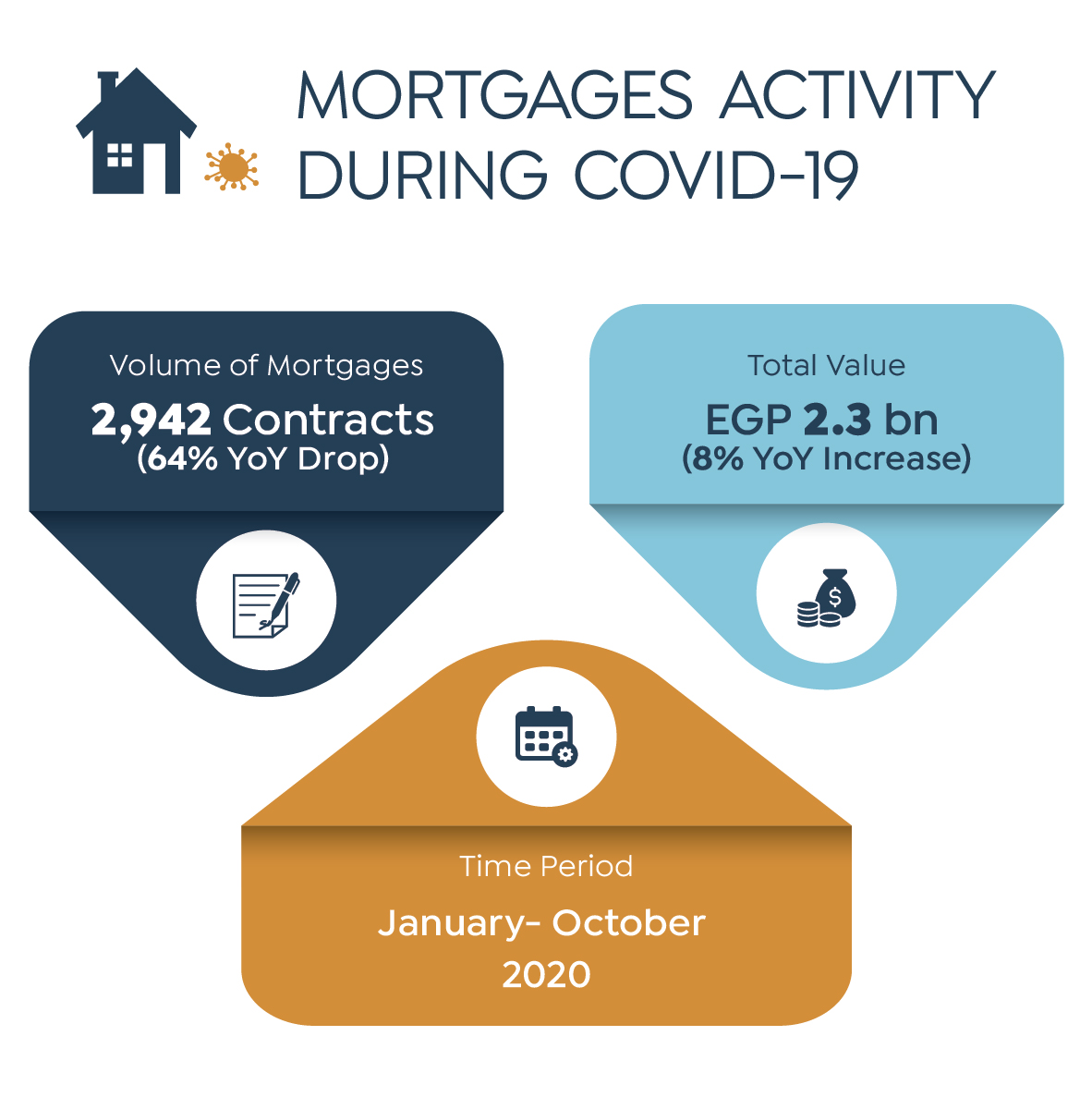 When it comes to the market activity during the pinnacle of COVID-19 in Egypt, specifically the period from January to October 2020, the market expectedly has seen sluggish activity. The volume of mortgages issued by MFCs decreased by 64% year-on-year (YoY) to 2,942 contracts, while their total value grew 8% YoY to EGP 2.3 bn, according to a World Bank report.
The FRA reports that, as of October 2020, outstanding mortgages granted by mortgage companies totals 66,777 contracts worth EGP 15.6 bn. Meanwhile, commercial banks' collective mortgage portfolios amount to EGP 25.1 bn as of 2019's end. The FRA further shows that Egypt's mortgage finance activity dropped by 84.2% last April versus a one year prior. Roughly EGP 62.7 mn worth of mortgages are extended in April, compared to EGP 395.8 mn in April 2019, according to the FRA's April report on real estate finance.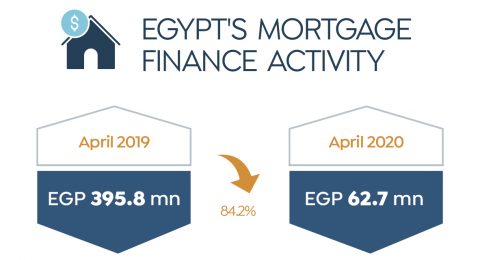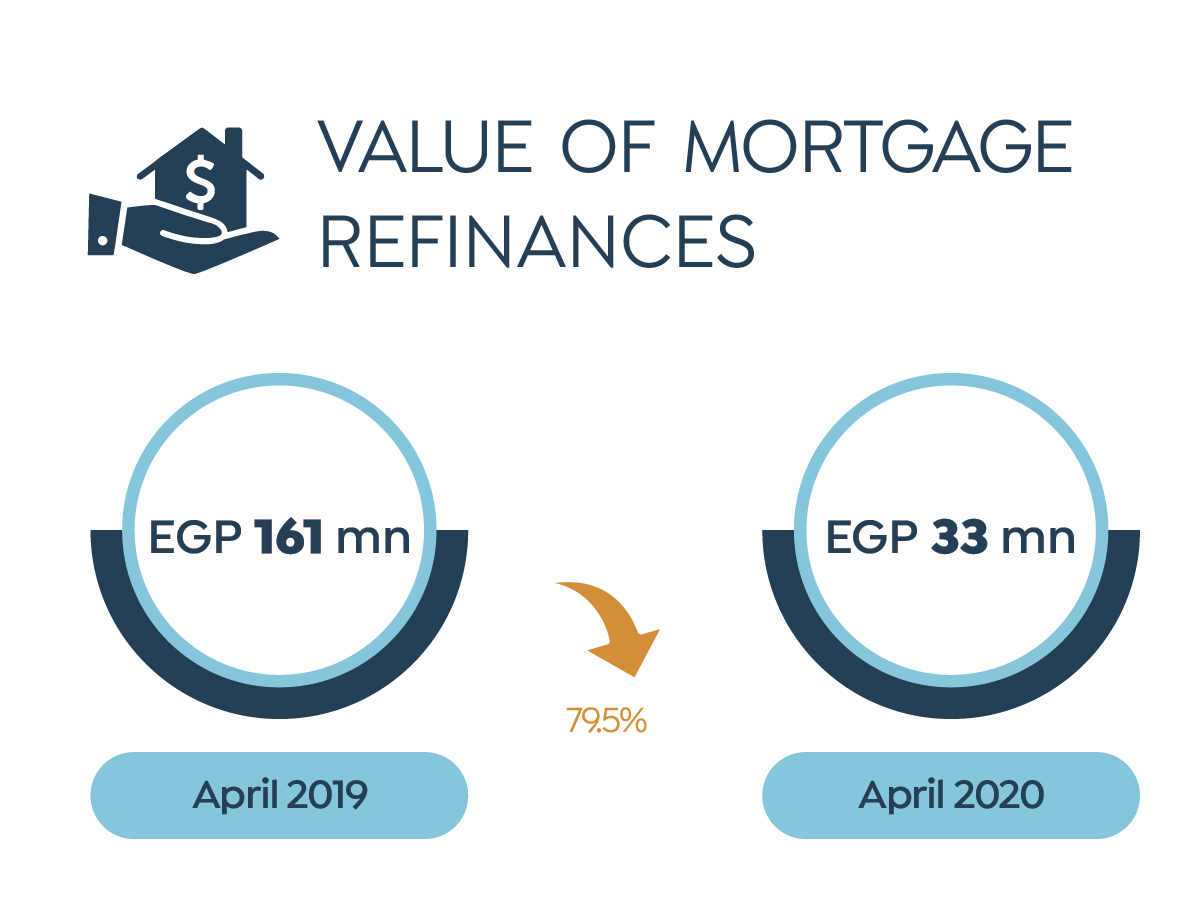 Moreover, the value of mortgage refinances stands at EGP 33 mn as of April 2020 versus EGP 161 mn a year earlier, reflecting a 79.5% YoY decline. Furthermore, about 83 mortgage transactions have been sealed in this aforementioned month, compared to 1,037 agreements in April 2019, going down by 92%, Invest-Gate reports on August 26, 2020.
Other Creative Solutions
As a result of market disruptions during the past year, developers have been attempting to stretch their payment plans extensively. In terms of creative financial solutions that can facilitate the home buying decisions, "the non-banking financial sector could [also] provide a lot of solutions," Tarek Fahmy, CEO and managing director at Al Tawfik Leasing Company, remarks during a webinar by the American Chamber of Commerce in Egypt (AmCham) on February 3.
Fahmy stresses that mortgage companies and financial leasing companies can also have an effective role in finding some creative solutions to the real estate market. On the other hand, Ahmed Eissa, CEO retail banking at Commercial International Bank (CIB), thinks that "banks are mediators in the allocation of capital, and Egyptian banks have done a great job in allocating capital to a lot of industries through wholesale funding. The real estate industry has always depended on funding from the retail sector. I think there is significant room for real estate companies to shift their strategies from depending on the retail to depending on project finance in the wholesale funding space."
But in order to do so, Eissa affirms that business models should be changed and investments should be boosted so that real estate companies can improve their credit worthiness in front of commercial banking and the wholesale funding market. Banks have been working vis-à-vis with policymakers, improving the environment that would make the household sector in Egypt more credit-worthy in front of banks, Eissa explains.
In a press statement on February 17, Chairman of Vantage Developments and Member of Egyptian Businessmen Association Mohamed Abd El-Gawaad says, "The market is badly in need for sparking off the banking sector which can finance under-constructions while enlisting pre-conditions guaranteeing the banks rights. For example, developers can be funded in case they pay up to 25% of the land value and start constructions. That can be helpful in snapping up 20% sales, vindicating the project's feasibility and its capability at lending a hand to clients' needs."  
Developing the Mortgage System
The World Bank's Financial Consultant tells Invest-Gate, "The importance of mortgage finance is clearly noticed in the current circumstances that Egypt is facing, that mortgage finance doesn't only provide opportunities for acquiring houses for citizens, [but for] increasing bank transactions and increasing the yield that is represented in making interest profits. Another importance of mortgage finance is that mortgages are given to individuals with legal and sound housing contracts (formal sector) helping in reducing the informal sector in Egypt."
In a report by the AmCham published in January 2021, titled "A Brand-New Landscape", Mohamed Abdalla, chairman of Coldwell Banker Affiliates of Middle East & Greater Africa and Chair of AmCham Egypt's Real Estate Committee, says that the mortgage market has seen an unprecedented number of new entrants from the upper middle to high-income segment. "Because interest rates were lower, buyers looking for ready-to-move-in homes started to take advantage of mortgages to solve the liquidity crunch currently being faced in the Egyptian market," Abdalla implies.
The chairman shares his expectations in the report stating that the mortgage market will greatly take off in the high-end secondary market if interest rates reach single digits.
On the other hand, Ahmed Shalaby, president and CEO of Tatweer Misr and the co-chair of AmCham Egypt's Real Estate Committee, believes that the mortgage system is a key success factor for the industry. "Although the sector has remained resilient, developers have had to adopt 15-year installment plans, which is very difficult for our financial performance and will slow down investment expansions. So, it is imperative that we develop a mortgage system that fits Egypt's unique dynamic," Shalaby puts forth in the AmCham report.
World Bank's Soliman concludes that there is a positive correlation between mortgage finance and social stability. Furthermore, there is a positive relation between demand on mortgage financing and level of standard, he assures. As H.E. Rania Al-Mashat, Egypt's Minister of International Cooperation, who also represents Egypt on the World Bank's Board of Governors, puts it, "Affordable housing is essential to contributing to national socio-economic development and the achievement of the United Nations' Sustainable Development Goals."
That said, it comes as no surprise that the market has come a very long way, and mortgages are just getting started to finally become exploited in Egypt. As part of a decadelong reform program put in place by the CBE to ensure a sound banking system, analysts argue that the market is finally tapping into its myriad of opportunities and full potential.