While approaching a New Year, many are looking forward to knowing what's next in the Egyptian real estate market. Tapping into various topics, including the existence of a real estate bubble, how developers will cater to the stifled demand, as well as the average price hikes in the real estate sector, Invest-Gate presents forecasts for 2019, aiming to give you the anticipated market picture as we embark on a new real estate year.
Is There a Bubble to Burst?
The bubble usually commences with a rise in prices, fueled by high and unreal demand, not out of need as was the case with the US housing bubble in the 2000s, but "the case in Egypt is that the rise in unit prices is rather driven by and going in line with the increase of projects' development costs," according to Mahmoud Gad, a senior equity analyst at Arab African International Securities (AAIS).
The bubble bursts when a steep decline in prices is witnessed in the whole market, and for this to happen, there should be a huge gap between supply and demand; or in other words: an increasing supply and a stagnating demand, Gad adds.
Nemaat Choucri, co-head research of HC Brokerage, argues that the worst-case scenario will be a slowdown in demand, noting that there is a widening gap year-over-year between the rise of citizens' incomes, in addition, the percentage increase in real estate prices was 30% per year from 2014-2017.
"Real estate companies in Egypt usually depend on off-plan sales to finance the development of their projects. Egyptian buyers aren't also leverage – take a loan to buy the unit – yet, they use their savings to pay the down payment or first installment, with the remaining value of the unit usually paid from their monthly salary," Choucri said.
Another argument by supporters of the bubble theory, according to an AAIS report published in July, is that the decline of prices in the resale market by 30-50%, compared to similar units offered in the primary market, is an evidence that units in the latter market are overpriced and a crash in prices is expected soon, but Gad argues that the gap between both markets will not cause a bubble as the resale market depends on immediate cash, while units in the primary market are paid over long-term installments and this leads to such a "justifiable" gap in prices between both markets.
---
How Do Developers React to Stifled Demand?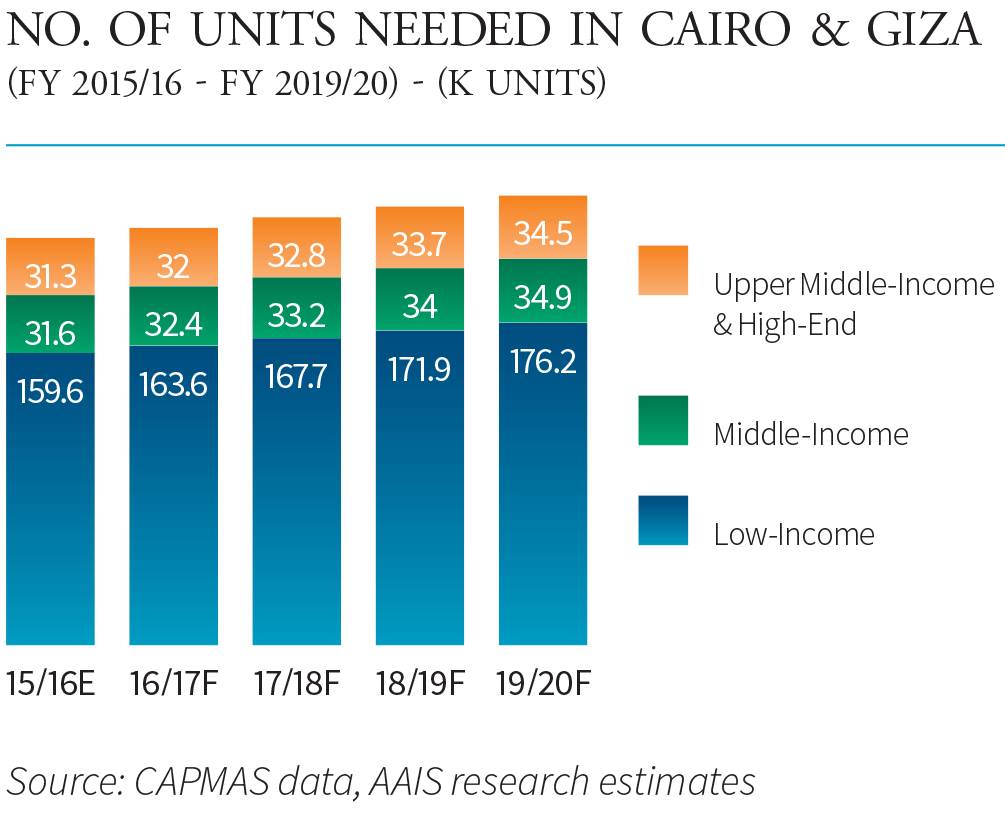 In figures, the AAIS report showed that there is a current demand of more than 900,000 units annually in Egypt, with 239,600 units still needed in Greater Cairo only in FY 2018/19. The market has 150 developers, who deliver 25,000 units annually for upper-middle-income and luxury housing, 80% of which are located in Greater Cairo – especially its east and west sides, according to Mena Group Founder Fathallah Fawzy.
There is still an ongoing, yet "stifled," demand by the upper middle class that needs to be catered to, "and this explains why many real estate developers are still making very good off-plan sales," Choucri notes. Developers are expected to continue adopting new techniques and to offer further facilities catering to the weakened demand, and the following are the most important techniques and facilities they use:
 – Choucri and Gad note that the technique most developers use – proved to be successful – is flexible payment terms. Payment plans are now up to six-ten years, compared with three-five years prior to the EGP devaluation, with 0-15% down-payments versus the previous 20-30%, AAIS mentioned in its report.
 – Another mechanism developers opt for is the revenue sharing agreements with the government. Gad underlines that some giant developers use such mechanism so as to decrease the financial pressure of the land prices on them. Consequently, this also helps developers to offer better prices and target wider base of clients.
 – Offering smaller-sized units is also one of the very first initiatives developers followed, aiming to maintain their clients base. "Developers try to efficiently use their land banks by offering units with the same average price, yet with smaller sizes," Gad says.
 – Some developers also try to speed up projects' construction process to incur lower operational costs and offer units at more reasonable prices.
---
Developers' Performance Seen Stable
Stability is expected to be witnessed in the performance of major developers, backed by new launches, which will consequently support their sales.
AAIS' Gad says "Developers are expected to achieve 30-40% net growth in profit margins in 2019, with MNHD, Emaar Misr, and TMG Holding likely coming on top of the list," while Choucri anticipates that the number of square meters to be sold will drop in 2019.
However, Gad adds that most developers are expected to sell the same number of units of 2018 in 2019, due to the weakened demand. There is projected growth in their sales by 15% on average, driven by an inflationary rise in units' prices by the same percentage, he highlights.
Read More: Interview With Khaled Abbas: Long-Awaited Residency Decree Sees Light
---
Potential Areas for Investments: East or West Cairo?
There is an expected positive dynamic towards west Cairo, more than the east, in the coming period, driven by a number of factors.
Gad attributes the reason behind that to the fact that there is less competition in west Cairo and land prices are lower by almost 50% when compared to the east, while another reason given by Choucri is the excess supply in east Cairo, as well as, the magnitude of the rise in prices.
West Cairo also sees foreign investments that encourage developers to launch further projects, and new facilities such as the new road networks, Sphinx International Airport, and Grand Egyptian Museum will be investment triggers, Gad notes.
To read more about 2019's real estate market forecast, check out pages no. 20-23 at our January issue.