El Batal Group Real Estate Developer collaborates with the globally renowned Hazel Wong, award winner for Architectural Design and the Executive Director of WSW Architects in their latest project Rock Capital 1. With a global perspective, Rock Capital 1 attracts investments of over 2 bn EGP, as it marks Egypt's first administrative project over the biggest surface area in The New Administrative Capital. Rock Capital 1 attracts global investments of 2 bn EGP, as it redefines the administrative culture in Egypt
EL Batal Group CEO Emad Doss explains, "We partnered with Hazel Wong to bring the perspective of Dubai design with our Canadian experience so we can ensure having the best quality in design and innovation for our clients with a new philosophy to the workplace that provides productivity and serenity together. We aim to always use the newest designs in our projects; with the first administrative building in Egypt that provides all facilities to the workplace, we are sure that Rock Capital 1 will be an icon to the Egyptian business sector, as we thought with great care on all specific details to present a product that meets business needs."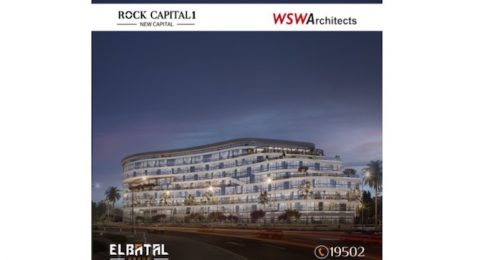 Rock Capital 1 is located in the heart of the New Administrative Capital's Financial district, and with the biggest area for a project in the capital, it takes part in the government's initiative towards building projects that attract global investment. The project aims for businesses to prosper through providing a number of facilities and amenities. Rock Capital 1 has three entrances, the main entrance is 500 sqm, 16 elevators, and two underground parking levels over 22000 sqm to provide accessibility and avoid having crowded areas during rush hours. There is also an ATM center to avoid losing time for essential transactions; also, a medical zone.
Further, Rock Capital 1 provides meeting rooms on each floor for meetings and training sessions. For lunch or dinner meetings, high-end dining is provided for your clients and guests. There is a charging stations for electronic vehicles, as well. The project has a facility management company that ensures the building is kept in best conditions, and a concierge service to provide business owners and employees with comfort. The complete built up area is 100,000 sqm in addition of 400 sqm of green and open areas. To ensure that people have the best working experience with no distraction, the whole project is built with acoustic clouds to minimize any noise. Delivery of Rock Capital 1 is scheduled by the end of 2023.
WSW Architects Executive Director Hazel Wong says, "Rock Capital 1 intends to set an unprecedented benchmark to work, play, and live, providing comfort, efficiency and convenient business lifestyle." With Rock Capital 1 catering to the administrative sector, El Batal Group with Hazel Wong utilize its design to transform a workplace into a well-rounded workspace.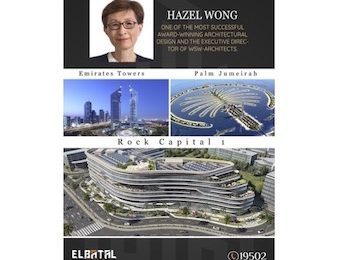 Wong is the creator of the design philosophy for Palm Jumeirah and the Emirates Towers in Dubai; now, she indulges in her latest mega architectural venture in Egypt's New Capital in collaboration with El Batal Group's in Rock Capital 1, as it landmarks a criterion for comfortable luxury, and brings a well-rounded lifestyle to the work environment in the heart of the New Capital Financial District. Eng. Emad Doss, CEO of El Batal Group, together with Hazel Wong are redefining what a workplace is.
El Batal Group is a real estate Developer with more than 40 years of experience, a capital of 1.5 bn, as well as, investments of 11 bn EGP. El Batal Group strives for innovation and utilizes its Canadian experience to build all its projects with global standards. As seen in Rock Capital 1, the company always strives to set new bars for projects with innovation that redefine administrative projects as they did in the commercial and residential projects. Meanwhile, WSW Architects is one of the most successful architectural companies in the world that won awards for building surveying and architectural design practice. They have a great experience working with clients in the UK and Dubai. Now, they join El Batal in building the first administrative project in Egypt – Rock Capital 1.