Minister of Housing, Utilities, and Urban Communities Assem El Gazzar paid an extended visit to the iconic New Alamein on May 26 to check on the latest updates related to the under-development national projects there, which reflected that works are in full swing to hand over the new coastal city ahead of schedule.
Accelerated Progress Across Broad Spectrum of Developments
Recognized as one of the most promising tourist destinations on Egypt's North Coast, New Alamein has managed to attract massive amounts of investments in the past few months. El Gazzar's unexpected visit to this potential spot was aimed at inspecting the ongoing development works and giving a push to the projects underway.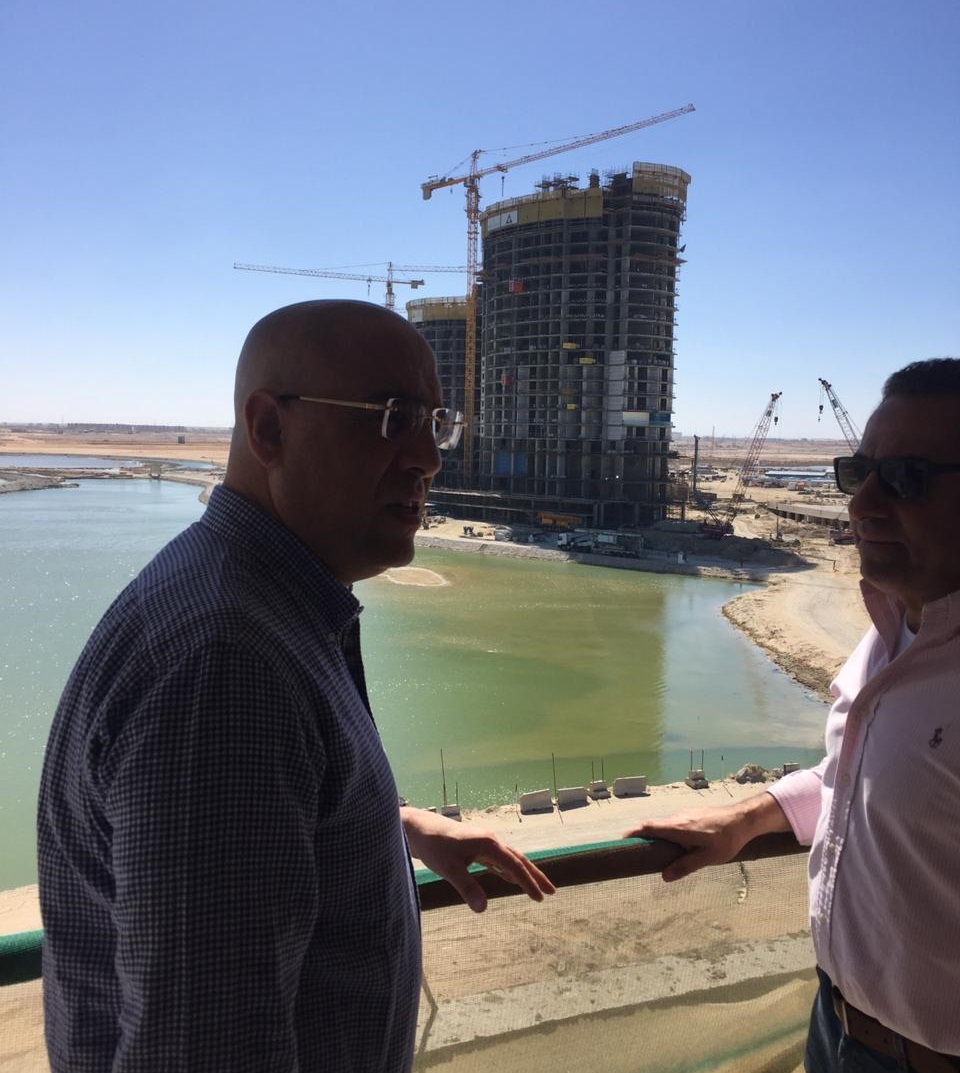 During his visit, the minister emphasized on the importance of abiding by the implementation deadlines and sticking to the highest quality of construction and finishing works. Under El Gazzar's guidance, the mega project will ensure applying international safety standards, in coordination with the civil defense authorities. To ensure a higher level of security, the city will be provided by integrated fire suppression units, well-equipped fire engines, and long firefighting ladders to reach out to different heights.
Additionally, the minister gave directives for the new city's staff members to hold regular meetings, aiming to hone their efficiency and productivity.
Passing by the downtown area, he witnessed finishing works being finalized in 15 out of 40 residential blocks and complexes, comprising 1,320 high-quality units that range in sizes between 90 and 300 square meters. Besides, a vast recreational area, located in the heart of New Alamein's coastal towers area with 3,000 parking spaces, is currently under construction, alongside a hotel and some commercial stores.
Equally important, the tour included a visit to Arab Academy for Science, Technology, and Maritime Transport to follow up on the recent plans to establish and operate four engineering faculties. The 62-acre branch encompasses 12 colleges as well as 34 administrative and entertainment buildings.
This was followed by a stop at Alamein National University – another educational facility that spans across 128 acres and is divided into three sections, including 13 colleges, four residential buildings, an administrative building, and a public library.
---
New Alamein Dressed Up for Summer Guests
With the summer season approaching, coastal cities are getting ready to receive a large influx of visitors. In the company of some ministerial officials and executives from the New Urban Communities Authority (NUCA), El Gazzar traversed the hottest coastal and vacation spots in New Alamein to review the city's preparations for the summer season.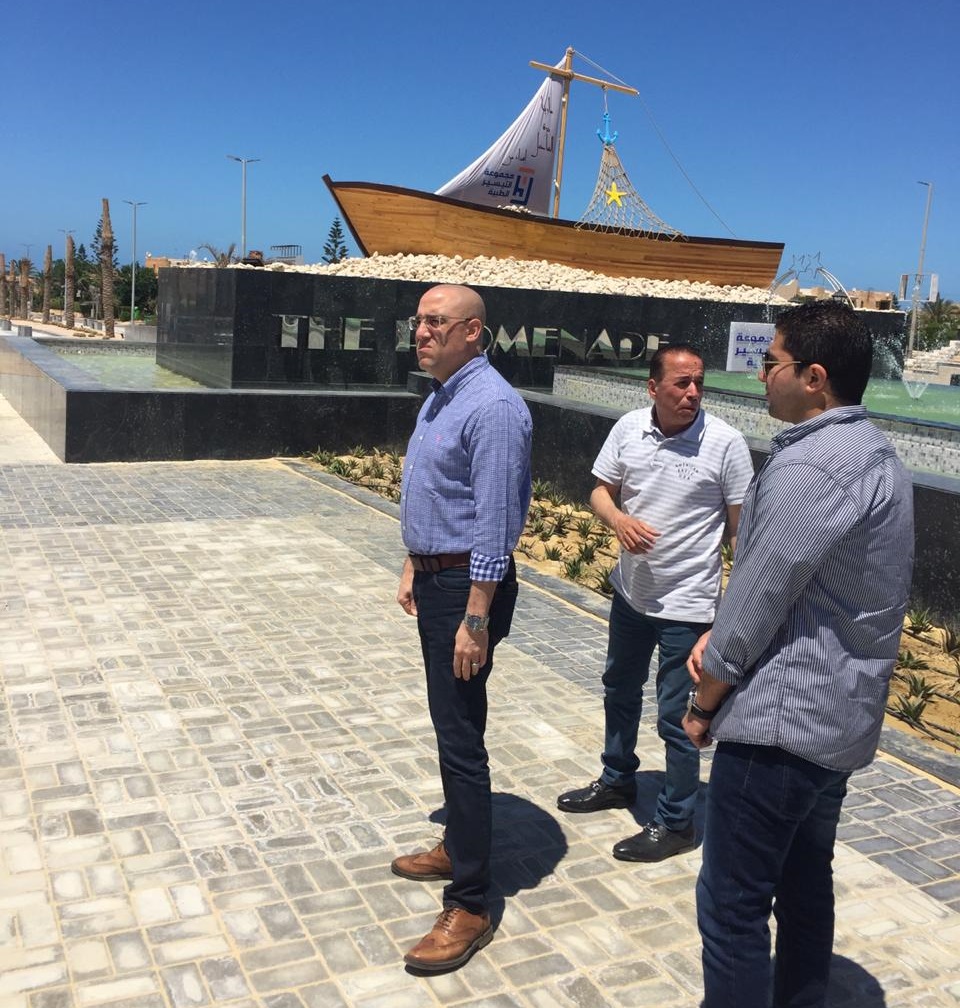 The minister followed up on New Alamein's coastal towers, which are seeing works on around 4,500 units and 15 high-rise residential buildings, with heights up to 41 floors. Implementation works on some towers have reached to the 23rd floor, while finishing works are progressing in parallel with construction.
An investigative visit to Marina El Alamein Tourist Center was also part of El Gazzar's tour, as the area is gearing up to welcome a large number of guests during Eid El Fitr holiday as well as the upcoming summer season. During the tour, he stressed on exerting maximum efforts to get this vacation spot ready to welcome its visitors in the coming few months.
Furthermore, the minister toured the construction site of the new city's commercial area, which is located at "Gate 4" and includes a promenade, along with some fountains and rose gardens that encompass covered and open-air benches.
Besides, he advised to apply the highest safety standards for the area's visitors, praising the quality of finishing works, embodied in store facades, usage of consistent and harmonic colors, and provision of distinct services and facilities.
Speaking of development progress in Marina El-Alamein, Head of Tourist Villages Authority Hatem Mahmoud briefed El Gazzar about the recent updates at the project, highlighting the enhancement of the road network, lake dredging works, as well as, the establishment of two sewage treatment plants – each with a capacity of 5,000 square meters per day. Additional water facilities will be renovated across the entire new city and the marina, the official noted.
Generally speaking, New Alamein, like any other new city, is now witnessing a leap in construction and implementation works, supported by the constant governmental efforts to develop and introduce these new cities as golden investment hubs for both domestic and global investors. El Gazzar's tour to the coastal city marks a new step forward on the right real estate development track, reinforcing the country's position as a fertile land of opportunities of all types.