As office environments get more innovative, the concept of flexible offices appears to be increasingly popular among businesses that are becoming more agile and looking for flexible workspace options. Invest-Gate looks into this business model, attempting to reach an in-depth study of its benefits, challenges, and potentiality.
Flexible Offices at a Glance
The concept of "flexible office space" is also known as serviced office, managed office, business center, shared space, co-working space, executive suite, or executive space. By definition, it is an office or office building that is fully equipped with all facilities needed for a business to move in and be immediately operational.
Generally speaking, flexible office space does not usually require a long-term commitment in terms of lease duration or contract terms. The length of leases varies and can be extended to suit the needs and requirements of the occupier.
Mansoor Ahmed, director of Healthcare, Education, and Development Solutions at Colliers International MENA, says:
"The concept of coworking spaces is already common in the Middle East and worldwide; It was originally aimed at entrepreneurs, consultants, and small- and medium-sized enterprises (SMEs) targeting lower startup costs, collaborative working spaces, and the flexibility of being able to be booked on a monthly basis."
---
Why Choose Flexible Offices?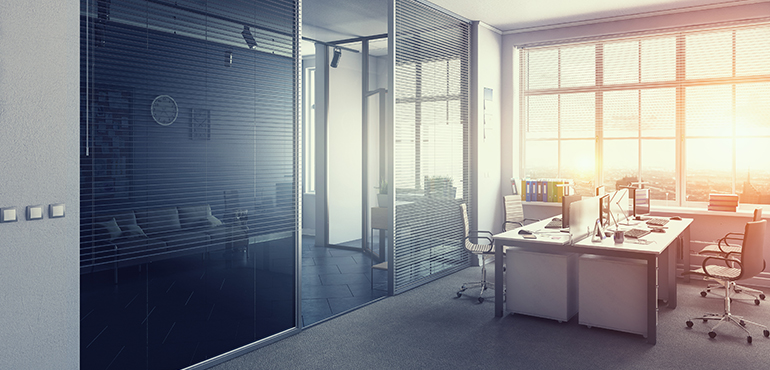 Flexible office business model is seen as a win-win for both owners and occupiers due to its various benefits for both parties. Head of Commercial Agency at Colliers International MENA Hamish Troon sees that Purchasers usually enjoy an array of benefits, including low running costs and profitability driven by high demand.
Constructa for Design, Construction, and Project Management launched, on December 17, a new service called "Triple S – Shared Space System" at The Walk shopping mall, east Cairo, allowing doctors to rent their clinics for EGP 24 per hour or a total of EGP 150,000 for 20 years, with packages starting from six hours per week in addition, to the availability of packages with more hours.
Bahgat Sabry, chairman of Constructa, explains:
"Triple S offers a set of general and special facilities, in addition to the option of renting the place for the client while not in use. Being in a mall, my business brings really high traffic to the mall, which is a profitable business experience to the rest of the commercial outlets within the same place."

"Another key benefit of the flexible office model is its business sustainability. You can simultaneously fulfill the potential client's need while maintaining the high standards of your business complex."
---
Hindering Barriers
Although flexible offices have lots of benefits for both user and developer, there are some challenges to this business model in Egypt in terms of reach and knowledge.
According to JLL's "Disruption or Distraction" report, released in November 2018, "widely cited concerns include security, confidentiality, and privacy in more open environments. Other companies are apprehensive about the potential impact on their branding and culture, particularly brand dilution."
"Lack of deep geographic coverage, concerns around the appropriateness of locations, excessive density, and the quality of fit-out can also act as barriers to large-scale use for some," the report adds.
Colliers' Troon comments:
"The shared/flexible office business model has a huge potential for startups and SMEs, yet it will not be sustainable for large corporate occupiers, who usually require high-security measurements and restricted areas policy. larger organizations are looking at the concept for either expansion space or at its operator as a form of facility management on their existing space."

"Given the Egyptian market's culture, marketing could be an obstacle. Hence, investors should be as creative as possible and aim to target the younger generations, specifically start-ups."
On his part, Constructa's Sabry highlights:
"It's the developers' task to educate the market about this model. There are a lot of inquiries by the target audience that need to be answered to gain trust in this model."
---
Opportunity for Investors to Make Business
While flexible offices still account for only a small proportion of overall office stock, JLL's numbers show that it is growing rapidly worldwide.
According to JLL's "Flexible Office Space" report, released in May 2018, shared workspaces have grown at an incredible rate of 200% over the last five years; it is estimated that there will be 26,000 flexible office sites all over the world by 2022, reflecting the strength of demand expected for coworking spaces.
Nearly half of the corporations already use some type of flexible office solution, and by 2020, 65% of companies expect to incorporate coworking into their office portfolio, the report adds.
For Egypt, experts see that there is a potential for this business model to boom."Flexible offices are a growing sub-sector of the market in Cairo, in line with global trends," JLL highlighted in the "Cairo Real Estate Market" report for Q3 2018.
Constructa's chairman notes:
"We started applying the concept with clinics as it is most suited for this type of business models. However, we are considering expansion into the rest of the administrative functions, especially among professionals such as engineers, lawyers, and accountants."
Colliers' Troon Lists Some Tips for the Success of Flexible Office Business Model:
Proper planning, including market study, supply and demand analysis, and financial projections.
Looking out for competition.
Choosing the right location.
Outstanding marketing strategies to ensure attracting the right segment.
In conclusion, as technology advances, workforces become more agile, while companies rethink their ways of space management and usage of flexible offices, which are expected to increase accordingly, along with major implications for investors and corporations.
To learn more about this topic, read pages no. 22-27 at our February issue.