The summer season is just around the corner, and if you are planning to kick back, travel, and spend lots of money, why not make use of your empty first home property in Cairo while you are sipping cocktails on the beach? It is about time to gain some rewarding financial returns from your first home property. Invest-Gate surveys a number of real estate investors to present homeowners with advice on earning cash from their vacant properties during the summer time.
Rent Out The Accommodation
Instead of leaving your residential unit sitting empty during summer holidays, you should consider listing it for short-term rentals to make extra cash. Ragy Hassan, a 41-year old mechanical engineer, tells Invest-Gate that two years ago, he started renting his apartment in Heliopolis when he is away during summer holidays, to counterbalance the rising prices in the country following the pound's floatation.
"It actually feels rewarding to make money while I'm off for some relaxing time," he elaborates, "since owning a home is an investment, one should constantly seek different approaches to exploit it. Renting my home is an optimum source of income, it helps me finance my summer vacation and even covers my household expenditures."
In fact, research has shown that the demand for properties for sale/rent in Egypt has increased in the first quarter of 2017 by 179.17% in comparison to 2016.
As to the demand on the rental market in Cairo during the summer season, Hassan highlights that individuals traveling to Cairo for business matters or to visit their families and friends may be on the lookout for a comfy, non-hotel place to settle in. Therefore, owning a three-bedroom flat, like Hassan's, could cater to that need.
In its 2017 property market trends report, OLX revealed that people moving to the outskirts of Greater Cairo, who still haven't completed the finishing of their properties, are constantly seeking temporary tenancies, which is reflected in the booming rental rates within the area.
In the same vein, Khalid Ali, a 32-year old web designer, owns a 90-square-meter apartment in a compound in front of the American University in Cairo (AUC). He is currently renting his flat to students during the summer semester only, as a bottom line to help him cover his high spendings during this period alongside his salary.
Ali tells Invest-Gate that due to his significant location, the demand from students taking summer courses, particularly AUC students, is soaring during such time of the year. He reveals that this year, he is asking for up to EGP 12,000 per month for renting his furnished apartment to students who split the accommodation rent.
"Being close to a college or university, a hospital, or even living in an area with a tight rental market increases the chances of renting the place, and makes it bound to generate more income," Ali elaborates.
To get the best deal in renting a vacant property, both real estate investors recommend marketing the property via online real estate listing platforms such as OLX and Aqarmap websites, in addition to social media platforms such as Facebook and Instagram.
Hassan says that he also utilizes some Facebook groups that help users promote their properties by posting their real estate rental offers in various cities and neighborhoods around Egypt, and thus, luring potential renters through the medium.
"This broker-free approach helps streamline the whole renting process. I simply take photos that make my property stand out by removing unnecessary clutter, and stage my shots to display the necessary amenities and facilities featured in the place, I then post it on such online platforms and immediately reach out to potential renters," he tells Invest-Gate.
Start Hosting Events
If you own a villa or a ground-floor flat accompanied with a private garden, turning your backyard into a venue for holding events such as outdoor weddings and birthdays is another money-making approach that homeowners commonly consider.
Soraya Amer, a 48-year old widow with three kids, speaks to Invest-Gate about her four-year experience with hosting outdoor weddings at her 700-square-meter backyard. She elucidates that following her husband's death, she started seeking alternative means to raise her income. Therefore, she decided to host wedding ceremonies in her villa's garden in 6th of October City, but only during the summer.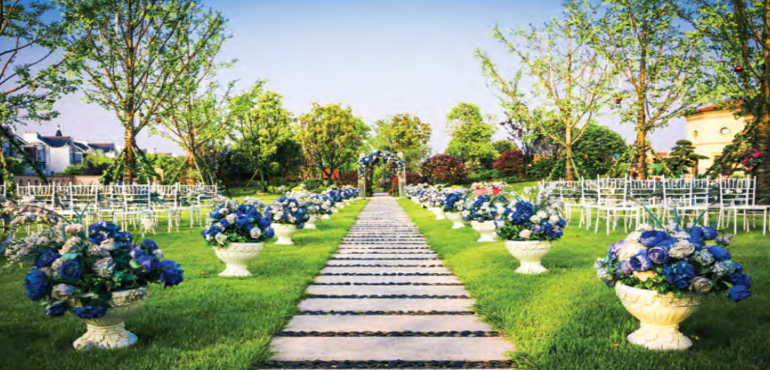 "Since I often spend my summer vacation with my children at my second home in the North Coast, I decided to turn my extensive garden at my primary residence into a backyard wedding venue," Amer says, "for the upcoming season, it will cost nearly EGP 20,000 to rent out my backyard for a wedding ceremony for 200 guests."
Amer explains that weddings taking place at private homes are a growing trend, particularly during the summer, as the majority of couples are either seeking various ways to save money or for something a bit more personalized or unique than a traditional ceremony.
Besides, she points out that such a moneymaking approach is not at all a hassle and that the maintenance arrangements are not as pricey as they may seem. She says that investors offering their backyards for hosting wedding ceremonies, often feature the ground floor amenities and services only.
"Let's say I will be hosting four weddings this season, the total maintenance fees could cost me not more than EGP 15,000, generating an annual net profit of approximately EGP 65,000," Amer tells Invest-Gate.
As to ways of marketing the venue, Amer explains that she advertises it through wedding planners, blogs, and groups available on social media and online platforms; in which she presents various shots of the wedding venue, in addition to the necessary rent details.
Along the same line of thought, 45-year old Sherif Ismail, a dentist, had formerly transformed his house facades into an at-home mini gallery to permit his artist friend to "invite exclusive guests to attend and explore art in a very different setting."
"Last summer, a friend of mine was looking for a low-priced place to host her art gallery for a two-month period. Since she didn't need much space, I told myself why not provide her with a section of my apartment for money? As I was off to London with my family for a long vacation," he recalls.
Unlike turning a space into a wedding venue, Ismail tells Invest-Gate that he had to clear out the house hallways, sitting room, and salon to seemly showcase the artist's artwork, in addition to securing a toilet and kitchenette to serve the guests.
Taking into consideration the logistics of such approach, he also underlines that he had to remove the valuables and delicate objects from spaces where people will gather, and lock the doors to rooms not in use to avoid any damages or thefts.
For an area of approximately 50 square meters, Ismail is requiring EGP 40,000 for hosting another art gallery at his apartment in Zamalek this summer, compared to EGP 35,000 last year.
"I think I will keep considering renting out my unit for artists interested in holding at-home galleries in the future, perhaps I will be reaching out to them through other artists, acquaintances, and social media platforms," he adds.
However, Ismail also stresses that investors should exploit this kind of approach as exclusively as possible, and attempt hosting events to individuals they're on good terms with to avoid any conflicts such as excessive boisterousness and damages, in addition to imposing the requirement of inviting a limited number of guests for the sake of respecting other residents' rights.