Fulfilling Jumeirah Egypt's vision to create fully-fledged gated communities, "We strive to maintain the concept of sustainability by running our business in Egypt via a group of subsidiaries to provide a vast range of inclusive services with the purpose of surpassing wholeness in everything we do," says Jumeirah Egypt CEO Hisham El Danasoury.
Jumeirah Egypt ventures in Egypt's most competitive markets with EGP 7bn, to become one of the five leading real estate developers on the scene with targeted sales of EGP 2bn in 2021. Invest-Gate meets with its CEO Hisham El Danasoury to discuss its vision and introduce its addition to the Egyptian real estate market.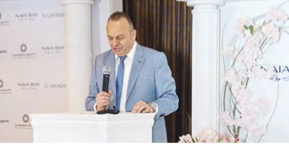 How do you view the real estate market across the Middle East? & why did you choose Egypt to invest in?
The real estate market across the Middle East is flourishing nowadays, promising a lot of opportunities since it is the most stable sector for investment as perceived by the end consumer. In Egypt, the real estate sector is backed up by the political leadership of the state. With President El Sisi's vision of building a new Egypt, the industry now sees massive business ventures and opportunities for real estate developers to cultivate and to contribute to enhancing the Egyptian economy.
Jumeirah Egypt's main vision is focused on achieving leadership in the field of real estate investment by being one of the most important and among the largest five companies in the Egyptian market, through the implementation of exceptional projects in line with the unprecedented urban development that Egypt is witnessing now and fulfilling the desires of our customers to provide a real estate product that makes a milestone in the Egyptian market.
With exceptional projects, based primarily on innovation and excellence to satisfy our client, Jumeirah Egypt provides high-end projects and distinguished services to be a strong addition to the Egyptian real estate market that exceeds all expectations and contributes mainly to changing the concept of architecture and sustainable development.
How do you view Egypt's new cities (4th Gen. Cities)? And which one do you see as the most promising?
Fourth generation cities are the natural extension of technological & sustainable urban development that occurs every second in the entire world for the well-being for humans. They enjoy convenient factors, eliminate randomness and achieve economic growth for countries due to the attractive environment they provide for investments. Therefore, its establishment in Egypt has become an urgent necessity and is in line with the sustainable development plans targeted by the political leadership of the state.
In Jumeirah Egypt, we see a lot of potentiality in New Administrative Capital & New North Coast areas, as these two areas promise a lot of opportunities for real estate sector & investment in Egypt.
Is any of those new cities, a potential investment for Jumeirah Egypt?
Yes, New Administrative Capital & New North Coast a.k.a Ras El Hekma.
What is the product that Jumeirah Egypt will provide in Egypt? What makes it special to stand out among the rest?
NAIA BAY is our novel project in Egypt in the most outstanding zone Ras El Hekma. Our elite Greek inspired community and lifestyle extends across 470,400 sqm at the heart of Ras El Hekma with crafted standalone villas, twin houses, town houses and chalets designed by ElGhoneimi Architects.
NAIA BAY is of 726 units with a wide range of prototypes space area from 65 sqm up to 520sqm to fulfill the need for each clientele; our project is located on 212 Km Alex-Marsa Matrouh Road, a prime destination that is near to hotels, main roads & vital services zones.
NAIA BAY will have a soon-to-be announced international hotel once the agreement is concluded. We officially signed with Crystal Lagoons®, so we would deliver private lagoon waterfront for all units. Our commercial team is also working on international brands for NAIA BAY's commercial strip.
What features does NAIA BAY have?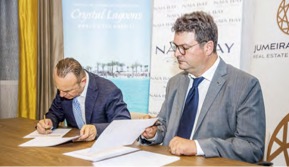 NAIA BAY spirited Greek design recognized by frilly blue and white colors. NAIA BAY features unrivaled architecture bringing genuine Greek spirit to all standalone villas, twin houses, town houses and chalets. Its architectural design emphasizes maximum views and best use of space area, while retaining privacy through serene and veritable Lifestyle. We have a diversity in unit space area that starts from 65 sqm up to 520 sqm. The project enjoys a lot of facilities and amenities like 5 star hotel, boutique hotel, lavish outlets, and kiosks, etc.
NAIA Bay is divided into several districts, beginning by Fira which features 16 seafront villas and 58 twin houses. Built on various elevations like that of Fira Santorini, this neighborhood enjoys infinity views from your home while relaxing in your private jacuzzi or pool while the beach is few steps away. Pelagio is another district at NAIA Bay of private imperial 42 waterfront twin houses and 266 town houses on a lagoon- stretching over 41,000 sqm- designed by one of the most popular American Companies Crystal Lagoons® in the world. Hali is the third district with 148 porch waterfront town houses and near Poli, NAIA BAY's Commercial Strip home to 16 commercial buildings and enjoys various international brands and entertainment venues. Plaka is NAIA BAY's 196 downtown studios and chalets and a few steps away from Poli.
When should it be delivered?
NAIA Bay's first phase is to be delivered in three years following its official launch date which is scheduled on August 25, 2021. Its second phase will be delivered two years after from the delivery of its first phase. The entire project should be delivered in five years tops.
What is Jumeirah Egypt's expected target in terms of investment and sales 2021?
Our investments in 2021 have reached a total of EGP 7bn and our expected sales this year is EGP 2bn.
Aside from residential, are there any commercial real estate projects coming up?
We are planning for a commercial expansion, we recently have added "Poli", our commercial buildings in NAIA BAY – Ras El Hekma, featuring a lot of brands to be operating in it like Testa Rossa, Casper & Gambini's, BBQ.PRO , Abou Auof Café, among others.
What is the size of Jumeirah Egypt land bank in Egypt?
Currently we are having NAIA BAY, our first project in Egypt with total area of 112 acres in Ras El Hekma, New North Coast with total investment of EGP 7bn. We are further planning for expansion soon in Sheikh Zayed & New North Coast.
How do you view the government's efforts to promote its real estate industry? And what are the challenges it needs to eliminate?
What happened in Egypt over the past seven years is an unprecedented urban renaissance that has never been witnessed before. It gave a strong and great impetus to Egyptian companies working in the field and foreign investors, as well, to expand in the Egyptian market especially with Egypt establishing new urban cities and new urban projects. Therefore, companies to remain resilience in crises. Furthermore, all decisions and economic measures recently taken by the state, such as the decision to reduce interest, real estate financing initiatives, and the discussion of a number of laws related to the sector, are all supportive of real estate investment and revive the movement of the real estate market.
The challenges facing the real estate sector in general are represented in the high prices of land and building materials, and consequently the increase in the total value of units.
In your opinion, can Egypt compete in the real estate world market? Can it attract foreign homebuyers aside from the GCC?
Yes indeed, Egypt has a lot of potentiality especially for GCC region and across Europe. Due to some political instability in some Arab countries, Egypt is considered an investment destination for many with attractive and feasible payment facilities following the state's direction to attract foreign direct investments; adding to that, the diversity in the products made available now to foreign homebuyers from different space areas to different zones and the diversity from first home to second home, and up to commercial projects too.
What does Jumeirah Egypt have in the pipeline?
We have soon-to-be announced two new projects; one in Sheikh Zayed & the other on the New North Coast.