Egypt is witnessing a huge transformation across its housing, investment, and services sectors. The launch of the mega projects in new areas are creating new investment and job opportunities, fueling the demand for housing, and thus increasing real estate projects.
The government's goal behind building these new cities is to relocate the ministries and government-related bodies from Cairo and disperse the growing urban population.
In collaboration with the private sector, Egypt has embarked on new developments in the Cairo- Suez area, starting from the New Administrative Capital to Al Galala City, which will completely alter the operations in this region, including Ain Sokhna.
The Latest on New Administrative Capital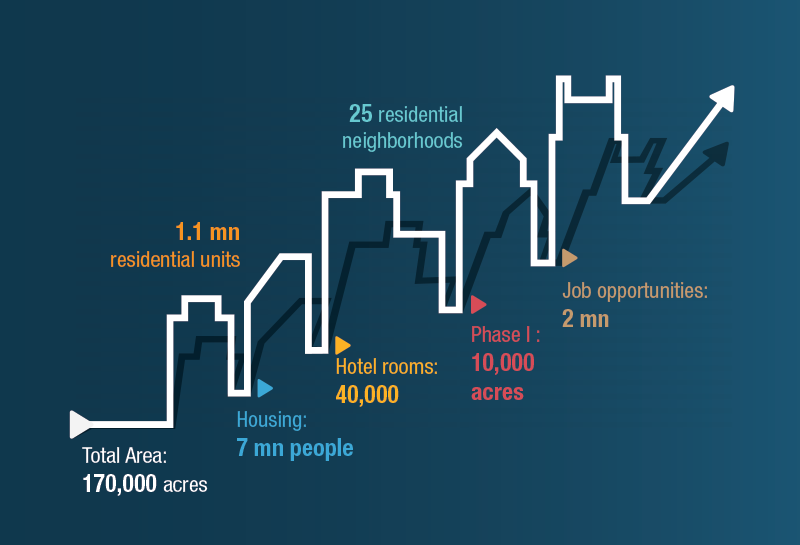 Following the inauguration of the new capital last October by opening Almasa Capital Hotel, construction in the 170,000- acre city is still ongoing and the project will be divided into a number of phases so it can be up-and-running in the nearest possible time.
The first phase of the new capital is expected to be delivered by 2020 and it will host up to 7 mn resident, offering around 2 mn job opportunities.
The first phase is built on 10,000 acres, including the residential neighborhood built by the New Urban Communities Authority (NUCA) which encompasses more than 25,000 residential units.
NUCA has opened the reservations for the units and demand is "very high" as Prime Minister and Minister of Housing, Utilities, and Urban Development, Mostafa Madbouly, has recently revealed.
All these units are completed, according to Ahmed Zaki Abdeen, Chairman of the New Administrative Capital Company for Urban Development. Abdeen, in recent press statements, also revealed that main services such as schools and markets will be ready to serve the residents when the first phase is fully completed, as well as, a transportation network.
Real estate developers such as Orientals for Urban Development (OUD), Talaat Moustafa Group (TMG) Holding, Tatweer Misr, and Misr Italia Properties have launched the first phases of their mega projects, located in the premium housing neighborhood, with all phases are being sold out in a matter of days.
The average delivery date for most of these projects is 2021, while owners are expected to start living there by 2022.
However, JLL Country Head of Egypt Ayman Sami reveals to Invest-Gate that people will not move out and live in the new capital very soon as most of the businesses will still operate outside this area.
"Although the demand on buying properties in the new capital is very high, demand on properties in New Cairo is still high with high level of prices," he adds.
Sami justifies his point of view by stating that most of the local and international firms' offices operate in the New Cairo area, adding that people will only move to the new capital with the inauguration of the Central Business District, where various offices will be opened.
The Central Business District is expected to be opened in three years and will include the highest tower in Africa, in addition to 20 towers that will host offices from various business sectors.
The Latest on Al Galala City
Divided into three phases, Al Galala City will bring a new concept of touristic city to Egypt, combining tourism, as well as, trade and commerce. With total investments of EGP 8 bn, Al Galala City is considered to be one of the highest cities overlooking the sea in Egypt.
Al Galala's main road is an integral part of June 30 Axis, which reflects the importance of such city as a trade and commercial hub besides being a touristic city.
Developers such as Tatweer Misr, El Shahawi Group, and Catalyst for Real Estate Development are offering variety of villas, townhouses, and apartments with various areas.
JLL's Sami is expecting a high rate of sales in Al Galala, especially "with the opening of King Abdullah University."
The university will be one of the main projects that the city will encompass, with expectations to attract many international students.
Al Galala City will also have one of the largest coastal resorts in Egypt that will serve people from tourism and trade sectors alike.
The city will also be supplied by different facilities and utilities, such as sanitation stations and electricity grids that will provide extra support to Ain Sokhna residents.
Al Galala's tourism project consists of a seaside hotel, a mall, a mountain hotel, a water park, a marina, and cable cars.
A public aisle on the beach and a huge entertainment city will be also built to serve all Egyptians not only those who own properties at Al Galala.
"Facilities built in Al Galala City will increase sales on properties in all the surrounding areas," Sami predicts.
Concerning hospitality, Sami believes that there will be "a very high demand on hotel rooms there, however, this will only happen when all surrounding facilities are completed."
The Latest on Suez Canal And Ain Sokhna 
By the number of investments in the surrounding area from offices to developmental projects, it is expected that demand on units in Al Galala and Ain Sokhna are to increase.
People working in the new capital might prefer to live in a coastal area such as Ain Sokhna and own a primary home there, especially that it is only 45 kilometers away from the new capital.
From JLL's point of view, Sami reveals that it is not easy to "convince people to change their first home locations; however, the government's vision is to change such mindset by building new developmental projects in various cities such as New Alamein and Al Galala."
Another target that the government is aiming to achieve by building new cities -particularly the new capital all the way to Al Galala city- is to export the Egyptian real estate to foreign homebuyers. To achieve this goal, Prime Minister Madbouly has recently met a number of leading real estate developers to put a master plan for exporting the Egyptian real estate market.
Sami sees that the supply of hotel rooms all over Cairo helps in showing off the Egyptian market to foreigners. Moreover, he adds that the start of operation of projects in the new capital-Suez area will play as a catalyst for foreigners to buy properties.
However, he highlights that "although the demand on units in such areas is very high, the resale rate is very low and is expected to decrease, which means that individuals' investment rates may also decline."