If you were offered an investment opportunity, which would appreciate 900% in value annually, it would certainly be an investment of a lifetime. That is what the holder of bitcoin has seen over the past years with the cryptocurrency hitting the USD 10,000 mark last November. In this regard, Invest- Gate explores the utilization of bitcoin for investment purposes, in addition to its usage in the real estate market, particularly in the Middle East and Arab countries.
The Rise Of Bitcoins
The cryptocurrency has come a long way since it was first introduced in 2009. It is only in the past two years that bitcoin started to enter the mainstream with a number of investors around the world adopting it as an investment opportunity due to the rapid appreciation of its value.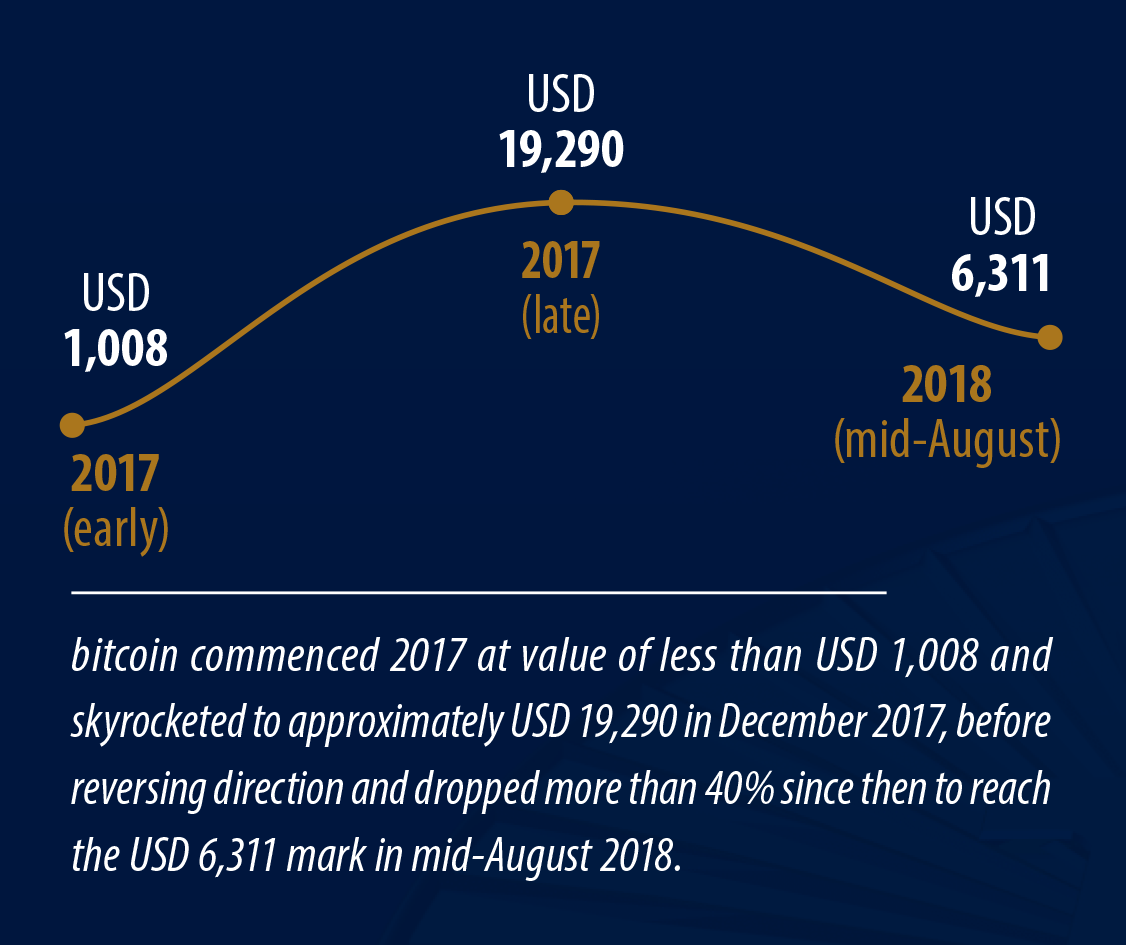 CEO of Dubai-based Masterkey Properties Alexandar Varghese tells Invest-Gate, "At the moment, most of my investors use bitcoins for trading and investment, speculating that the market will shoot up in the coming months or year. The ticket size for this investment is usually between USD 5,000 and USD 30,000."
In the same manner, Saqr Ereiqat, Blockchain Evangelist and Senior Managing Consultant at IBM, says that bitcoin was the first application of the blockchain technology, which records each bitcoin transaction in a shared public ledger.
Ereiqat elucidates that the extreme volatility in bitcoin's value provides an investment opportunity to day traders, adding that bitcoin can be used like a "cash money".
In fact, according to Varghese, some of those investing in bitcoins are seasoned investors, who want to dabble in the market and test it, "rather than investing more than 20% of their portfolio in this," he adds.
"A Worthwhile Investment"
Varghese explains that just because bitcoin is a cryptocurrency, it does not mean that it is not "a worthwhile investment." He tells Invest-Gate, "The surge in interest in bitcoin has created many bitcoin millionaires; and it is yet predicted to create many more."
Beyond being a fast-appreciating asset, bitcoin has a number of other reasons for its popularity. It is the first decentralized or unregulated cryptocurrency. In other words, bitcoin establishes anonymity of its users' identities, allowing buyers or entities to undergo any bitcoin transaction without relying on any financial or governmental institution to process such payments.
Varghese highlights that cryptocurrencies, in general, would warm up the real estate market among all countries, describing bitcoin users as "a fresh new clientele that [real estate developers] can target to sell property."
The fact that bitcoin transactions are carried more swiftly, and with low or no fees compared to traditional currencies like dollars, also make bitcoins appealing.
With bitcoin, you can spend the cryptocurrency anywhere in the world without the need for conversions. Bitcoin transactions are recorded on a blockchain, circumventing that system of foreign exchange as it eliminates the middleman and allows consumers anywhere to buy anything from anyone without the hassle or expense of foreign exchange.
In A Land Of Cryptocurrency:
Unlike the kryptonite's threat to Superman, some see the urge for cryptocurrencies in real estate investments. The main driver that opens the real estate market for bitcoin is that more developing cities from around the world are to adopt laws to allow such technology to be used in property deals, or do not set regulations to hinder cryptocurrency transactions at all. Apart from Dubai, such cities include Australia, New Zealand, New York, Miami, as well as, selected cities in Europe, notably London.
Bitcoin Transaction For Investment Satisfaction
An investor would incline towards buying a property with bitcoin or any other cryptocurrency, instead of banknotes for a number of reasons -according to Huffington Post:
Reduced Expenses: There are minimal transaction fees for cryptocurrency. The bitcoin network fee for a transaction is nearly USD 0.47.
Immediate Settlement: Buying real estate usually involves third parties like attorneys, surveyors, and brokers. But the cryptocurrency blockchain caters to eliminate the hassle and the completion for only a portion of the time and the expense required to finalize traditional asset transfers.
Less Risk with Robust Theft Detection Mechanism: Unlike credit card transaction, cryptocurrency payments utilize a "push" mechanism that allows the buyer (cryptocurrency holder) to pay exactly what they intend to the recipient without further information. No amount of money can leave a holder's account without their consent since they can instruct payments from their wallets.
Global Recognition: Cryptocurrency is not bound by interest rates, exchange rates, or other inflationary charges of any nation. It can be used internationally without experiencing any troubles when conducting payments across nations.
The UAE Model
The real estate market in the UAE, particularly in Dubai, is one of the first in the world to show a considerable interest in the cryptocurrency.
Last year, Knox Group of Companies has announced launching their residential and commercial property development in Dubai, Aston Plaza and Residences, valued at USD 325 mn with units on sale for bitcoins, deeming it the first real estate project in Dubai that will accept the cryptocurrency as payment.
Commenting on this crucial step in Dubai's real estate market, Varghese tells Invest-Gate that since bitcoin has already created many millionaires, "Dubai being the progressive city, it looks to tap into these new millionaires and have them invest in Dubai."
However, "if the real estate developer receives payment in bitcoin, he must ensure that if the cryptocurrency value deteriorates – just like any national currency – it won't adversely affect his balance sheet and cash flow," the CEO underlines.
Consequently, a handful of real estate developers including Nakheel, as well as commercial tenants such as Star Business Centre, subsidiary of Dubaibased Samana Group, are advertising some of their products in virtual currencies like bitcoin.
Meanwhile, Ereiqat reiterates that, in general, starting to accept bitcoin for property transactions will not mean an adoption of blockchain technology to the real estate sector.
Promoting a secure utilization of cryptocurrency payments in the UAE, the Abu Dhabi Global Market (ADGM), the International Financial Centre in Abu Dhabi, has launched last June its framework to regulate spot crypto-asset activities, including those undertaken by exchanges, custodians, and other intermediaries in ADGM.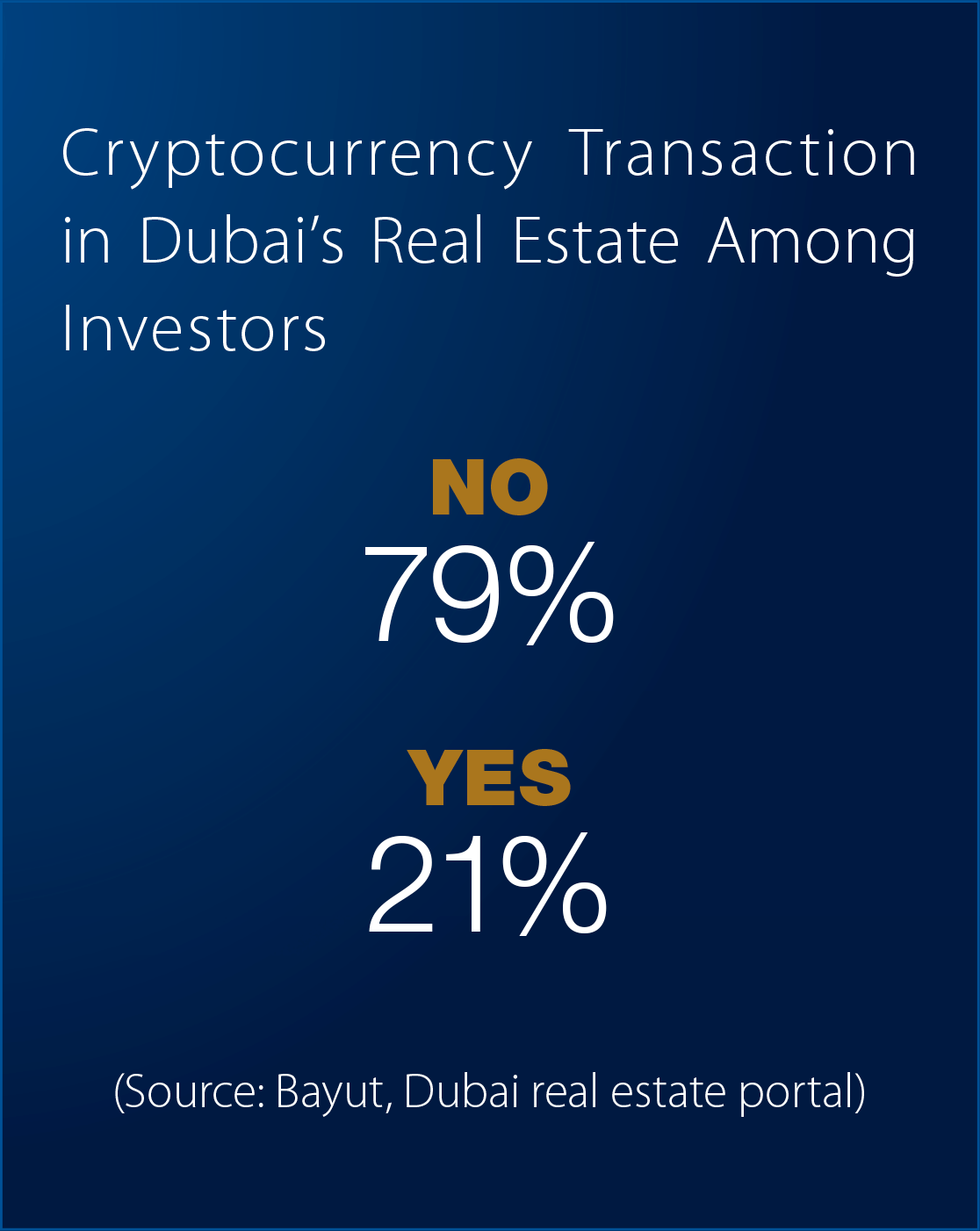 "This follows the successful completion of a public consultation on the introduction of a robust cryptasset regulatory framework by ADGM Financial Services Regulatory Authority (FSRA) on May 28, 2018," according to an official statement.
"The framework is designed to address the full range of risks associated with crypto-asset activities, including risks relating to money laundering and financial crime, consumer protection, technology governance, custody, and exchange operations," the statement reads.
Egypt Votes No To Bitcoin
Despite the snowballing interest in bitcoin, Egypt condemns the utilization of all cryptocurrencies as the Central Bank of Egypt (CBE) has recently issued a warning statement against dealing with virtual currencies, particularly bitcoin, due to the remarkably high risks associated with them.
"Cryptocurrencies are typically characterized by fluctuations and significant price volatility as their global speculations are completely unregulated, a fact that makes investments in them quite risky and highly speculative, and are likely to lead to sudden losses of their whole value," CBE's statement confirms.