While Egypt is on its way to inaugurate the New Administrative Capital (NAC), a high demand wave for units in NAC has been noticed, especially during the latest real estate exhibitions, in which there is a heavy turnout from buyers searching for the best administrative/ commercial units with the best specifications, suitable price, easiest payment systems, and the highest return on investment (ROI). Invest-Gate speaks to market experts and customers, in a bid to find out the demand direction for administrative and commercial units in NAC.

According to Invest-Gate's recent survey, 50% of participants believe the demand for administrative/commercial units in NAC is growing; on the other hand, 17.6% see a drop in demand. Meanwhile, 32.4% believe that the demand wave is still not clear.
In this regard, Ashraf Diaa, Marota Developments COO, states, "Our ongoing market research reveals that about (four to seven) of every 10 people have the interest to purchase a commercial unit in NAC, especially in entertainment areas. The customer's first choice is the food and beverage unit, then retail, then the administrative office."
Invest- Gate spots three main motives Behind the demand surge. The first is Achieving High ROI. A large segment of customers seeks to maximize the return on their savings by investing in distinguished tools, such as administrative and commercial units for future long-term rent deals and/ or resale. Thus, NAC is considered to be the first and the most prominent destination for the real estate market now. Besides, various real estate developers across NAC are offering distinctive administrative and commercial units, to help achieve the highest return for the investor (ROI).
Eng. Emad Doss, El Batal Group CEO, stresses that the demand is highly growing on administrative and commercial units, explaining, "The customer's motive to purchase administrative or commercial units is for investment, which is expected to double by the time the Egyptian government moves to NAC next year."
Real Estate Expert Mostafa Abdel Khabir explains that the administrative and commercial units have many advantages, from the point of view of the individual investors, compared to residential. "First, administrative and commercial buildings tend to be completed and delivered faster than residential compounds. Second, the investor does not adhere to specific areas, or other specifications in the administrative unit, as he will not use it himself, unlike the residential units. He just wants to gain profit," he elaborates.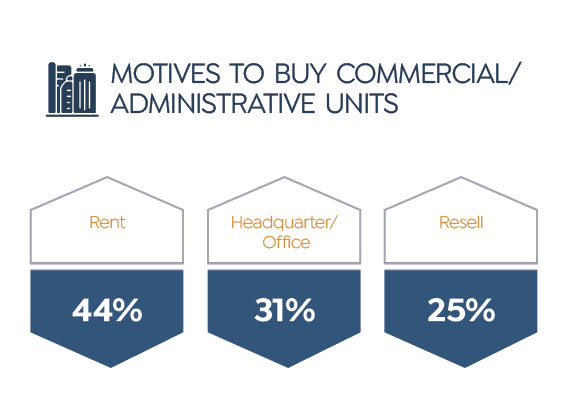 In this regard, Invest-Gate polls customers' opinions about the main motive to purchase an administrative or commercial unit in NAC.
The results show that 44% of participants would purchase an administrative or commercial unit to rent it, and 31% would use it as an office, while the remaining 25% would resell it. This means that  ROI  is the main motive for 69% of participants.
Second: The State's Huge Interest
The second reason behind the witnessed high demand is the State's Interest in NAC. The Egyptian government is keen to present NAC as one of the most prominent business and investment destinations in the Middle East. Consequently, it had adopted a marketing plan to attract the largest 500 companies in the world to place their regional headquarters in NAC. Moreover, the state has planned to offer 10,000 acres for commercial and administrative buildings in NAC, according to their official statement.
Thirdly, the important Role played by Real Estate Agents in the demand surge. Most developers depend on brokers to maximize their sales, and the brokers are playing an outstanding role to direct customers to purchase administrative and commercial units in NAC, highlighting its ROI.
Abdel Khabir discloses, "The customer has become confused by a large number of advertisements for real estate projects and finds it difficult to determine the best offers. Therefore, he tends to seek advice from consultants and brokers." He adds, "On the other hand, companies give the highest commission rate to brokers to market the administrative and commercial units in NAC. Accordingly, Brokers direct customers to purchasing these units."
Specifications of High-Demand Units
According to Invest-Gate's survey on customers' preferences when it comes to purchasing an administrative or commercial unit.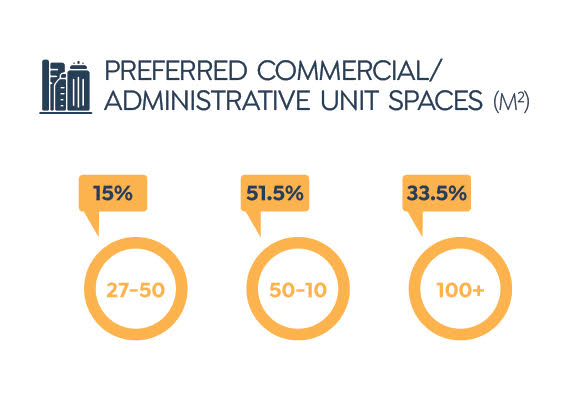 The results show that 51.5% of respondents prefer an area of 50-100 sqm, while 33.5% prefer a larger area of more than 100 sqm. 15% prefer a small area of 27-50 sqm.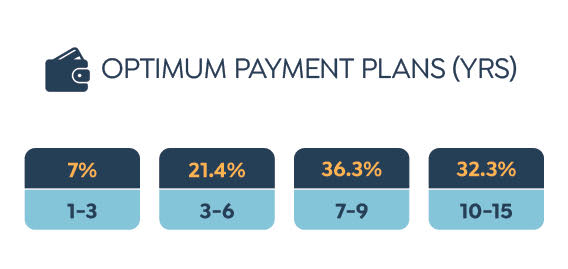 When it comes to payment plans, 36.3% of respondents prefer payment facilities of up to seven to nine years, while 32.3% prefer longer periods of 10-15 years. However, 21.4% prefer three to six years, and only 7% want to pay installments over one to three years.
As for the most attractive area in NAC, 59.4% choose the Central Business District (CBD), while 21.4% prefer downtown, 9.4% choose the R7 District, and the same percentage goes to the R8 District.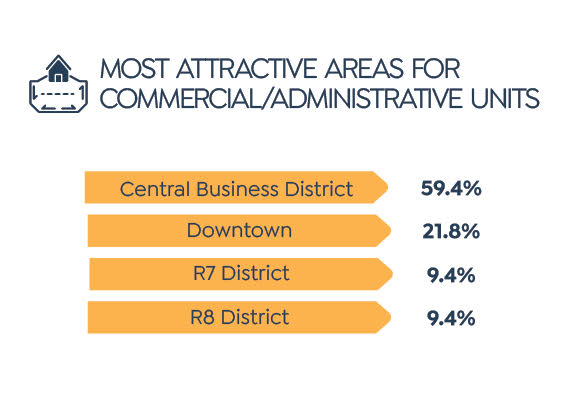 Supply Challenges
According to real estate experts, there are three challenges hindering the supply of administrative and commercial in NAC, as following:
First: Failure to Pay Installments
As long as the demand for NAC is booming, there will be some customers, who may have trouble to fulfill their payments. Consequently, the developers' cash flow can be fraught.
Second: Customers Failure To Operate Units
When buildings and/ or units remain deserted, it is often the fault of the owner, who failed to operate it. According to Abdel Khabir, "The customer may rent the unit to a low brand, which does not meet the community standards, or maybe close it for a while to get high prices."
Third: First Time Developers
First time developers who shifted from any other profession like construction for example with limited experience can negatively affect the market. Commonly known across the market, they tend to mistaken the appropriate price policy or delay delivery, which falsely impact administrative and commercial projects in NAC in general. Fady Soliman, property consultant at IC Group, comments, "The government has already withdrawn projects from some companies entering the market for the first time due to their non-compliance. Moreover, these companies offer reduced prices that do not match the cost of implementation, which could harm the market."
Estate Experts Foresee the Future
Experts believe that the demand for these types of units will remain high, especially during the coming one to three years. According to Abdel Khabir, demand in the future will depend on customers' experience  especially after NAC is inhabited. Diaa agrees, saying, "The developers must deliver units that meet consumers' aspirations, so they must carefully choose their partners."
The current period witnesses an increasing demand for administrative and commercial units but its continuity in the future remains contingent on the ability of developers to deliver the units of highest standards, meet deadlines, and with sought-after facilities as earlier promoted.