When embarking on the National Strategic Plan for Urban Development 2052, Egypt's endeavors were not only limited to the implementation of new cities and suburbs far from the center; instead, it vows to improve citizens' quality of life altogether. Indeed, carrying out large-scale megaprojects such as the New Administrative Capital (NAC) and New Alamein translates into numerous business and investment opportunities, and most importantly, job creation. 
Locally speaking, the provision of new job opportunities is currently the number one priority for public and private sectors than at any other time in the past, particularly with the skyrocketing levels of unemployment posing a challenge for Egypt's economic growth. 
In the language of maths, the Central Agency for Public Mobilization and Statistics (CAPMAS) had confirmed that the North African nation's unemployment rate accelerated to a near two-year high in Q2 2020, recording 9.6% as the COVID-19 hit puts a damper on business activity.
Adding to the already severe nature of this job crisis, Egypt is already the most populous country in the Middle East, projected to see a population boom in the coming 30 years, with a recently-released UN report, called "World Population Prospects," expecting the number of Egyptians to reach 1.6 bn by 2050.
These alarming figures call for action and prompt a heated debate over the significance and added-value of the newly-introduced cities in terms of economic opportunities and jobs for youth. Invest-Gate digs deep trenches into all these respects to find how the Egyptian state and real estate developers work to meet the needs of job seekers, paired with new labor market entrants.
Numbers Talk
For starters, the government is now gearing to bring a new map for urban development to life in Egypt through integrated, cross-sectoral planning. Accordingly, authorities have been rolling out various residential, commercial, industrial, administrative, medical, and other related activities under one roof, resulting in a myriad of labor supply. 
The newly-developed East Port Said Industrial Zone, for instance, is providing between 28,000-33,000 direct and indirect job opportunities. Moreover, 58 factories in Port Said are set to render around 5,000 jobs for young people in the area, as highlighted in recent ministerial statements. 
Meanwhile, some other ongoing industrial establishments in New Ismailia are expected to generate almost 100,000 job opportunities, according to a separate official statement. 
Looking at the long-awaited NAC, Chairman of the Administrative Capital for Urban Development (ACUD) Ahmed Zaki Abdeen earlier revealed that at least 170,000 jobs were created in the construction, operations, and maintenance of the new capital's government district. 
An additional 100,000 public jobs will be brought about upon relocation of ministries following the new capital's inauguration in 2021, Abdeen continued. 
That is just a handful of efforts directed to cater to job seekers from all experience levels and work styles, especially with the government attempting to introduce 20 new cities and upgrade 23 existing others across the country, thereby contributing to millions of new jobs, based on Fitch Solutions' latest "Egypt Real Estate Report." 
Al Ahly Sabbour Development CEO Ahmed Sabbour indicates the importance of developing new cities, including the 10th of Ramadan City, 6th of October City, and many others. He emphasizes that this marks the ultimate goal that investors have longed for: executing developments in cooperation with the government (i.e. the New Urban Communities Authority (NUCA)). 
That means that there is always a new building or project coming up, and with it appears the need for a myriad of workers, reflecting positively on job creation and reinforcing the construction industry's position as one of the largest seasonal employment providers, Sabbour tells Invest-Gate.
Futtaim Real Estate Managing Director Ashraf Ezz El-Din shares similar sentiments and explains, "The property industry, in general, is known for creating job opportunities. And with Egypt's public and private sectors verging on establishing and revamping urban areas, employment rates will definitely see an upward trend before long."
Egypt is not the only economy to turn to real estate for sustainable development, particularly in terms of urban and job growth. In India, for example, the real estate and construction sector is set to become the country's prime employment generator by 2022, with affordable housing predicted to be the key job creator, according to the National Skill Development Corporation (NSDC).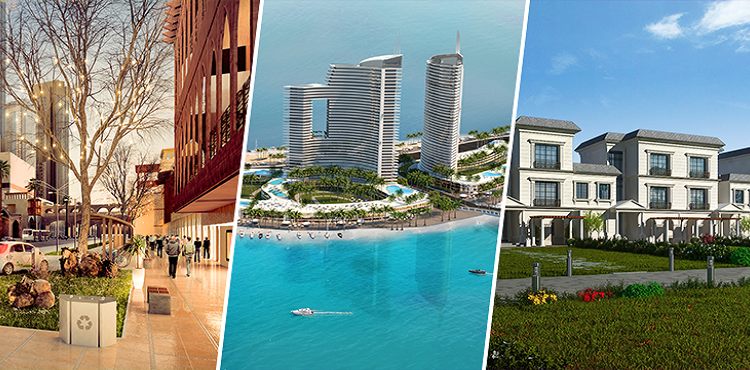 It is like killing two birds with one stone, says The Land Developers Chairman and CEO Ahmed El Tayebi, supporting urban development in parallel with responding to the desperate need for more employment opportunities. 
In a similar vein, El Attal Holding Vice-Chairman Mohamed Elattal points out that projects implemented in new cities such as New Alamein and NAC help drive ample job opportunities, thus drawing unemployment down, pushing the local realty business forward, and promising further investments. 
Above all, job creation is the critical factor for developing countries (ex: Egypt) to reduce poverty, improve people's quality of life, and reach the Sustainable Development Goals by 2030, developers agree. 
| | |
| --- | --- |
| Bottom Line | Being part of the real estate industry can be very rewarding for always evolving, maintaining a healthy demand for jobs and careers associated with it. Hopes of more Egyptians getting employment offers soon are high, with the urban growth machine in full gear for the opening of almost two dozens of new cities across the country. |