Long-awaited summer days are finally here! A lot of people do love summer, but eventually end up doing the same old stuff. Invest-Gate helps you choose the most exciting spots to spend your sunny days cheerily. You will find restaurants, beaches, and even nightclubs. From dining, sports activities all the way to nightlife, you will find what you want here!
Ain Sokhna
IL Monte Galala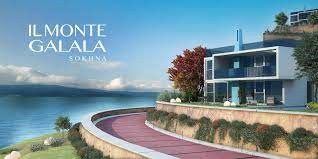 For nature lovers, IL Monte Galala is the best venue, where you can enjoy the world's very first mountain-top lagoon, rolling on 200,000 sqm to meet a marvelous 11 km shoreline. To spend your days in the wilderness without any risks, you can go to the Desert Park and Nature Walk. IL Monte Galala brings you a one km promenade nestled on top of a mountain to relax and enjoy a gourmet meal with a picturesque view in one of the various high-end restaurants.
Azha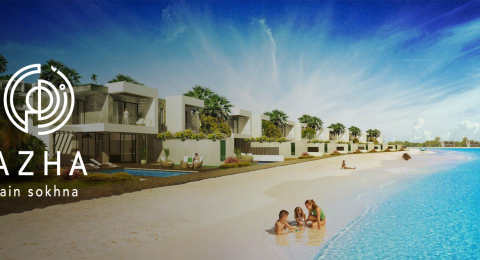 If you love the tranquility and beauty of nature, you can only find all this in Azha Ain Sokhna. Featuring the most qualified chefs, Azha has the world's most famous café chains and premium restaurants. Boasting a full 10 km of pristine waterscapes that weave through modern residential villas and luxury hotels, Azha is life as it should be on one of the last sandy waterfronts remaining. Besides, the central park is ideal for a walk or a hike and includes games suitable for all family members young and old. You also don't have to worry if you have children, the Kids' Area and some small beaches are suitable for children and monitored from all sides to provide the highest level of safety.
Carnelia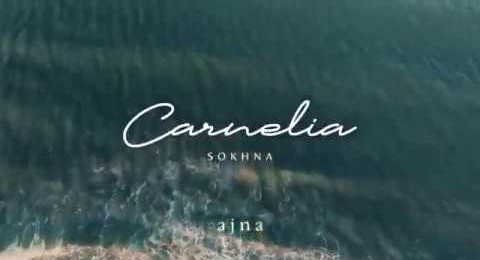 Imagine spending summer minutes away from a world-class international marina, Carnelia features 12,000 sqm of swimmable crystalline lagoons freely embracing breathtaking sea views. Additionally, elevators with a panoramic view of the resort. Carnelia lies 160 Meters above sea level. It lies in a prime location, overlooking the Al Galala International Marina, which boasts 239 docking spots for yachts, fully equipped with comprehensive services and top-notch yachting facilities. In Carnelia, you can immerse yourself in a world of luxury and comfort in a 5-star boutique hotel.
North Coast
Greeka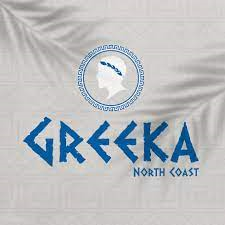 To have endless experiences of fun, happiness, and parties, head to Greeka North Coast. You can have live entertainment with celebrities, singers and dancers. It is located at Kilo 148 at Dunes Mall, facing Hacienda White.
The Gate – New Alamein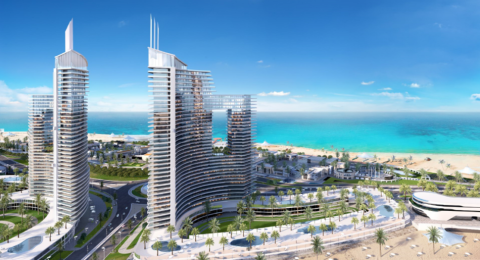 To be near the Mediterranean Sea as well as Egypt's northern border. Whenever you come to The Gate towers, you will enjoy the magnificent direct view of the sea. The Gate Towers New Alamein is the icon of the new city of Alamein, and the beachfront cosmopolitan city that will compete with the largest coastal cities. It includes 44 floors and includes a large number of apartments with areas ranging from 50 m² up to 387 m², all delivered with full finishing and air conditioning through the use of water-cooling technology.
This global project on Egyptian territory is 89 km from Burg Al Arab Airport, 54 km from Al-Alamein International Airport, 120 minutes from Alexandria-Marsa Matrouh Road. It is also a brilliant family outing destination where your children can enjoy the Kids' recreational area. For shopping lovers, there is a huge commercial area that includes many different stores that include international brands to provide a distinctive buying experience. For a memorable adventure, you will be near El Alamein Lake and the tourist walkway.
Macera – Stella Walk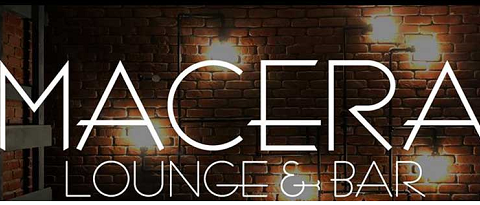 To enjoy an unforgettable night with amazing performances by many superstars, you should head to Macera. In Macera, you will spend crazy nights with hard-hitting music. Macera lounge located at Cairo Complex & North Coast Your ultimate destination with a modern twist.  It is at kilo 126, Alex Matrouh Desert road, North Coast inside Stella Walk.
AHM Playa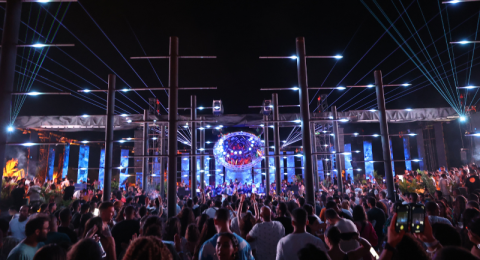 Bringing you the most globally renowned DJs and live acts, Lebanon's mega-club, AHM, makes you live pop and disco nights. In AHM you will go back to the good old days, once listening to your favorite pop hits and nostalgic classics. The space set in Seashell, Playa beach is dreamed up like a celestial sailboat fitting a whooping 6000+ attendees, and features an eclectic program from let-loose pop and disco nights and headliner techno bookings to the reimagining of classic Egyptian musical legends as a never-seen-before weekly performance.
Kiki's – Hacienda White
Kiki's is on a quiet and secluded spot along the Hacienda White stretch. The venue provides its clients with open air, high tables, cushioned lounge seats, and boat-shaped sofas. You will also enjoy the dance floor, which is right on the sand with a backdrop of the beautiful open sea, as well as the amazing atmosphere and lovely staff. Located on the coast of beautiful Hacienda white, KiKi's offers an authentic Mediterranean experience.
Monkey Bar & Grill – Almaza Bay
Want to try unusual dishes? Head to Monkey Bar & Grill in Almaza Bay. The place is best known for its funky take on European dishes. You will enjoy the sunny rooftops of the Sahel. The lively and energetic vibe of Monkey Roof will bring you and your family back for more every time.
Lemon Tree – Hacienda White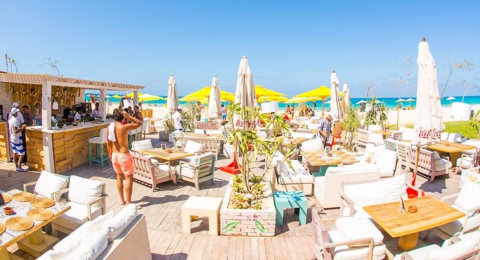 If you need the luxury of indulging in sumptuous delicacies, head to Lemon Tree – Hacienda White where you will enjoy the exquisite menu and the fresh Mediterranean breeze. The Lemon Tree & Co. is one of the leading hospitality entities in Egypt, delivering a high-quality lifestyle and exceptional experiences. The Lemon Tree offers fully finished and furnished units with flexible payment plans. It features chalets and penthouses with spaces starting from 65 sqm. The location is surrounded by the finest amenities and services; from commercial areas, sports outlets, and more.
Sea View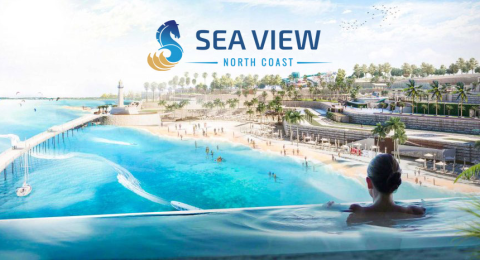 For fishing enthusiasts, a dedicated marina in the middle of the sea and a marina for yachts with a large number of them to spend the most beautiful fishing trips. Sea View has a smart design of 137 Acres of golden sand leveled respectively that each level is higher than the other by at least 4 meters. The first level is above the sea line by almost 25 meters and the fifth level is higher than the sea line by 45 meters. The five levels all overlook a stunning sea view. The venue offers an aqua park and 23 horizontal swimming pools. It also provides 8 units types, meeting all clients' needs.
Casa Noku – Marassi
Casa Noku is one of the North Coast hot Spots, where you will enjoy the amazing atmosphere. You will have relaxed fine dining with a direct overlook of the beautiful seashore. During Summer 2022, you will have fun with DJ Dest and many musical influences of regional and international performers from Germany, Spain, and Greece.
Le Rouge – Marassi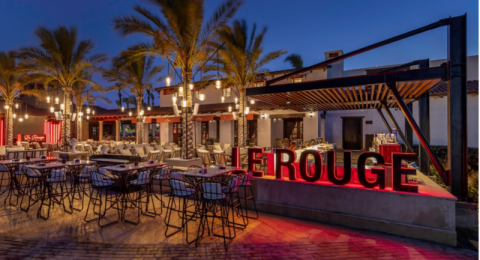 Prep yourself for an extraordinary experience in Le Rouge where you will spend stunning nights. Le Rouge also brings you the best night parties in the North Coast. Le Rouge is located at Sidi Abdelrahman at Marassi Golf Resort that features free private parking, an outdoor swimming pool and a fitness center.
The Gärten by Uberhaus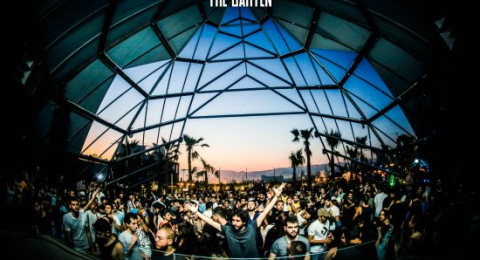 The newest addition to the night scene is Beirut's Überhaus. They're bringing their newest concept The Gärten Pop up to Sahel with Egypt being the night club's first stop. The Garten is located at Stella Height. Opened on July 10th, The Gärten is well designed and decorated and the service is very good.
El Gouna
The Smokery Beach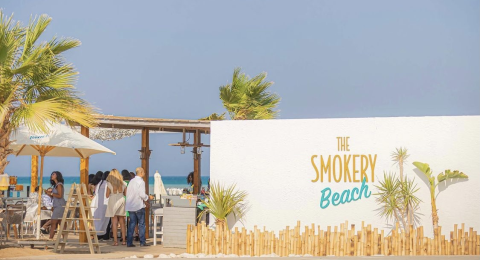 A combination of good vibes, good food, and spectacular ambiance. It has a multi-cuisine kitchen, offering other delicious dishes and seafood pasta dishes like Lobster Ravioli or caramelized octopus. Located adjacent to the New Marina of El-Gouna and facing the open sea, Smokery Beach offers a unique experience with a Beach bar & restaurant operating all year long.