In an attempt to enrich the market, Egypt's cabinet ratified last July the state's residency-for-property law, allowing foreigners to acquire a five-year residency in Egypt in return for owning properties worth nearly USD 400,000.
The executive regulations for the residency law are underway fine-tuning and will be issued within a month or so. In this regard, Invest-Gate delves into the newly amended law to evaluate its potential in rendering the Egyptian economy as well as reviving the real estate industry.
Residency Programs to the Rescue!
Egypt's economic reform agenda primarily aims to bring back foreign investments that fled the country following the 2011 uprising, notably through slashing subsidies, imposing a value-added tax (VAT), and the EGP floatation – all to meet demands by the International Monetary Fund (IMF) for a USD 12 bn bailout loan, which was first secured in 2016.
The IMF sides with citizenship by investment programs (CIPs), especially ones with sought-after real estate options that "generate an inflow similar to that of foreign direct investments (FDIs), boosting the country's employment and growth rates," IMF previously highlighted on its website.
Under the residency law's new amendments, foreigners may be granted a temporary non-tourist residence for a period of five years, renewable for those who buy one or more properties in Egypt for an amount not less than USD 400,000.
Foreign clients can also relish the right to stay for one year in return for buying a property in Egypt worth at least USD 100,000, while for three years, the property should be USD 200,000 or more.
As of May, individuals holding an Egyptian visa can access up to 50 countries and territories, ranking the Egyptian passport 85th in terms of travel freedom (tied with Algerian and Jordanian passports). Additionally, they will have the right to live and work in Egypt at all times, as well as, granting individuals to hold dual citizenship.
"The new [residency] law would provide the country with much-needed hard currency, bolster the national economy, reinvigorate the Egyptian real estate market and make it a large contributor to the gross domestic product," Chairman of the Real Estate Development Chamber affiliated to the Federation of Egyptian Industries (FEI) Tarek Shoukri tells Invest-Gate.
If the interior ministry accepts an applicant's naturalization request, the law stipulates that the foreign cash should be transferred from abroad to the treasury, via any state-run bank, which would convert it into EGP to close the deal.
As a consequence, the approach will help dwindle the USD demand in the local market and boost the country's foreign reserves. "The government can generate USD 4-5 bn in revenue within a one-year timeframe," Shoukri predicts.
Back in July, Egypt's House of Representatives approved a bill amending a law on the entry and residence of foreigners in Egypt, granting Egyptian nationality to foreign residents in return for a bank deposit of EGP 7 mn or an equivalent in foreign currency, roughly USD 400,000, and then hand it over to the treasury after five years.
Foreign Investments Can Fuel Construction Booms
There are some real estate developments across the country that pander to foreign investors. For instance, Las Cabanas project at the Red Sea resort of Marsa Alam is catered to foreign homebuyers. "It encompasses a marina, golf area, spa, and 13 hotels," says Ahmed Zaalouk, sales director of Oriental Urban Development (OUD).
"Even though Egypt is at the early stages of exporting real estate, the project's location in Marsa Alam, along with a wide variety of services provided, is able to attract foreigners," Zaalouk underlines.
In the same context, Somabay's Chief Real Estate Officer Omar El Halaby notes that 30% of his company's sales in 2017 were dedicated to foreign clients, including Germans, Swiss, Italians, Canadians, and Americans.
But it seems like Westerns are not the only ones, who tend to invest in the country. There are a number of Middle Eastern and Arab countries that render Egypt an attractive investment hub, including UAE, Saudi Arabia, Bahrain, and Kuwait.
Some Shining Models
Egypt is not the first country to fix a price tag for its citizenship to jazz up its national economy. In fact, at least 24 other countries offer a new home to people willing to invest in a business, property, or government bonds.
The IMF lists the dual-island nation of St. Kitts and Nevis as a successful model. Thereby, "inflows into the real estate sector are fueling a construction boom, which has pulled the economy out of a four-year recession to a growth rate of 6% in 2013 and 2014, one of the highest in the Western Hemisphere," IMF states.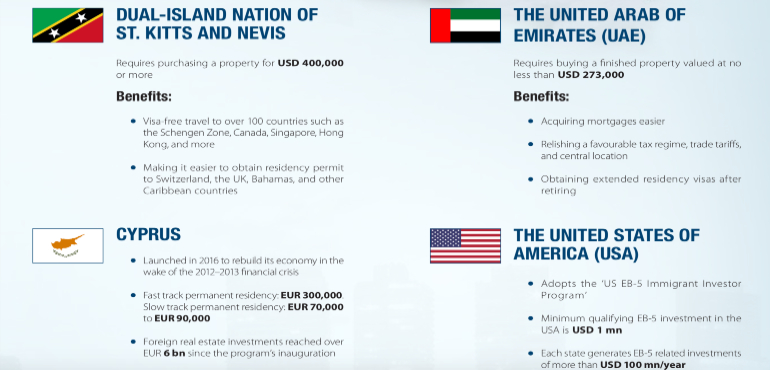 Commenting on the Egyptian CIP, Fathallah Fawzy, MENA Group Founder, tells Invest-Gate that the implementation of Egypt's residency-for-property law will not succeed unless the government considers facilitating the procedures for granting citizenship or residency to foreigners in case of ownership of a property to save the clients' time and energy.
"The registration procedures for finalizing an ownership deal of a property are complicated and take a very long time, which eventually result in foreigners losing interest in applying in the first place," Fawzy adds.
Taking into consideration the fact that Egypt began marketing its real estate products abroad, "if foreigners were granted a seamless registration process, a high turnover rate is expected to be witnessed following the application of the new residency law," he elaborates.
"Non-Egyptians tend to invest in Egypt's real estate sector, as for them, USD 400,000 is not a big deal and getting a residency for such amount is not much compared to other countries, even after the EGP floatation and rise in prices," Fawzy comments.