By: Tamer Amr
Few could argue against Egypt's real estate sector being inherently strong, with a lot of potentials to sustainably grow at a rapid pace. However, developers and experts believe that this market can be much stronger and attractive if it was not for an ineffective legislative framework that is hurting buyers and developers alike.
Chairman of Oriental Resorts for Touristic Development Omar Sabbour says, "Local and international real estate developers see a lot of opportunities to build large developments that attract buyers from all walks of life," while Amr El Kady, CEO of City Edge for Real Estate Development, notes, "What the sector really needs is legislative tweaking to capitalize on its strengths," and Managing Director of ARDIC Development and Real Estate Investment Ashraf Dowidar sees that "delays in regulating the market is costing the state and sector billions of pounds annually."
Realizing the importance of reforming the sector's legislative environment, the government has been issuing new laws since the start of 2018, with more to come in 2019. In this context, Invest-Gate reviews different laws related to the sector, starting from the existing laws pending amendments to some long-awaited laws for buyers and developers.
Law Pending Updates:
Despite being introduced as recently as July 2018, the law allowing non-Egyptians to get a temporary residency visa if they own a property in the country is still awaiting approval.
A September 2018 modification to the law decreed that non-Egyptians, who own units valued by the state at below USD 100,000, would get a temporary residency renewed annually, while if the unit is priced up to USD 300,000, non-nationals would get a residency that is renewed every three years. Owning more expensive units would see foreigners get a five-year temporary visa. The only condition is that they still own their unit at the time of renewal. The law set a deadline of one week to process residency permits.
Additionally, still pending in parliament is the executive regulations to determine how industrial and touristic facilities would be taxed. Owners of such facilities argue that their establishments contribute to the economy and therefore should get an exemption or reduced tax, according to Deputy of the Planning and Budgeting Committee in the House of Representatives Mostafa Salem.
Meanwhile, there is a petition from homeowners to raise the tax exemption limit beyond EGP 2 mn, which was set in 2016 before the EGP flotation.
---
New Laws Underway Preparation:
Among the priority laws on parliament's agenda for the year ahead is the new property registration law, which aims to encourage more owners to register their units in one of the government's official registrar offices. According to estimates from government and experts, between 80-90% of units in new cities are not registered, with owners relying on power-of-attorney documents and preliminary contracts to buy and sell properties.
Khaled Atef, founder of Dar Amlak for Real Estate Appraisal, says:
"The new law aims to create a more transparent system with a much less likelihood of forgery or manipulation of the sizes of sold units. It will also make real estate tax based on accurate figures."
The New Urban Communities Authority (NUCA) would cooperate, for the first time, with the registrar office to provide details on plot sizes and construction works on them. Meanwhile, registrar offices could only be allowed to register units in the neighborhoods they oversee, as they have many complete records of properties in their jurisdictions.
Furthermore, the government has also been drafting an overarching law that is still being discussed with developers. For one, it redefines the legal relationship between the developer and clients, including details they must entail in all contracts as the company would be penalized if any article is left out. It also regulates the developers' relations with the government from an administrative aspect as well as in joint contracts.
Fathallah Fawzy, head of the construction committee in the Egyptian Businessmen Association, says:
"We have talked a lot with the [competent] committee about this law to provide our own points of view and feedback on proposed articles."
---
Resolving Violation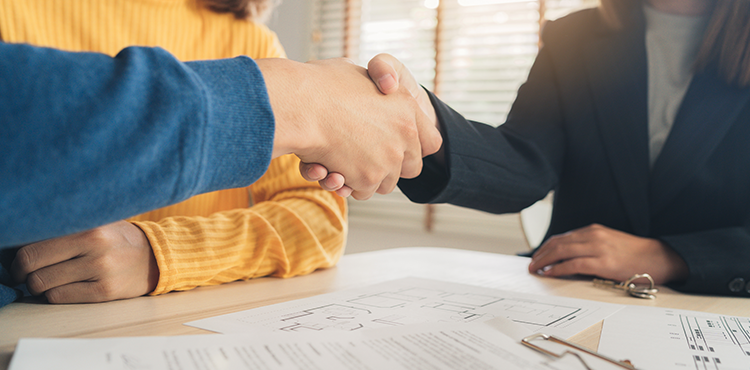 Another law that will prove increasingly important pertains to enabling the government to resolve its conflicts with building owners, who violated vertical or horizontal limits set by their licenses without tearing down the building and check if they meet some conditions.
According to Alaa Waly, head of the parliament's housing committee:
"Such conditions include that the building's horizontal expansion does not infringe on sites deemed heritage locations by the antiquities ministry. It must also not breach agriculture lands or the Nile banks that are restricted to be used for construction works."
The housing ministry is expecting this law to remain in effect between six and 12 months after its executive regulations are published, given that it only aims to settle existing violations. Accordingly, requests to settle violations must be presented within three months of announcing the law's regulatory framework document. Otherwise, violations will be subject to penalties set by the Unified Construction Law, which is still being finalized and expected to be approved by the parliament in 2019.
Few details of this law have been made public, such as giving more authority to the homeowners' union over residents who do not abide by the property's guidelines, setting a two-week limit to approve plots for construction works, and allowing the third-party licensing offices to grant developers construction licenses, while reducing municipality power in that respect.
---
Laws Improve Business
Creating an updated effective legislative environment for Egypt's real estate sector will prove instrumental in protecting it against corruption, fraudulent contracts, and informal transactions, as well as ensuring accurate and comprehensive statistics that would help government and private sector when setting their investment plans.
One major benefit from implementing these new regulations will likely be that banks will find it easier to fund and offer mortgage services for more homeowners.
Seif Farag, a finance professor at Ain Shams University, comments:
"The problem under the current laws is that some locations are under the Tourism Development Authority, such as Ain Sokhna. And without the owner registering the unit, the bank will have to go through more bureaucracy than normal to ensure the loan-applicant is the real owner of the unit."
Developers hope that these legislative reforms will result in the establishment of a database of Egypt's real estate wealth. Egyptian Businessmen Association's Fawzy sees that such a database will help the government draw a clearer picture of how much property in Egypt was bought for speculation, and generate more revenues out of the increasing real estate tax income.
Meanwhile, these new laws should help create another database that includes developers, government agencies, clients, and fund-raising agencies, and City Edge's El Kady reckons that this database would classify each developer based on their previous successful track record and resources, adding:
"All this will ultimately help build a more up-to-date, and investment-friendly, real estate sector not just for local investment, but those coming from the region."
---
Responding to Needs
Better laws will aid developers in their attempts to sell units to foreigners while attending international exhibitions and conferences. Moreover, Having such an updated legal framework should also help the government with its attempts to build smart cities, including the New Administrative Capital.
Head of the Real Estate Investment Division at the Federation of the Egyptian Chambers of Commerce (FEDCOC) Mamdouh Badr El-Din says:
"It; [the legislative framework], will help build Egypt's real estate reputation abroad as a safe and fair place to invest in property in the region." 
Fawzy also agrees with El-Din's statement, stating:
"We should not expect them to have the same expectations as Egyptian buyers, who are, more-or-less, forced to buy locally, foreigners have options in other countries."
Such laws should also give more confidence to individual buyers, who can sometimes be skeptic and hesitant when buying properties, fearing that their signed contracts heavily favor developers.
Nafisa Hashem, first deputy to the Minister of Housing, said at a meeting with private developers in September:
"We did surveys that showed that the biggest complaint among buyers is that there are no laws that protect them too ensure they signed a balanced contract with the developer."

"This is important, given that developers could exploit the current boom to scam potential buyers or considerably delayed delivery times, which were first entailed in the contracts."