In the effort to put an end to the building code violations dilemma, the government continues to steam over illegal constructions, which have been enervating on housing and cities in Egypt for years or maybe decades. The country lost about 400,000 acres of agricultural land for urban sprawl, with unplanned settlements representing almost 50% of total urban areas and villages nationwide.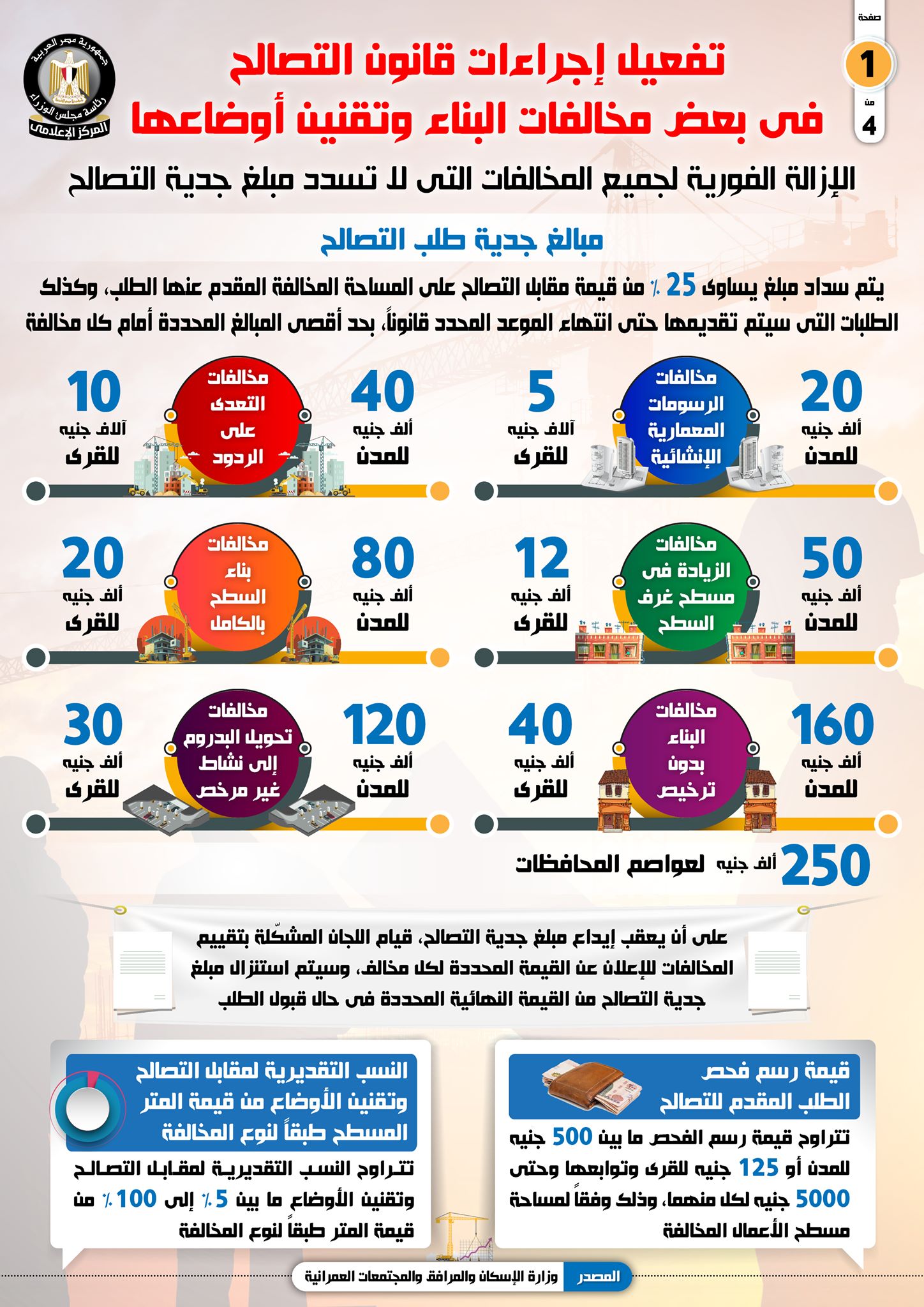 After citizens put in more than 2.1 mn applications, Egypt's Cabinet has agreed to keep on receiving requests for reconciliation in building code violations until year-end, in a move coming two days after the expiry of the last deadline on November 30. Besides, incomplete petitions get some indulgence to allow the largest number of citizens to reconcile with the state.
That was the third time the closing date gets extended, on the back of the numerous settlement appeals since Law Number 1/2020 came to light, which "reflects public keenness on legalizing cases," Prime Minister Mostafa Madbouly previously stated in a Cabinet statement.
The new bill, which saw long periods of negotiation on amending Law number 17/2019, owes to thousands of dilapidated buildings currently on the verge of collapse, paired with some new informally-built towers – factors propelling expedition of the process.
Following an in-depth analysis of the bottom line, back when all ongoing private housing work came to a six-month halt until owners present unit masterplans to verify fitting with building codes, Invest-Gate provides updates on the controversy over Egypt's Construction Violations Reconciliation Law. We also give an assortment of developers' reflection entries to draw a complete picture of this so-called "tailor-made pandemic for real estate."
---
Current Progress 
For starters, the law raised the ire of almost all citizens for the expensive procedures and paperwork to meet the vast array of reconciliation demands. On the contrary, the government says the move aims to fulfill the state's rights, tackle slum formation, and curb building violations.
The new bill stipulates settling warranting penalties of 5-100% of the land value (or EGP 50 to EGP 2,000 per square meter) to resolve violations before December; otherwise, demolition and military prosecution procedures shall begin forthwith for rejected or pending applications.
As a result, the government would generate about EGP 150 bn, with the majority of the projected revenue earmarked for public housing and infrastructure. Recently, Minister of Local Development Mahmoud Shaarawy confirmed the collection of fines valued at around EGP 1.1 bn to date. 
More reasons for resentment include the fact that not all violations can be reconciled, notably buildings that fail the structural integrity tests, those built on state-owned land, and construction on protected areas such as heritage and Nile bank zones. 
In the same vein, Yahia Shawkat, researcher and co-founder of 10 Tooba, explains that repercussions due to the Coronavirus crisis have greatly influenced people's pockets, and thus, the imposed fines are sort of overpriced for most income groups. 
Given the current high prices, according to Shawkat, fines should be cut in half to be affordable for all. The law should also be rectified to permit each family for cost-free legalization of one home; only owners of multiple properties pay penalities for reconciliation for being considered investors. 
The informal housing sector, which represents a big chunk of Egypt, will be affected by this bill in a way or another, he affirms, stressing, "The reconciliation law may somewhat slow down activity in the informal sector, specifically for investment projects in urban areas, as housing prices simultaneously climb up in unplanned settlements amid further development." 
---
Developers Reaction  
On the other hand, developers have volatile expectations, especially when the question of "what happens after the deadline to settle violations expires" comes up, let alone the long-term impact on the Egyptian real estate market. 
Mountain View Chairman Amr Soliman sees the reconciliation law as a positive step forward, indicating, "It is a typical problem-solving concept. Nonetheless, it marks a success for the current political leadership that will prove efficient for the property industry in the long run."
In a similar vein, The Land Developers Chairman and CEO Ahmed El Tayebi argues that the decision-making should have been enforced 30 years ago. He remarks, "Over the years, we saw these building violations take place, with no consequences taken whatsoever. 
"The reconciliation law provides the housing sector with a new birth certificate, while also supporting the state to calculate the total number of buildings across the country. Therefore, it should be deemed a welcome development in all respects," El Tayebi was quoted as saying. 
When asked about the justness of penalties, the executive believes the pricing of fines is reasonable and feasible by everyone, pointing out that these new amendments send a message of hope that all areas will be
legal soon.
Likewise, El Attal Holding Vice-Chairman Mohamed Elattal agrees on the significance of this legislation as affirmative progress toward a bright future for the Egyptian property market, promising a legalized status for all real estate developments and an interminable break from building violations.
Bringing a different aspect to the problem, Al Futtaim Real Estate Managing Director Ashraf Ezz-El Din underlines that the newly-amended bill is a double-edged sword, as it means well but requires a few adjustments. 
"It may possibly help cease building code violations, but 30 years of wrongdoing will not be resolved in haste," Ezz-El Din tells Invest-Gate, adding that proceedings should come through differently since many people are panicking as it appears that every violation will cost a fortune for reconciliation.
In a nutshell, since one of the main aims of the reconciliation bill is the preservation of local real estate assets, the Egyptian government needs to adjust certain regulations and procedures, alongside addressing impediments to law compliance, in an attempt to make both developers and citizens jump on the bandwagon of a violation-free housing sector. 
Last June, Invest-Gate reached out to several market players to scrutinize the reconciliation law's impact on the overall real estate landscape, as it earlier came into effect. For the full article, click here.