Sports tourism has increasingly become popular in the recent decade, with sporting events of various kinds and sizes, acting as a catalyst for tourism development and attracting millions of tourists, whether participants or spectators. Year over year, this rapidly growing niche is receiving increased attention for its economic impacts, aside from other vast environmental and social benefits, upon host countries.
With the approach of 32nd edition of Africa Cup of Nations (AFCON), hosted by Egypt for the fifth time from June 21 to July 19 of this year, Invest-Gate underlines the wide spectrum of benefits sports events provide for host destinations, while highlighting the impact of 2019 AFCON on Egypt in specific.
---
Lineup of Benefits
Globally, one major contributor to tourism growth in any country nowadays is sports tourism, which is currently deemed by the World Tourism Organization as one of the fastest growing sectors.
Hisham Shoukri, CEO of Rooya Group, highlights that hosting international events results in a massive leap in the number of international tourist arrivals, represented in spectators and participants, who fly from all over the world to attend key sporting events.
Consequently, the rise in tourist arrivals directly leads to an increase in hotel occupancy.
Besides, Shoukri explains that the high number of tourist arrivals also contributes to securing cash inflows in foreign currency and fuels trade activity within the country.
Sporting events usually bring with them long-term investments, which come from preparing for major tournaments, according to Mennatallah Magdy, business analysis manager at City Edge Developments (CED).
In other words, cities will usually have, as a matter of requirement in most cases, to invest in developing or upgrading sports facilities, infrastructure, and transport systems to cater to an influx of tourists and make the destination more appealing, both Magdy and Somabay's CEO Ibrahim El Missiri explain.
Moreover, Shoukri adds that sporting events create additional job opportunities for youth, who get involved in different organizational tasks related to the event and tourists. It was estimated that London Olympics 2012 created 8,000 full-time jobs, according to "Advanced Theory and Practice in Sport Marketing" book.
In another vein, major international sporting events, such as Olympic Games and football and rugby championships, have managed to become powerful tourist attractions in themselves, majorly and positively contributing to the tourism image of the host destination.
In a nutshell, sporting events contribute to raising the profile of the host country on all levels. In return, "this leads to lasting economic benefits across the board," Magdy says.
---
What About AFCON 2019 in Egypt?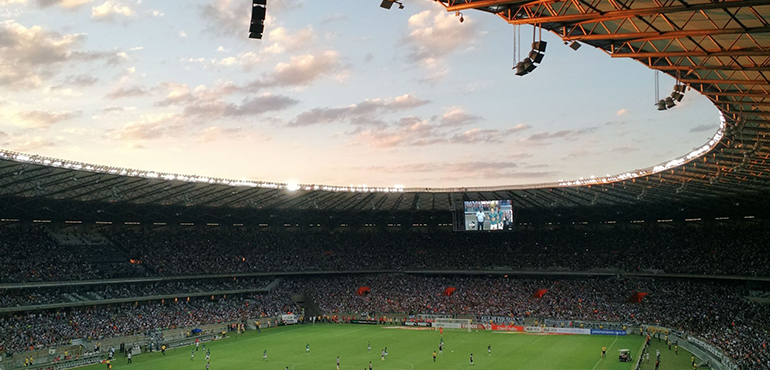 Now Egypt is under the spotlight as all soccer fans around the world are geared toward the hottest tournament of the year, AFCON 2019. According to Somabay's CEO, this sporting event is now recognized as a serious international tournament due to the participation of African players, who are regularly part of major European leagues, including Premier League, Serie A, Bundesliga, La Liga, and La Ligue.
In fact, hosting the tournament will have some obvious economic benefits for Egypt. The country is expected to see a huge surge of spectators and touristic turnout during the international football event. Earlier in February, Sports and Youth Minister Ashraf Sobhy affirmed, "The [AFCON] is likely to attract around 50,000 tourists to Egypt in June 2019."
In terms of political advantages, CED's business analysis manager anticipates that AFCON will be a great and priceless opportunity for Egypt to strengthen its presence and position in Africa, especially at a time when the country is preparing to take over the presidency of the African Union. That is why this mission is placed on top of the government's priority list, Magdy adds.
In addition to the football program, the country will be arranging cultural, touristic, and entertainment events to be held on the sidelines of the games.
If successfully leveraged in terms of destination branding, infrastructure development, and other economic and social benefits, the tournament will result in an array of advantages on all levels for Egypt.

Loading ...
Read more about sporting events on pages no. 22-24 of our June issue.