Starlight Developments is a joint stock company and a distinguished leader in real estate development in Egypt. With a legacy built entirely on trust and a deep passion for design, Katameya brand cemented its role as a pioneer in the Egyptian market, providing premium living standards.
Carrying on the legacy, Starlight Developments introduces Katameya Creeks, Katameya Coast, and URBN K with a vocation to build design-driven living and commercial spaces that redefine the caliber of upscale residential and mixed-use developments in the region.
STARLIGHT DEVELOPMENTS DEVOTED TO DESIGN, INNOVATION, AND CREATING VALUE
At Starlight Developments, we are devoted to design, detailing, and craftsmanship as the foundation of the work we build, partnering alongside the best architects to deliver unmatched and bespoke designs. "Through design we can enhance lives by making them more beautiful, more comfortable and in doing so, more valuable" said Mahmoud Baraka, chairman, Starlight Developments.
Our execution is focused on innovation and impeccable finishing with premium materials that deliver sophisticated luxury. Our portfolio boasts the most exclusive prime locations in different destinations across the country. We are committed to creating unparalleled master plans that inspire exclusive communities to flourish and prosper.
"The core of a good design begins with master planning," says Sherif Abou Taleb, CEO, Starlight Developments. We believe in finding harmony between quality, luxury, durability and environmental responsibility, raising the bar higher to introduce state-of-the-art architectural concepts that fit today's climate and persist with tomorrow's needs.
KATAMEYA CREEKS │THE ULTIMATE IN BESPOKE LIVING
A luxury residential community situated in the heart of New Cairo, built over 45 acres with more than 22 distinct unit designs, all surrounded by 360-degrees of lush green spaces offering secluded views and a luxury living aesthetic.
URBN K │A REFINED COMMERCIAL SPACE
Starlight Developments' first mixed-use luxury retail and office park in New Cairo. URBN K is comprised of 6 pavilions featuring modern day workspaces, high street retail, arts and entertainment, a selective fine dining offering complimented with a boutique hotel and an exclusive club.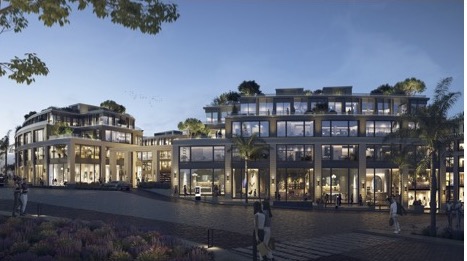 KATAMEYA COAST │COASTAL LIVING REFINED
Starlight Developments' North Coast project, Katameya Coast, is a uniquely exclusive summer experience. Located on KM180 Alexandria–Matrouh Road and built over 100 acres with 425 units, Phase I: See the Sea is built over seven levels of cascading platforms boasting a medley of luxury units with panoramic sea views of the Mediterranean. The second phase, The Crystal Edition, is built over 105 acres and designed over a coastline of two kilometers with 40,000 sqm of Crystal Lagoon that offers each home its own private beach.