The Egyptian summer real estate market has become attractive for those seeking recreation; in fact, summer homes are now a golden opportunity to join the second home market community of investors.
Recently, the Egyptian second home market has also been a potential among foreign homebuyers. Accordingly, Egyptian government has paid a great deal of attention to coastal cities development, in a bid to revitalize the second home market, especially on Egypt's Northwest Coast area, which attracts hundreds of visitors, compared to other regions.
Invest-Gate has conducted a survey to showcase the demand size for summer homes by Egyptian and foreign homebuyers, in addition to analyzing the increasing demand on summer homes by local and foreign homebuyers.
Coastal Areas Get Major Revamp
The Egyptian government seeks to revitalize the tourism real estate investment market by redesigning the exploiting strategy on the Northwest Coast and the Red Sea cities and having them all-year-round destinations.
A report prepared by the Invest-Gate R&A team entitled "A Close Up on Egypt's Second-Home Market Amidst Pandemic," issued last September, indicates that the most desirable and popular areas for summer-homes in Egypt shows that 31% of respondents chose the North Coast as preferred place for summer-homes, 23% of respondents prefer Alexandria, 19% of them like Sharm El Sheikh, 15% of them prefer Hurghada, and the remaining 12% tend to buy summer-homes in Ain Sokhna.
In another context, the Ministry of Planning and Economic Development (MPED) has announced that there are around EGP 1.8 bn allocated in FY 2020/2 for the Northwest Coast development project. Besides, the investments directed to the Red Sea governorate in the FY 2020/21 is estimated at EGP 10.8 bn, with an increase of 31% than in FY 2019/20, representing 4.7% of the distributed public investments.
In contrast, approximately EGP 3.75 bn is allocated for public investments in South Sinai in FY 2020/21, with a 50% increase than in FY 2019/20, representing 1.4% of public investments.
In this regard, Assem El Gazzar, Minister of Housing, Utilities, and Urban Communities states that there are large areas on the Northwest Coast available for the growth of existing urban communities in a planned and regular manner, thus, there is a possibility to intensify tourism investments in the region, in addition to expanding the establishment of integrated tourist resorts and facilities to serve domestic and international tourism.
Moreover, "One of the most important strategic objectives for the regional development of the Northwest Coast is to achieve a high economic growth rate not less than 12% per year, in addition to integrating the region into the national and global economy by increasing its contribution to GDP from less than 5% to 7%," according to the official website of the Presidency of the Republic.
On his part, Prime Minister Mostafa Madbouly says that the Northwest Coast is an attractive area for many local and foreign investments, which is to achieve the highest economic return. He adds that the region plans to witness the establishment of urban communities, as well as the development projects and tourism.
On the other hand, Madbouly stresses that development of Sharm El Sheikh and Hurghada are underway to be a another new urban front to Egyptian tourist destinations.
Egyptian Summer Home Appeal
The survey conducted by Invest-Gate indicates that 72.4% of respondents prefer to invest in summer homes, while the remaining 27.6% explain that this type of investment is not an option for them.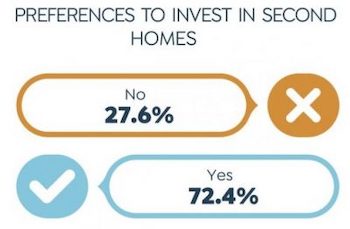 Those results explain the supply boom of summer homes along the coastal areas, which are seen as the most popular destination for Egyptian vacationers, who prefer staying in their own homes, rather than renting, considering the growing trend to implement the policy of working from home, following the Coronavirus pandemic. Thus, these units have become livable throughout the year and not just during summer.
Furthermore, Invest-Gate report states that 43% of the respondents buy summer homes for investments; meanwhile, 27% of them targets spending vacations, and 30% says that they prefer owning summer homes for both targets; investments and personal use.
Accordingly, owning summer homes is a great opportunity for Egyptian investors to invest and achieve financial profit, as the real estate market is always classified as a haven for investment.
On the other hand, there are some obstacles that may impede Egyptian investors from investing in summer homes, as 63% of the participants confirm that high prices are one of the main difficulties hindering them from buying summer homes, while 21% indicate that they fear the inability to complete payments.
On his part, marketing expert Nour El-Din Reda, director of digital marketing and managing partner of Brandbourne comments that Egyptians tend by nature to cherish properties as -it is believed- the safest model of investment either via a land plot or a real estate product, quoting Franklin D Roosevelt, "Real estate cannot be lost or stolen, nor can it be carried away, purchased with common sense, paid for in full and managed with reasonable care, it is about the safest investment in the world."
Moreover, Reda stresses, "This understanding leads us to the fact that summer homes open lots of opportunities for investors by adding value to your assets and having a vacation destination. For investors, it opens the opportunity for long term investment when the project is delivered or short-term investment if the unit is ready to move in… so property rental model is the answer."
Putting Egypt on The World Investment Map
The Egyptian coastal areas have attractive elements for foreign investors, on top of which is the diversity of the tourism product in an integrated manner, as it includes beach, medical, and environmental tourism, as well as safari tourism. The real estate tourism projects that the state is currently implementing will contribute to reinforcing foreign investments because they include all ingredients for any investor.
In this context, 87.9% of the respondents confirm that Egypt's coastal destinations are attractive to foreign summer homebuyers; meanwhile, the remaining 12.1% believe that they are not attractive.
Generally, Egypt has several factors that motivate foreign investors, such as the stability of the real estate market, making it a safe environment for investment, and the giant real estate projects that witnessed recently contribute to attracting many foreign investments in the real estate sector, making Egypt atop the list of the Arab countries in the volume of foreign direct investment, at about USD 44.8 bn from 2015 to 2019.
A report issued by Fitch Solutions clarifies that Egypt will have the largest construction sector in the Middle East by 2029, and currently it ranks the second strongest market in the Middle East and North Africa (MENA) region.
Commenting on this, Reda states, "Attracting foreign investments to Egyptian second home market has several pillars. First of all, the governance of the investment policies when it comes to the real estate industries, as well as the transparency levels within the investment governing policies by the Egyptian authorities, as well as the developers' contracts, which either encourages or discourages the investors."
Reda adds that the second basis is payment facilities, which are aligned with the credibility of the developer's reputation locally, leading to more transparency. The third one is about successful marketing for foreign investor to be able to reach him out and convince him that the second home investment has an ROI worthy enough."
There are also several factors that will contribute to encouraging foreign investors to invest in the second home market, such as providing a strong infrastructure, in addition to amending some legislation to facilitate real estate registration procedures for foreign buyers.
In this regard, Mahmoud El-Borai, senior adviser at the Real Estate Regulatory Agency in Dubai (RERA), and a member of the board of directors of the International Real Estate Federation (FIABCI), previously told Invest-Gate, "Egypt can attract more foreign investments through exploiting the human element, applying technology, establishing an advisory body for real estate promotion, and providing a good investment return."
He concludes, "The state must focus on the legal structure that guarantees and protects all investors, as well as applying transparency of data and information, pointing out the need for a long-term urban plan that is based on economic and social studies according to the population needs, and it must be diversified in terms of residential, administrative, medical activities, and others."