As the saying goes, "Our great ancestors' heritage is our people's precious moral wealth," wherein passed from generation to generation. Therefore, a country holding an immense treasure of historical establishments (i.e. palaces, citadels, and the like) mandates its affiliated government to heedfully and frequently – if not regularly – preserve, renovate, and make full use of this aura of greatness and high architecture.
While already being full of diverse beauty thriving with rich cultural heritage, Egypt has recently embarked on a well-thought-out plan to restore merely 54 historical sites nationwide, at a combined cost of EGP 1.27 bn. The project, which is being executed under the supervision of the Armed Forces Engineering Authority, was jointly master-planned by the Ministry of Tourism and Antiquities and the Military Technical College, according to an earlier official statement.
The hedge is meant to boost tourist receipts as the foolproof plan already proved to yield increased revenues and profits in countries adopting a quite similar path. It is also set to create the jumpstart for some of the most restricted and oldest historical landmarks to open its doors for public tours in the upcoming period.
In a similar vein, on April 3, the Ministry of Tourism and Antiquities began presenting numerous 3D virtual tours of a wide range of archaeological sites, thereby walking viewers through the many gems across the country, aiming to cover all facets of Egypt's storied history via the various state-run websites and social media platforms.
Officials agree that these online walkarounds target both local and foreign tourists, serving the double purpose of promoting domestic tourism, amidst the COVID-19 quarantines and travel bans, while also increasing Egyptians' awareness of their civilization, as highlighted in a previous ministerial statement.
A hundred zillion years of grandiose history can be tough to exhibit and/or elucidate, but the following one-minute read can be the chance to discover the up-to-date upgrades to the North African country's long-standing historical centers and ancient towns; we meticulously selected this route for readers to traceback and experience ancient Egypt, while resting in the comfort of their own homes.
---
– Montaza Palace, Alexandria: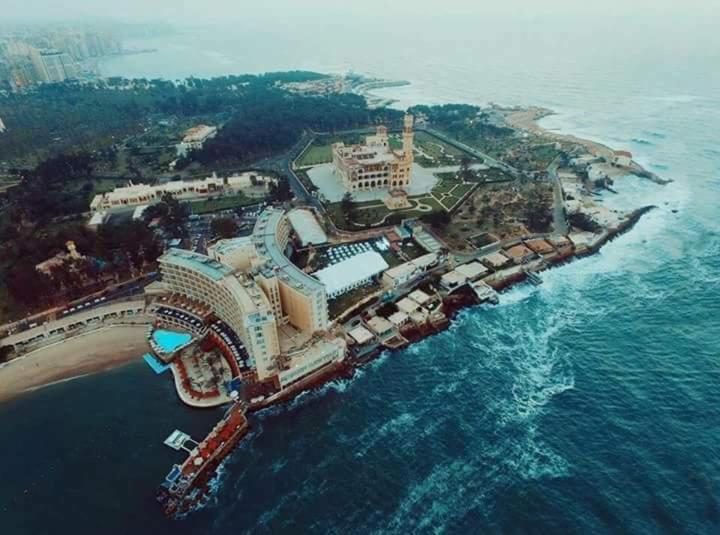 Spanning across 370 acres, the luxurious Montaza Palace in Alexandria is undergoing a comprehensive development plan to restore its historic beauty and create the ultimate touristic destination with its exquisite beaches and heritage.
The plan includes the establishment of several commercial/retail and entertainment facilities, paired with a global dockside to link ships and yachts to other ports around the second-largest city in Egypt. Consequently, this will attract yacht tourism, similar to that in Lebanon and Spain.
Montaza Palace features one of the most exceptional royal gardens, called "Montaza Gardens," comprising a unique collection of trees and flowers. The preservation of these one-of-a-kind plants, not to mention the extension of green spaces, is one of the main pillars of the government's ambitious renovation plan, coming through the utilization of modern irrigation systems.
Besides the neighborhood-sized park of Montaza, which gives it its name, Montaza district incorporates another royal house – or "Salamlek Palace," which has been turned into a five-star hotel back in 1952. As part of the long-term renovation, which assures to preserve the architectural royal features of the original property, more rooms are expected to be added, along with the restoration of "The Royal House" restaurant and the Helnan Palestine Hotel.
Montaza district is enclosed by five beachfronts, including a private beach for the Helnan Palestine hotel. Due to refurbishment works, the run-down cabins and restaurants were demolished, whereas the seashores are operating under the right of usufruct for one year, awaiting approval of the final masterplan.
---
– Aisha Fahmy Palace, Zamalek:
Shuttered for years, the Aisha Fahmy Palace was established in 1907 and reopened as an arts center in mid-2017, after a rejuvenation process that lasted for years since its closing 15 years ago, which is valued at EGP 80 mn.
The sublime rococo interior of silk-clad and frescoed walls, carved-wood fireplaces, painted lacquer works, and a wonderful triple-arched stained-glass window, overlooking the grand staircase, has all been fabulously restored to finery.
As things stand, the 2,700-square-meter mansion's grand salons are to be utilized as a gallery, with a program of temporary exhibitions. Further, All 30 rooms and suites at the Aisha Fahmy Palace showcase age-old oil and embroidery paintings that date back to the 18th and 19th centuries.
The royal establishment is currently being managed by the Department of Fine Arts, affiliated to the Ministry of Culture, which eyes to re-establish this masterpiece as a prestigious complex for arts and culture, bidding to revive the glorious bygone days of this vintage house. The site is also planned to serve as a podium for young artists to present their work in a dedicated hall, as well as a hub for some other cultural venues such as music concerts.
---
– Baron Palace, Heliopolis:
After more than two years of restoration, Egypt's long-dormant Baron Palace in Heliopolis, inspired by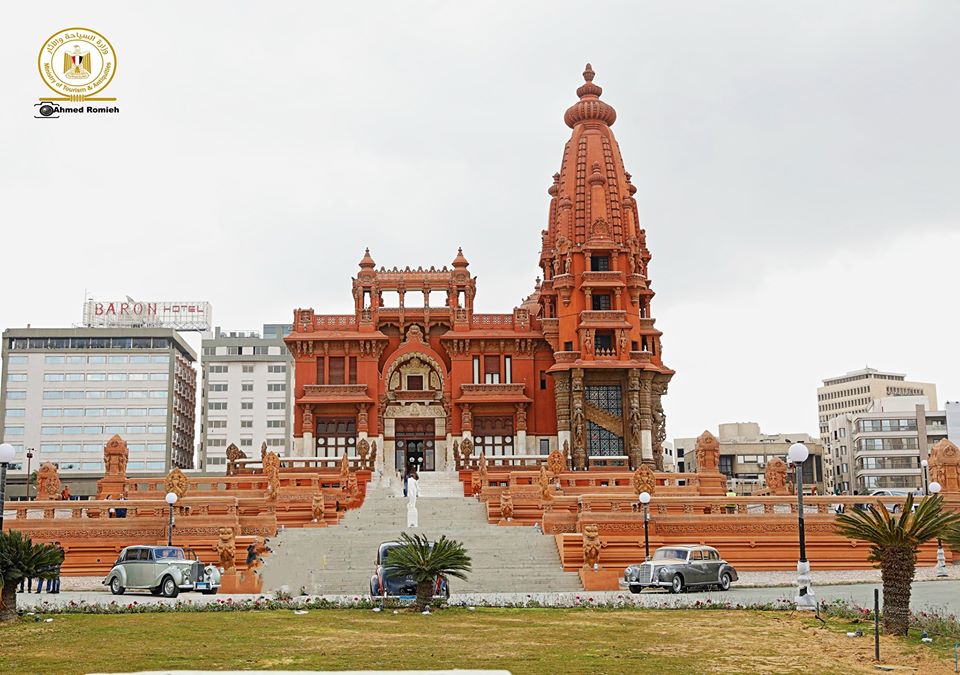 Hindu architecture, has regained its glory and reopened to the public on June 30. Facelift of the 108-year-old mansion, which first started in August 2017, under the supervision of the Egyptian Armed Forces, is estimated at EGP 175 mn.
In terms of funding, the North African country had secured billions from local and international entities to finance the much-needed refurbishment process. In September 2019, Egypt and Belgium had inked a Memorandum of Understanding (MoU) to extend almost EGP 16 mn for the palace renovation. The loan exchange program was reportedly expanded with Italy and Germany, according to the local media press.
Upgrading works, which is surrounded by two large gardens and has three stylish terraces leading toward its entrance, constitute the structural reinforcement of roofs and facades, together with the restoration of ceilings, marble columns, frescoes above the main entrance, as well as, decorative elements such as statues and sculptures, not to mention shoring up doors and windows of the exotic Baron Palace.
Besides, a visitor service area was introduced, embracing the monument as an emblem of the district's mix of early 20th century Moorish Revival, Persian Revival, traditional Arabic, and European neo-classical architecture, all to manifest the alluring century-old mansion as a new tourist destination.
An on-site exhibition on the history of Heliopolis is presently taking place, with a maximum of 900 tickets sold per day, and visiting hours starting from 9 am to 6 pm. Entry ticket costs EGP 100 and EGP 50 for foreign visitors and students, respectively, whilst set at EGP 20 and EGP 10 for Egyptian adults and students, appropriately.
---
– Manasterly Palace, Al Manial:
Back in 2016, the renovation of Manasterly Palace had been ratified, coming in cooperation with Cairo Governorate and the Ministry of Awqaf. The development process had been carried out over four phases,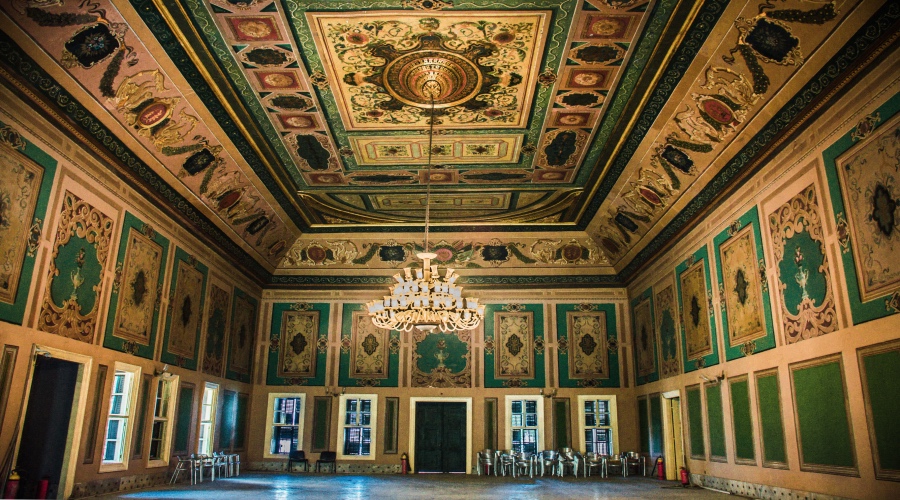 including the waterproof insulation for ceilings and floors, renewal of furniture fabrics and rearranging of chandeliers, restoration of embroidery murals and light systems, in addition to security camera installation.
The Ottoman baroque palace, which is hailed for its splendid ornamented ceilings, is situated on the southern end of Rawda Island on Cairo's Nile bank. On the grounds is also a "Nilometer," which had been established in 1861 AD for measuring the Nile level during the annual floods back then.
At the island's southern tip, Om Kolthoum Museum is also found. From the more urbanized east bank of the Nile River, visitors can reach the latter site as well as the Manasterly Palace and Nilometer by ferry or by the popular Manasterly Pedestrian Bridge, thereby creating a large cultural complex requiring a ticket for entry, in addition to attending some regularly held entertainment, cultural, and educational events.
Today, only the public halls – or "Selamlik" – of the Manasterly Palace are still standing, whilst the private bedroom – dubbed "Harem" – has been demolished to make way for the implementation of a water station.
---
– Prince Mohamed Ali Palace, Shubra El Kheima:
With costs totaled at EGP 194 mn, the restoration of Mohamed Ali Palace commenced back in 2017 and was slated for completion in June 2020, yet construction is still underway on-site.
Specifically, merely EGP 155 mn was spent on the restoration of El-Fasakia kiosk building, while work on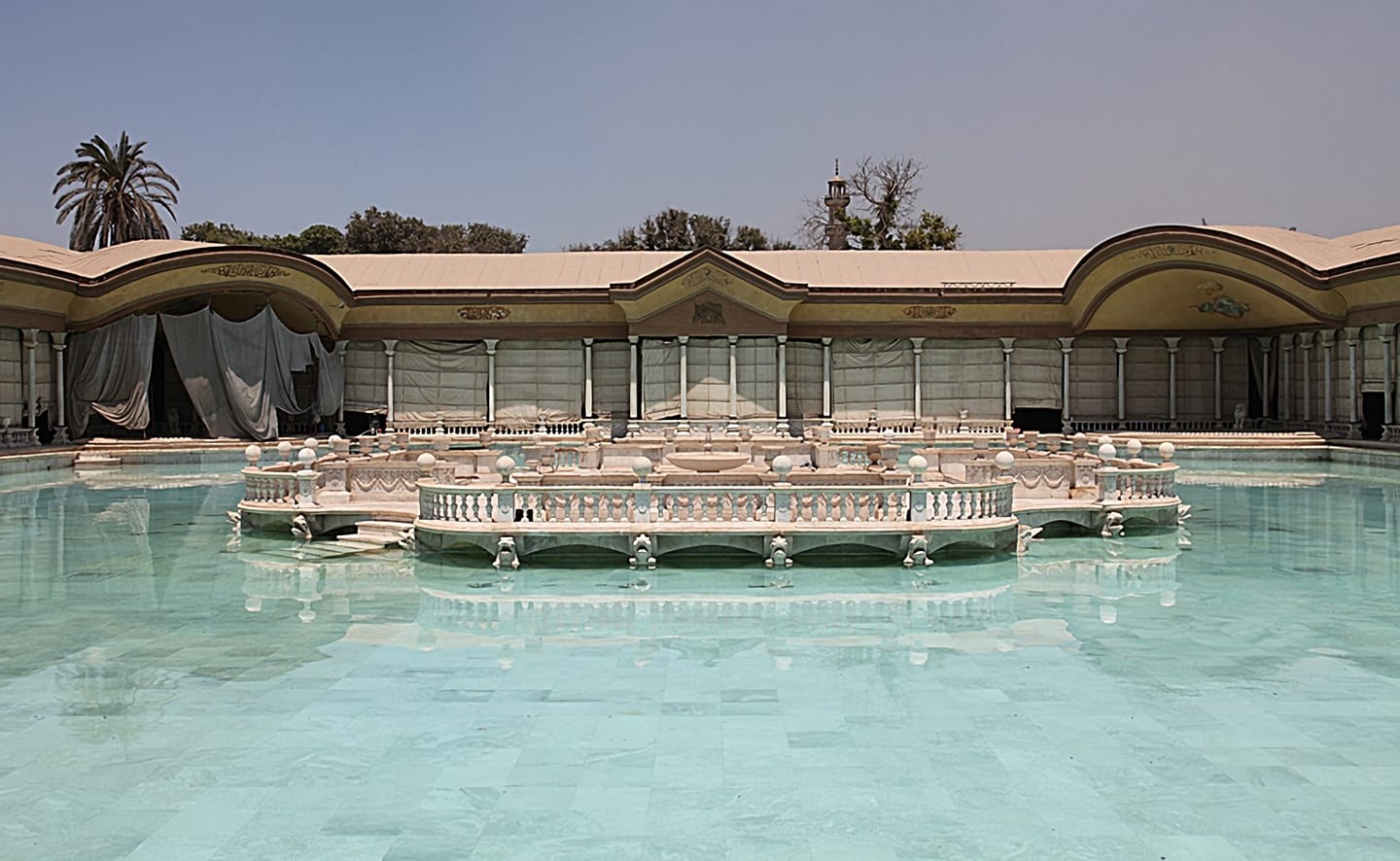 the Gabalaya kiosk building has reached EGP 39 mn so far, as highlighted in a prior ministerial statement. The scope of work also included constructive and architectural restoration, as well as decorative restoration and harmonization of the landscape.
According to the Ministry of Tourism and Antiquities, many stumbling blocks had been endured throughout the renovation process. For example, the "Fountain Palace" was likely to collapse as the marble structure split apart. Beyond that, over 15 industry-related experts were required to identify the complexities in the palace's architectural style, in a bid to carefully preserve its age-old heritage.
Standing as one of the most unique structured in Egypt, the palace dates back to the 1800s, combining both European and Islamic elements across its 59-acre space, alongside a unique collection of paintings showing Mohamed Ali and various family members. While the architecture planning bares the hallmarks of the Islamic style, the decorations are inspired by the 19th-century Baroque aesthetic of France and Italy.