Ras Soma is Travco Properties' latest development, located on the natural bay of Ras Abu Soma by the Red Sea. Building on the international success of Almaza Bay on the North Coast of Egypt, Ras Soma is set to become the next flagship luxury destination on Egypt's Red Sea Coast, only a 40-min drive from Hurghada International Airport and Downtown Hurghada.
Travco Properties is the real estate development arm of Travco Group; one of the MENA region's largest developers and operators of hotels, resorts and cruises with over 40 years of experience in the Travel and Hospitality sector. Founded in 1979, Travco Group has evolved into an international organization with over 60 companies across four continents with destination projects such as Vakkaru Maldives, Almaza Bay and the Steigenberger Hotel chain.
Luxury Destinations Are Part of the Travco Group DNA
Ras Soma is geared to follow in the footsteps of Travco Group and Travco Properties' internationally acclaimed projects: Vakkaru Maldives and Almaza Bay, respectively. Furthermore, Travco Group envisions Ras Soma as a unique luxury destination that will progress the luxury real estate market on the Red Sea Coast.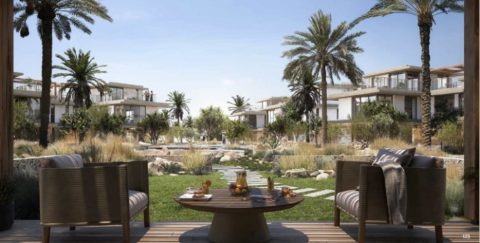 Vakkaru Maldives is a Travco Group resort destination located within the UNESCO Biosphere Reserve of Baa Atoll. It is a secluded reef island privileged with timeless ocean views, sublime white sands, deep blue holes and house reefs with unique marine biodiversity. A scenic 30-minute seaplane flight from Male International Airport transports guests to this idyllic paradise intuitively designed for guests seeking timeless experiences.
Recreating the Exceptional Success of Almaza Bay on the Red Sea Coast
Travco Properties was established in 2014, launching its flagship project: the world-renowned destination, Almaza Bay. The town instantly became a trendsetter on Egypt's prominent North Coast. Following the success of Travco Properties on the North coast, and primed to become an international holiday destination, the Ras Soma Resort features over 1,300m of an immaculate sandy beach.
Much like Almaza Bay, Ras Soma is an all-encompassing resort destination. The 2.6 mn sqm development will include an international marina, a state-of-the-art water park, an adventure park, a go-kart track and a retail village showcasing Egypt's top culinary and retail outlets. The Ras Soma Resort will boast an idyllic and curated mix of world-class services stemming from Travco Group's decades of experience in luxury hospitality.
Ras Soma encompasses a wide range of sports and water activities. As an international kite-surfing hub with a vibrant marine life which can be explored via scuba diving and snorkeling among other water sports and activities. Furthermore, the resort offers sports facilities such as Padel, tennis courts, football, beach volley and a state-of-the-art gym.
Ras Soma Redefines Luxury Living on the Red Sea Coast
Ras Soma presents ultimate harmony with nature, as the project is directly inspired by the serenity of the surrounding landscape. The project is surrounded by the crystal-clear waters of the Red Sea with a magical backdrop of the mountainous, scenic Red Sea region.
The property portfolio includes luxury hotels with private villas as well as hotel-serviced residential units ranging from beachfront villas to cozy apartment condos, beautifully master-planned and interlaced with stunning landscaping and water features as well as a breathtaking vista of the serene shoreline of the Red Sea.
Conscious Sustainability with Global Architects and Master-Planners: WATG
Travco Properties chose WATG, world-renowned and internationally acclaimed British architects, to conceive the unparalleled masterplan of Ras Soma, creating a truly unique development by the inviting turquoise waters of the Red Sea. Design brilliance is not simply about beautiful spaces and places, it also combines a project's functionality, sustainability and longevity, and the experience of everyone involved, as Travco Properties specializes in curating unforgettable experiences and memories.
The Unmatched Ras Soma Experience
Steigenberger Resort Ras Soma is currently operating and considered one of the most prestigious hotels on the coast. Ras Soma will also allow you to immerse in a world of beauty while relishing the peace and relaxation of the hotel's Mividaspa. At Ras Soma, you will enjoy exquisite flavors from all over the world at premium restaurants and an array of culinary experiences ranging from Eastern Mediterranean as well as Asian delicacies.
New Frontiers on a New Coast by Travco Properties
With the launch of Ras Soma, Travco Properties creates a one-of-a-kind residential destination that celebrates nature and all the wonders it has to offer. Following the unparalleled success of Almaza Bay on the North Coast, the Travco Properties name has become synonymous with unprecedented quality, attention to detail, sophisticated luxury and above all, a singular experience that cannot be replicated elsewhere.