Egypt's Ministry of Housing has taken the lid off the tangible gains made in nine new cities, which considerably resulted in a developmental leap in Upper Egypt last year, Invest-Gate reports.
Having said that the Egyptian housing ministry has been spending tens of billions on Upper Egypt to introduce decent urban developments for both residential and investment purposes, Invest-Gate sums up the state's latest achievements on the housing front of multiple new cities at the Nile Delta spot in 2019.
(1) West Assiut's Nasser City
– About 1,440 apartments are nearing completion at the Sakan Misr middle-income project, reaching an implementation rate of 98%. Besides, 1,584 social housing units are 94% complete, with utilities and infrastructure works done at all said units
– With public investments worth EGP 2.1 bn, construction at West Assiut Plateau Axis, or "El Hadaba" road project, is on the verge to finish
– Merely 372 out of 831 plots are successfully allocated for developing residential buildings, whilst 98 out of 491 lands are extended for implementing several villas
– Two parcels, spanning across a total area of 181 acres, are slated for allotment to execute a pair of urban developments in Nasser City
---
(2) New Qena
– At least 3,000 distinguished lands are handed over
– The successful operation of a 42-class basic education school
– Various service plots, with an average area of 81.3 acres each, are allotted with investments amounting to EGP 390 mn. So far, the New Urban Communities Authority (NUCA) has collected down payments worth EGP 31 mn
– With costs totaled at EGP 4.5 mn, NUCA successfully sold five commercial stores, two administrative units, and a pharmacy
– Installation and operation of a new potable water station of 23,500 cubic meters per day capacity
– New Qena was awarded the ISO 45001 and 9001 certificates for its quality, environment, health, and safety standards
---
(3) New Minya
– Phase I of JANNA luxury housing project is witnessing the finalization of 22 buildings
– Establishment of a 400-acre youth center
– Completion of New Minya's natural gas main network to reach all households
– Large-scale dual and triple wastewater treatment plants, with a total capacity of 20,000 cubic meters per day, is done, whereby water is processed for irrigation
---
(4) New Akhmim

– Several land plots, with a total area of 33,516 square meters, are extended for implementing an array of service projects
– Various service spaces are delivered, including a 55-acre nursery, a basic education school, an ambulance unit, with more in the pipeline
– Around 33 out of 36 social housing buildings are finalized
---
(5) New Mallawi
– As the first phase of street works 40% done, whilst the urgent stage is 90% complete, 34 buildings are on the edge to see light in the new city's JANNA luxury housing project
– Multiple service plots are recently put forth, with a 60-acre parcel allocated for carrying out a commercial center, alongside a 3000-square-meter gas station
---
(6) New Fashn
– Works on 32 distinguished housing buildings are ongoing
– Phase I of road networks, which stretches over 120 acres, are underway, whereby 40% of the urgent stage is over
---
(7) New Assiut
– Developed over 226 acres, merely 240 social housing units are ready, with on-site utilities underway
– Residential areas are complemented with 14 service projects, including two secondary and basic education schools, four football pitches, two small-scale commercial spots, along with a mini youth center, an ambulance unit, a mosque, a bakery, among others
– The city authority received a total of 54 requests for investment New Assiut
---
(8) New Sohag
– Implementation of sewerage, potable water, and road networks, running for 130, 126, and 115 kilometers
 in length, respectively. This is in addition to 10,000-line telephone networks and 100,000-square-meter agricultural land
– Phase I of the sanitation station is 75% finished, with a capacity of 12,000 cubic meters per day. Once in full capacity, the plant will produce 36,000 cubic meters per day
– A total of ​​332 acres is allocated for integrated urban activities in different areas across the new city, together with dedicating 40 acres for building a private university
– The city authority got 80 requests for reserving mixed-use land plots worth EGP 2 bn, with nearly EGP 210 mn secured thus far
---
(9) New Tiba
– With areas ranging from 209 to 276 square meters, merely 542 out of 4,018 social housing lands are delivered. Another 55 out of 530 distinguished plots are handed over, coming with areas varying between 500 and 893 square meters
– Almost 4,563 square meters are directed for the establishment of a logistics zone, on top of more than 100 acres put forward for carrying out a number of university buildings
– Deposition of upfront payments for eight investment plots, amounting to EGP 50 mn. Also, 28 requests were received for some mixed-use developments in town, with costs estimated at EGP 100 mn
– Roughly 12 commercial stores are sold out, with investments worth EGP 11 mn
– Upgrading works for a treatment plant, with a capacity of 9,000 cubic meters per day, are concluded
– With costs totaled at EGP 660 mn, about 15 infrastructure projects are being undertaken in New Tiba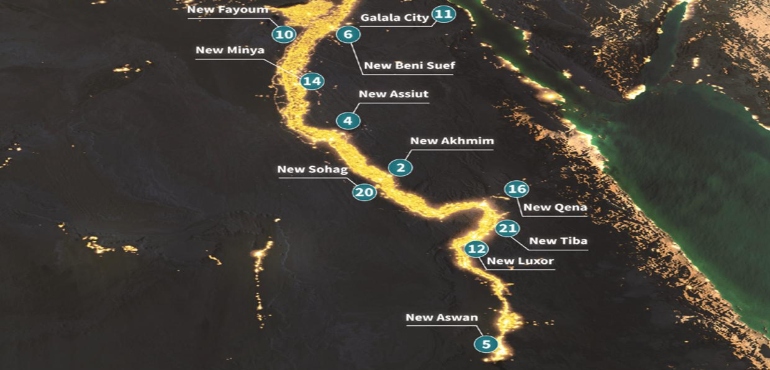 As things stand, it looks like the government endeavors to strengthen Upper Egypt's investment climate, while also adopting a human-centric approach to urbanization. Last October, Minister of Housing, Utilities, and Urban Communities Assem El Gazzar has uncovered that with a whopping EGP 11 bn, many fourth-generation cities will be introduced over three phases, the first of which comprises New Toshka, New Aswan, Nasser City, and West Qena, while the second includes New Fashn City and New Mallawi. Finally, phase III entails the construction of New Luxor, New Nagaa Hammadi, and New Beni Mazar. 
Read Invest-Gate's "Investment Guide to Egypt's New Cities," which is the roadmap to the country's newly-introduced towns, casting light on the services, facilities, and most importantly, the real estate components on-board!