The latest edition of Deloitte's Africa Construction Trends report has indicated that Egypt leads Africa in the number and value of construction projects within a single country in 2018, scoring 9.5% of the total developments continent-wide during the year, Invest-Gate reports.
Egypt has 46 construction projects, valued at USD 79.2 bn, representing 17% of the total value of such developments on the continent, according to the report."Egyptian construction companies are the most visible private domestic firms, building 25 of the 35 private domestically constructed projects in North Africa," Deloitte highlighted.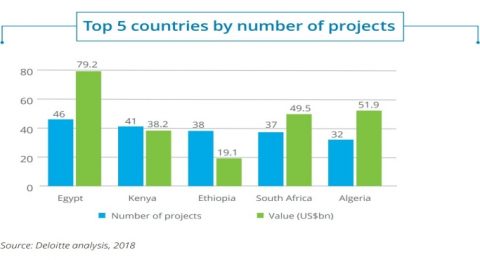 "The Suez Canal corridor in Egypt has attracted Chinese investors' attention and plans to expand to a second canal as well as new terminals at the port of Alexandria are moving forward. Extra capacity from the expansion of a second canal, including the new terminals, will help to revitalize the Egyptian economy," read the report.
As for the country's housing sector, Deloitte confirmed, "Of the 37 [top] real estate projects in the region, 20 are in Egypt, with the most prominent project being Egypt's Tahrir Petrochemical Complex, the largest petrochemical complex to be built in Egypt."
Back in March, on the sidelines of a meeting held with the Egyptian Businessmen Association (EBA), Daker Abdellah, a board member of Egyptian Federation for Construction and Building Contractors (EFCBC), said Egypt-based construction companies are currently implementing 11,000 projects worth nearly EGP 2 trn.