Fitch Solutions said the introduction of 20 new cities across Egypt, along with the upgrading of 23 existing areas, is stirring up demand for Egyptian real estate, in the face of Coronavirus headwinds, Invest-Gate reports.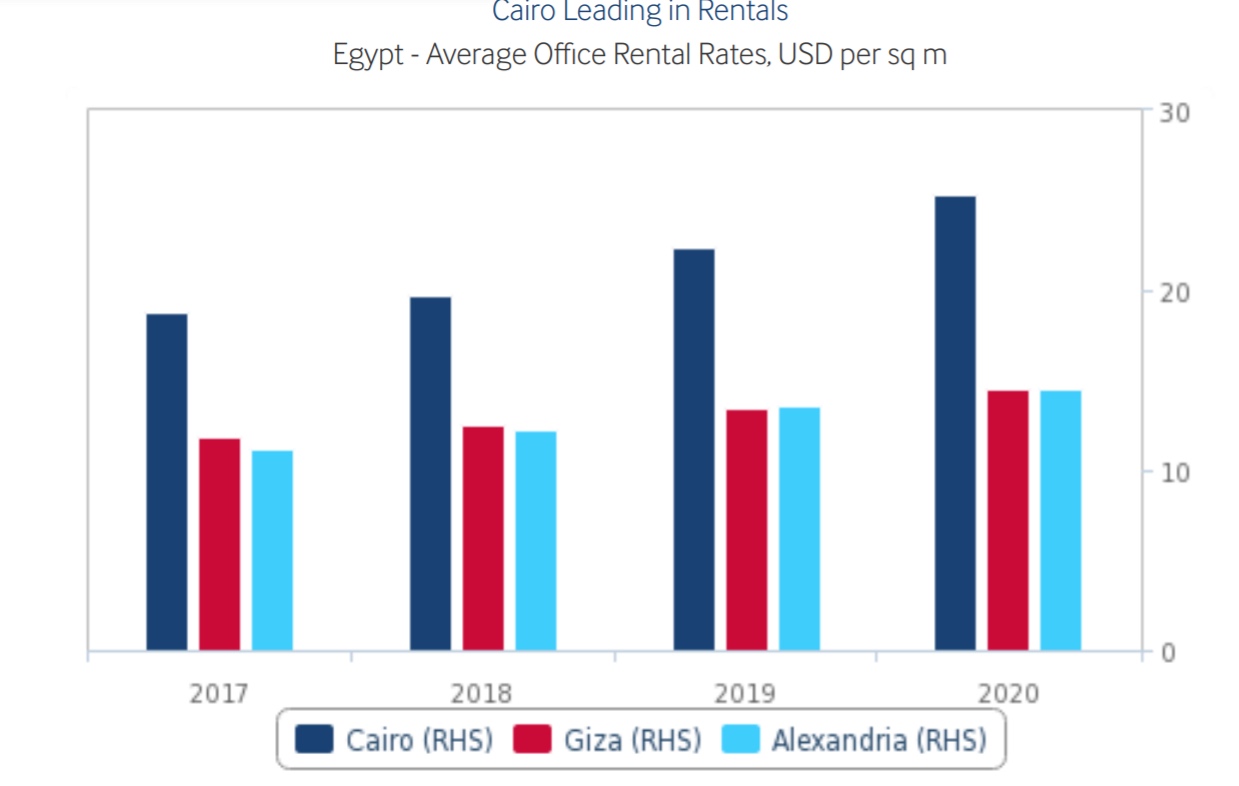 According to the "Egypt Real Estate Report" by Fitch Solutions, which includes five-year forecasts extending to 2024, this demand has mainly been fueled by office assets sought after by banks and financial institutions, and for which Cairo remains an epicenter, especially in New Cairo. Rentals in Cairo are expected to see rates jump by over 13%.
Megaprojects on the North Coast could drive up rental prices of offices in Alexandria, following years of moderate demand and limited supply that kept rental rates on a leash. Specifically, New Alamein is attractive for property investors, which could possibly raise rental rates by 7.7% to an average of USD 14.6 (EGP 230) per square meter in 2020.
Demand for office space in Greater Cairo remains strong, with Sheikh Zayed being the most attractive. While outdated buildings in Giza ward off prime office-seekers, there is buoyant demand from occupants seeking lower prices for quality supply, compared with Alexandria and Cairo.
Fitch Solutions, however, foresees demand for residential units to hold up, notably as the EGP is projected to depreciate, while purchasing power weakens. With a special focus on mid- to high-end projects, real estate developers supply only 10% of local housing, and thus, have been unable to exploit pent-up demand, despite the growing population, urbanization, and marriage rates.
New large-scale developments currently underway across the country include the New Administrative Capital (NAC), New Alamein, and New Mansoura, which have been presenting an array of attractive investment grabs for both local and foreign investors, according to the report.
On another note, industries and local manufacturing "are soaring." Meanwhile, the Suez Canal Economic Zone (SCZone) will become a focus for infrastructure development in Egypt, as the ever-increasing investors flock to strategically bring their on-site plants closer to logistics and export capabilities, anchored with continuous government support, it added.
Last June, Fitch Solutions' BMI Research had anticipated Egypt's construction sector to grow by 9% on an annual basis within 2020 and 2024, in spite of the slowdown due to the current pandemic in the short term.