Rooya Group Chairman and CEO Hisham Shoukri foresees a strong comeback of real estate exports as the Egyptian property market begin recovering after the coronavirus storm passes, with a special focus on serviced apartments, at Invest-Gate's first virtual roundtable, dubbed "Smart Real Estate Market Amid COVID-19."
A slowdown in real estate exports is currently witnessed in Egypt due to the confinement measures imposed to restrict movement and curb the spread of the infection with COVID-19. "But, in the long run, and as working from home becomes more widespread, Egyptian property exports are set to witness a boom. However, the necessary infrastructure and capabilities should be extended beforehand," Shoukri pointed out during Invest-Gate's 1st virtual roundtable on May 17, called "Smart Real Estate Market Amid COVID-19."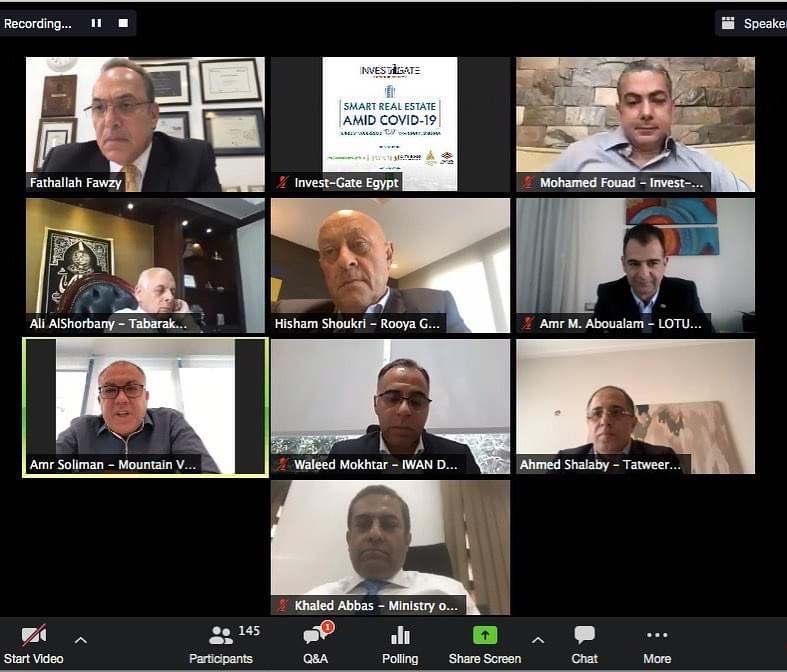 In the presence of Deputy Minister of Housing, Utilities, and Urban Communities for National Projects Khaled Abbas, Shoukri emphasized that the proper marketing strategies determine the prosperity of global sectors in terms of real estate exports, alongside the facilitation of all registration procedures for potential investors. He underscored that now is the right time for Egypt to review all regulations and requirements, hence wipe out all obstacles to achieve rapid take-off once the local property market recovers. 
On his part, Tabarak Developments CEO Ali El-Shorbany clearly stated that real estate exports will continue demonstrating a downturn for at least one year. Most of all, Egyptian expats, who recently got laid off in the Gulf (especially Kuwait), have lost their purchasing power for new properties.
Meanwhile, Iwan Developments' CEO Waleed Mokhtar underlined that the COVID-19 health emergency clearly identified the inadequacy of medical components within residential communities, which was also one of the obstacles to real estate export. "With this in mind, Egypt's property industry is set to witness an unprecedented boom in medical developments and hospitals in the near future," he concluded. 
The first-of-its-kind event saw the attendance of a number of other real estate market leaders such as Mountain View Chairman. Amr Soliman, Tatweer Misr President and CEO Ahmed Shalaby, and Lotus Management Chairman and CEO Amr M. Aboualam.
For the complete virtual roundtable coverage, open "Smart Real Estate Market Amid COVID-19."