Tatweer Misr has completed 70-80% of construction works at projects' sites, continuing to work under new safety guidelines and precautionary measures to guard against Coronavirus, reveals its President and CEO Ahmed Shalaby, at Invest-Gate's first virtual roundtable, called "Smart Real Estate Market Amid COVID-19."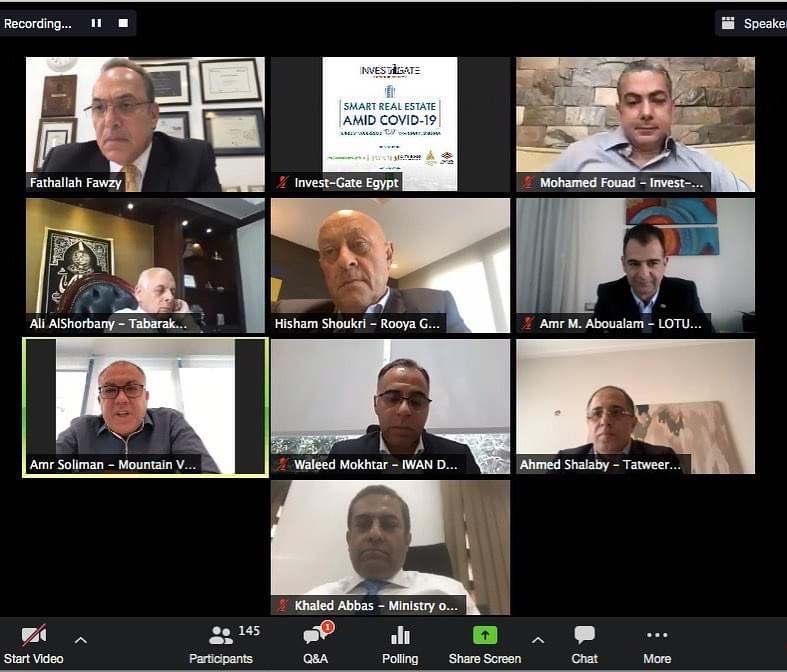 "Adopting preventive measures certainly translate into additional costs on the developers' shoulders, but it will definitely guarantee the best results in terms of adhering to the implementation plans and timelines," Shalaby underscored.
Speaking of the building site warriors, Deputy Minister of Housing, Utilities, and Urban Communities for National Projects Khaled Abbas highlighted that the cooperation with contracting companies, which are currently executing an array of ongoing private projects in new cities, should be on top of the agenda.
Abbas affirmed that contractors essentially play a critical role in the real estate sector by setting labor activity at job sites, including precautionary measures taken to avoid the virus' spread and this is an important factor for consideration at the moment.
Held on May 17, the roundtable was moderated by Mena Group Founder Fathallah Fawzy and co-moderated by Invest-Gate's Managing Partner Mohamed Fouad. Participating leaders include Rooya Group Chairman and CEO Hisham Shoukri, Iwan Developments CEO Waleed Mokhtar, Mountain View Chairman Amr Soliman, Tabarak Developments CEO Ali El-Shorbany, and Lotus Management Chairman and CEO Amr M. Aboualam.
The first-of-its-kind event was being sponsored by Mountain View, Rooya Group, Iwan Developments, Tabarak Developments, and City Edge Developments, alongside Economy Plus as a media partner, working closely with Invest-Gate to develop solutions to the COVID-19 challenges and answer questions of all concerned with the local real estate industry.
For the complete virtual roundtable coverage, open "Smart Real Estate Market Amid COVID-19."